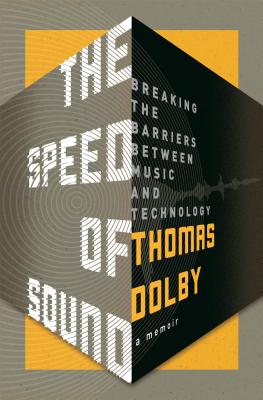 The Speed of Sound
Breaking the Barriers Between Music and Technology: A Memoir
Hardcover

* Individual store prices may vary.
Other Editions of This Title:
Paperback (11/28/2017)
MP3 CD (12/27/2016)
Description
The remarkable story of rising to the top of the music charts, a second act as a tech pioneer, and the sustaining power of creativity and art.

Thomas Dolby's hit songs "She Blinded Me with Science" and "Hyperactive!" catapulted him to international fame in the early 80's. A pioneer of New Wave and Electronica, Thomas combined a love for invention with a passion for music, and the result was a new sound that defined an era of revolutionary music. But as record company politics overshadow the joy of performing, Thomas finds a surprising second act.

Starting out in a rat-infested London bedsit, a teenage Thomas Dolby stacks boxes by day at the grocery and tinkers with a homemade synthesizer at night while catching the Police at a local dive bar, swinging by the pub to see the unknown Elvis Costello and starting the weekend with a Clash show at a small night club. London on the eve of the 1980s is a hotbed for music and culture, and a new sound is beginning to take shape, merging technology with the musical energy of punk rock. Thomas plays keyboards in other bands' shows, and with a bit of luck finds his own style, quickly establishing himself on the scene and recording break out hits that take radio, MTV and dance clubs by storm. The world is now his oyster, and sold out arenas, world tours, even a friendship with Michael Jackson become the fabric of his life.

But as the record industry flounders and disillusionment sets in, Thomas turns his attention to Hollywood. Scoring films and computer games eventually leads him to Silicon Valley and a software startup that turns up the volume on the digital music revolution. His company barely survives the dotcom bubble but finally even the mavericks at Apple, Microsoft, Netscape and Nokia see the light. By 2005, two-thirds of the world's mobile phones embed his Beatnik software. Life at the zenith of a tech empire proves to be just as full of big personalities, battling egos and roller-coaster success as his days spent at the top of the charts.

THE SPEED OF SOUND is the story of an extraordinary man living an extraordinary life, a single-handed quest to make peace between art and the digital world.
Praise For The Speed of Sound: Breaking the Barriers Between Music and Technology: A Memoir…
"He rose during the advent of the British New Wave. But what was he, exactly? A singer-songwriter? Performance artist? Programmer? Engineer, poet, actor, inventor? And if we couldn't be sure, how possibly could he? This is the engaging, emotional, funny and surprising tale of Thomas Dolby -- a brilliant multi-hyphenate on his journey of discovery and self-discovery."
-- JJ Abrams, Director, Writer, Producer


"Whatever technology does to musicians will also be done to the rest of us -- but to Thomas Dolby first. Professor Dolby's candid memoir is fascinating. Its significance will grow."
-- Bruce Sterling, author of The Epic Struggle of the Internet of Things and The Mirrorshade anthology

"Thomas Dolby has had at least four notable lives. The chart topping musician and ubiquitous MTV presence, the Silicon Valley innovator, the music director for TED and then, astonishingly, a professor at Johns Hopkins. His journey is as amazing as the book is well written. From start to finish, I thoroughly enjoyed every page of The Speed Of Sound. Brilliant."
- Henry Rollins, bestselling author, journalist and musician

"Musician Thomas Dolby debuts with an absorbing account of his pioneering work merging digital music with film, technology, and science. In this story-filled memoir, Dolby draws deeply on his experiences as a synthesized music guru and early internet geek, offering wonderful scenes involving such notables as Michael Jackson, Joni Mitchell, David Bowie, Steve Jobs, and George Lucas. His innovative accomplishments, rendered in fascinating detail here, are legendary."
- Kirkus, Starred Review

"In his engaging memoir, British New Wave icon Dolby retraces his journey from London stock clerk to pop star to unlikely success as a Silicon Valley pioneer…Dolby's style—understated but acute—and wealth of anecdotes make for an enjoyable narrative… the bespectacled Brit is more Renaissance man than one-hit wonder."
- Publishers Weekly

"Wildly entertaining"
— Salon.com
Flatiron Books, 9781250071842, 288pp.
Publication Date: October 11, 2016
About the Author
Thomas Dolby has spent his career at the intersection of music and technology. He was an early star on MTV, and then moved to Silicon Valley, where he has had an extraordinary career as an entrepreneur. He has been named Johns Hopkins University's first Homewood Professor of the Arts, where he will help create a new center that will serve as an incubator for technology in the arts. He lives in England with his family.
or
Not Currently Available for Direct Purchase