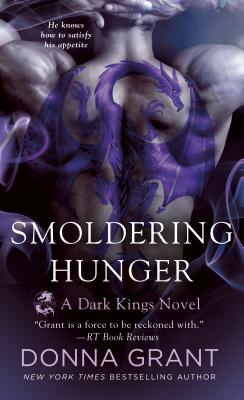 Smoldering Hunger (Mass Market)
A Dark Kings Novel
St. Martin's Paperbacks, 9781250071958, 352pp.
Publication Date: December 29, 2015
Other Editions of This Title:
MP3 CD (12/29/2015)
Compact Disc (12/29/2015)
* Individual store prices may vary.
Description
TEMPTING FATE
Darius is back. Edinburg thought it had seen the last of this seductive Dragon King, but that was before Darius found something worthwhile. He just can't stay away from the impossibly beautiful Dr. Sophie Martin-even though he knows that a passion this strong could prove detrimental...for them both.
CRAVING DESIRE
Sophie tried to forget her encounter with smoking-hot Darius to no avail. He's in her dreams, tempting her. But her association with Darius catches the attention of another, putting her
in mortal danger. . .and Darius, who has vowed to protect her, is her only hope. But can she trust the notorious dragon shapeshifter? The only thing she knows for sure is that she cannot resist him, in Smoldering Hunger, the next novel in the Dark Kings series by New York Times bestselling author Donna Grant!
About the Author
New York Times and USA Today bestselling author Donna Grant has been praised for her "totally addictive" and "unique and sensual" stories. She's written more than thirty novels spanning multiple genres of romance including the bestselling Dark King stories, Dark Craving, Night's Awakening, and Dawn's Desire. Her acclaimed series, Dark Warriors, feature a thrilling combination of Druids, primeval gods, and immortal Highlanders who are dark, dangerous, and irresistible. She lives with her two children, a dog, and four cats in Texas.
"Dark, sexy, magical. When I want to indulge in a sizzling fantasy adventure, I read Donna Grant."
--Allison Brennan, New York Times Bestselling Author
Praise For Smoldering Hunger: A Dark Kings Novel…
"Grant's dragon-shifters can always be relied upon for steamy, intense romances and fierce battles." - RT Book Reviews on Passion Ignites
"Soul Scorched is a must read." —Night Owl Reviews (Top Pick!)
"Ms. Grant does not disappoint the recesses of the heart with Soul Scorched." —Reader to Reader
"Donna Grant continues to build on the series... there is an attachment to the characters that you don't want to end." —San Francisco Book Review on Soul Scorched
"Grant's fearless and passionate Dragon Kings...command attention." —RT Book Reviews on Soul Scorched
"Charming and sizzling." —RT Book Reviews on Hot Blooded
"Grant impressively integrates the intimate details of her main couple's searing chemisty...spinning taut, steamy scenes and epic battles with equal skill." —RT Book Reviews on Burning Desire
"Donna Grant has given the paranormal genre a burst of fresh air." —San Francisco Chronicle on Darkest Flame
"Will keep readers absorbed with thrilling revelations and developments...a touching journey of two lonely hearts that fans will love." —RT Book Reviews on Fire Rising
"Packed with all the wonderful sizzle and chemistry fans have come to expect from Grant." —RT Book Reviews on Darkest Flame
"4 Stars! Loaded with subtle emotions, sizzling chemistry and some provocative thoughts on the real choices [Grant's] characters are forced to make as they choose their loves for eternity." —RT Book Reviews on Dark Heat
"Top Pick! Vivid images, intense details and enchanting characters grab the reader's attention and [don't] let go." —Night Owl Reviews on Dark Heat
"Super storyteller Grant returns with the second back-to-back release in the Dark Warrior series. All of Grant's characters must face not only external threats, but also their own inner demons, lending an extra depth and drama to the stories." —RT Book Reviews on Dark Warrior
"4 Stars! Grant's eighth Dark Warrior book provides a thrilling and satisfying addition to her intense and constantly evolving series. " —RT Book Reviews on MIDNIGHT'S PROMISE
"Once again, Donna Grant has given the readers a great story." —Night Owl Reviews Top Pick on MIDNIGHT'S PROMISE
"4 Stars! Grant's smoldering seventh Dark Warriors will grip readers from the first page. " —RT Reviews on MIDNIGHT'S TEMPTATION
"A 5 Star, not to miss, read!" —Night Owl Reviews on MIDNIGHT'S KISS
"This story is one you will remember long after the last page is read." —Romance Junkies on MIDNIGHT'S KISS
"4 Stars! The world of the Immortal Warriors is a thoroughly engaging one, blending powerful ancient gods, fiery desire, and touchingly human love, which readers will surely want to revisit." —RT Book Reviews on MIDNIGHT'S KISS
"4 1/2 Stars! Grant has crafted a chemistry between her wounded alpha and surprisingly capable heroine that will, no doubt, enthrall series fans and newcomers alike." —RT Book Reviews on MIDNIGHT'S CAPTIVE
"4 Stars! Super storyteller Grant returns with...A rich variety of previous protagonists adds a wonderful familiarity to the books" —RT Books Reviews on MIDNIGHT'S WARRIOR
"5 Stars! Ms. Grant brings together two people who are afraid to fall in love and then ignites sparks between them." —Single Title Reviews on MIDNIGHT'S WARRIOR
"4 Stars! Grant again proves that she is a stellar writer and a force to be reckoned with." —RT Book Reviews on MIDNIGHT'S SEDUCTION
"Sizzling love scenes and engaging characters fill the pages of this fast-paced and immersive novel." —Publishers Weekly on MIDNIGHT'S SEDUCTION
"5 Stars! Ms. Grant mixes adventure, magic and sweet love to create the perfect romance story." —Single Title Reviews on MIDNIGHT'S SEDUCTION
"4 Stars. It's good vs. evil Druid in the next installment of Grant's Dark Warrior series. The stakes get higher as discerning one's true loyalties becomes harder. Grant's compelling characters and the continued presence of previous protagonists are key reasons why these books are so gripping. Another exciting and thrilling chapter!" —RT Book Reviews on MIDNIGHT'S LOVER
"5 Stars! Ms. Grant weaves a sweet love story into a story filled with action, adventure and the exploration of personal pain." —Single Title Reviews on MIDNIGHT'S LOVER
"Paranormal elements and scorching romance are cleverly intertwined in this tale of a damaged hero and resilient heroine." —Publishers Weekly on MIDNIGHT'S LOVER
"Every book is an escape from the humdrum into a world of magic and fiery romance." —Fresh Fiction on MIDNIGHT'S LOVER
"[A]ncient legends, and seductive romance are seamlessly interwoven into one captivating package." —Publishers Weekly on MIDNIGHT'S MASTER
"Dark, sexy, magical. When I want to indulge in a sizzling fantasy adventure, I read Donna Grant" —Allison Brennan, New York Times bestseller on MIDNIGHT'S MASTER
"4 Stars! Grant creates a vivid picture of Britain centuries after the Celts and Druids tried to expel the Romans, deftly merging magic and history. The result is a wonderfully dark, delightfully well-written tale. Readers will eagerly await the next Dark Sword book." —Romantic Times BOOKreviews on the Dark Sword series
"Totally captivating and entertaining...Cursed by dark magic, the immortal MacLeod brothers are a force to be reckoned with." —Fresh Fiction on the Dark Sword series