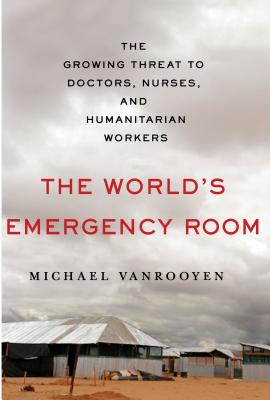 The World's Emergency Room (Hardcover)
The Growing Threat to Doctors, Nurses, and Humanitarian Workers
St. Martin's Press, 9781250072122, 240pp.
Publication Date: April 19, 2016
Other Editions of This Title:
MP3 CD (10/4/2016)
* Individual store prices may vary.
Description
Twenty years ago, the most common cause of death for medical humanitarians and other aid workers was traffic accidents; today, it is violent attacks. And the death of each doctor, nurse, paramedic, midwife, and vaccinator is multiplied untold times in the vulnerable populations deprived of their care. In a 2005 report, the ICRC found that for every soldier killed in the war in the Democratic Republic of the Congo, more than 60 civilians died due to loss of immunizations and other basic health services.
The World's Emergency Room: The Growing Threat to Doctors, Nurses, and Humanitarian Workers documents this dangerous trend, demonstrates the urgent need to reverse it, and explores how that can be accomplished. Drawing on VanRooyen's personal experiences and those of his colleagues in international humanitarian medicine, he takes readers into clinics, wards, and field hospitals around the world where medical personnel work with inadequate resources under dangerous conditions to care for civilians imperiled by conflict. VanRooyen undergirds these compelling stories with data and historical context, emphasizing how they imperil the key doctrine of medical neutrality, and what to do about it.
About the Author
MICHAEL VANROOYEN is the co-founder and director of the Harvard Humanitarian Initiative, a professor at Harvard Medical School and the Harvard School of Public Health, and the vice chairman of emergency medicine at Brigham and Women's Hospital in Boston. Over the past 25 years, he has served as an emergency physician in conflict zones and disaster areas in more thirty countries including Bosnia, Chad, Darfur-Sudan, the Democratic Republic of Congo, Haiti, Iraq, North Korea, Rwanda, and Somalia.
Praise For The World's Emergency Room: The Growing Threat to Doctors, Nurses, and Humanitarian Workers…
"From Mogadishu to Darfur to post-earthquake Haiti, The World's Emergency Room describes conflicts and disasters that offer ample cause for pessimism and even despair. But Dr. Michael VanRooyen's struggle to do two things at once—to respond as a physician but also to improve the quality of humanitarian responses and learn from these crises—instead offers ample cause for hope. The courage and humility required in such doleful circumstances will inspire those who feel called to mitigate the suffering caused by disasters both natural and unnatural. This is what is meant by expert mercy."--Paul E. Farmer, MD, PhD, Kolokotrones University Professor, Harvard University, Co-Founder, Partners In Health
"Van Rooyen's humble beginnings, transparent and honest reporting of his life experiences as a humanitarian give great credence to the raw complexities of humanitarian work. It reads like a novel yet is filled with timely historical facts that both entertain and educate. A must read for the millennial generation who see themselves as global citizens, as well as seasoned humanitarians, policy experts and all who understand the benefits of humanitarian work as an essential ingredient of soft power diplomacy."—Frederick "Skip" Burkle, Jr., MD, MPH, Senior International Public Policy Scholar, Woodrow Wilson International Center for Scholars, Captain (MC), USNR (Ret.)
The World's Emergency Room is indispensable reading for anyone concerned with humanitarian response in the twenty-first century. Michael VanRooyan has examined the lessons learned from the wars and natural disasters of the past thirty years and describes how engaging involvement with these crises can impact the personal lives of committed humanitarians. It is a guide to the issues that will dominate the lives of the coming generation.--Charles MacCormack, President Emeritus, Save the Children, Advanced Leadership Fellow, Harvard University
The World's Emergency Room" is an honest and heartfelt account of the risks and rewards in assisting the most vulnerable during times of crisis. Dr. VanRooyen's personal journey tracks the most complex humanitarian emergencies of the past quarter century, while always considering the evolution of the aid community. His insights are an important contribution to the future of humanitarian action.--Mary Pack, Vice President, International Medical Corps
"VanRooyen, a professor at Harvard Medical School and the co-founder and director of the Harvard Humanitarian Initiative, came of age professionally in the fields of emergency medicine and humanitarian medicine, which are the focus of this fascinating debut... An important account of medicine's role in a world in crisis."--Kirkus (starred review)