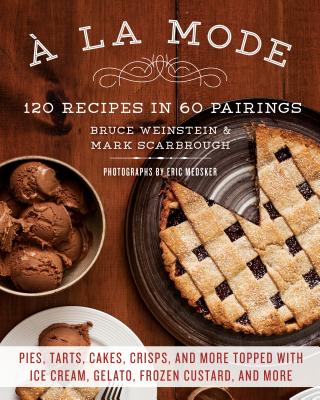 a la Mode (Paperback)
120 Recipes in 60 Pairings: Pies, Tarts, Cakes, Crisps, and More Topped with Ice Cream, Gelato, Frozen Custard, and Mo
St. Martin's Griffin, 9781250072139, 224pp.
Publication Date: June 7, 2016
Description
Are you ready to take your baking over the top? Here are sixty decadent and delightful ice creams and the sixty desserts that are their vehicles. A la Mode offers not just solid dessert recipes, from raspberry oat bars to bear claws, from chocolate pecan pie to a white chocolate pavlova, but also gives you the unforgettable pairings that make these desserts smash hits: apple cranberry pie with Camembert ice cream, chocolate sheet cake with salt caramel frozen custard, and espresso cream jelly roll with mascarpone ice cream.
Let's face it: vanilla can sometimes be so... vanilla. A great a-la-mode pairing should be as decadent as finding the perfect wine to go with your cheese plate. With A la Mode, IACP winners and cookbook dynamos Bruce Weinstein and Mark Scarbrough show you how to create innovative delights such as creamy hazelnut gelato atop coffee-poached pears, or maple frozen custard with a mouthwatering cinnamon roll cake, alongside simpler classics like confetti ice cream with layered vanilla birthday cake. You haven't lived until you've had peanut brittle pie with popcorn ice cream, a Cracker Jack fantasy
Because what's a warm pie without ice cream? With A la Mode, you'll have to answer that question
About the Author
BRUCE WEINSTEIN and MARK SCARBROUGH are QVC favorites with five sell-out appearances. They've appeared on everything from the Today show to corporate-sponsored events making ice cream, gelati, sherbets, and sorbets. They're also experts on the desserts that pair with these frozen treats, having written bestselling brownie and cookie books and all-purpose cookbooks with desserts aplenty and countless features for Fine Cooking, Eating Well and The Washington Post. Their cooking podcast, "Cooking with Bruce and Mark," is available on iTunes. They live in Connecticut.
Advertisement