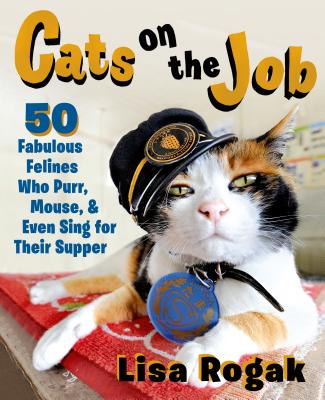 Cats on the Job
50 Fabulous Felines Who Purr, Mouse, and Even Sing for Their Supper
Paperback

* Individual store prices may vary.
Description
An illustrated, full-color celebration of the world's cuddliest coworkers!

Dogs get a lot of attention for performing tasks such as sniffing out cancer, helping hospital patients recover, and serving in our military. But cats have not been sitting idly by.

Around the world, there are cats earning their keep. Some are mousers, like Princess, a black cat who works at Mill Ridge Farm's stables. Some are circus performers, like Tuna and her furry friends in The Amazing Acro-Cats. And some are even politicians, like Mayor Stubbs, an orange tabby who holds office in Talkeetna, Alaska.

Others provide therapy and comfort as diabetic alert cats and service cats for veterans and children. And in the case of those cats who are originally brought on for their mousing skills, it often doesn't take long for their job duties to expand as their talents are discovered.

Each one of Cats on the Job's stories of adorable feline coworkers is paired with heartwarming color photographs, making this the perfect book for cat lovers of all ages.
Praise For Cats on the Job: 50 Fabulous Felines Who Purr, Mouse, and Even Sing for Their Supper…
"No matter what these whiskered workers do for a living, they definitely make every day at the office a little better." -Catster

"In the purr-fect book for feline fans feeling that dogs are hogging the limelight, Rogak shows us that cats do a lot more than scratch at posts and arch their backs." —The New York Post

"Cats on the Job will make any cat lover purr" —The Recorder

"Each chapter features at least one beautiful full-color image, and the stories of the cats are fascinating. ... I had a big smile on my face the entire time I read this book. This book is a celebration of cats and their unique personalities, and is sure to delight cat lovers of all ages." —Conscious Cat on Cats on the Job

"This book 'sells' itself. It gathers 50 stories of animals of one species mothering (or, in several cases, fathering) babies from an entirely foreign species. The instinct to nurture young is almost universal, and, as these stories demonstrate, that instinct can sometimes trump the instinct to stay within one's own kind. … Illustrated with irresistible color photos, this one is a charmer." —Booklist on One Big Happy Family

"Lisa Rogak in One Big Happy Family treats us to short but sweet stories of animals caring for animals of other species." —Animal People on One Big Happy Family

"Every page is an 'Awww!' moment, with surprising stories of interspecies adoption and friendships (the Dalmatian and her spotted sheep, the Labrador and her bunnies, a kitty and baby chicks - you get the idea) and accompanying photos … Truly a book to make you happy, happy, happy." —TheDenverChannel.com on One Big Happy Family

"This collection of tender stories and photos describes surprising interspecies relationships, many involving an adult predator suppressing its instinct to kill and taking on a parental role when exposed to an orphaned or abandoned baby animal that would ordinarily be its prey. … Rogak's prose is buttressed by adorable pictures of the animals from different species snuggling or cuddling with each other. Impressively, the animals actively sought out the younger creatures in need. The stories exemplify the maxim that truth is stranger than fiction, and even if these incidents mark the exception rather than the rule, animal lovers of all ages will enjoy the book." —Publishers Weekly on One Big Happy Family

"A celebration of the many ways service dogs help humans. . . . Will give dog enthusiasts plenty of reinforcement for the assertion that dogs are man's best friend." —Kirkus Reviews on Dogs of Courage

"Lisa Rogak delivers another excellent book! . . . If you're looking for a book full of feel-good stories – look no further. Rogak will warm your heart with her numerous 'tails' of canine heroism." —The Examiner on Dogs of Courage

"An engrossing series of portraits of survival captured in a rich context of hope and heart that will leave you smiling and feeling richly nourished." —Seattle Kennel Club on Dogs of Courage

"This is the perfect stocking-stuffer for the dog lover on your list." —Hudson Valley News on Dogs of Courage

"The Dogs of War documents the real-life valor of canine warriors. Rogak is to be commended for the book's encyclopedic scope and rich historical detail." —The Washington Post on The Dogs of War

"Canine heroism is eloquently celebrated in Lisa Rogak's The Dogs of War." —Hudson Valley News on The Dogs of War

"Lisa Rogak's The Dogs of War sheds light on why the dog, more than any other animal, holds a special place in our history, and our hearts. The most comprehensive book I have ever read on the subject of military dogs, it exemplifies the indomitable spirit of the dog itself, ever selfless, loyal to a fault." —Steve Duno, author of Last Dog on the Hill on The Dogs of War

"A book that will fascinate dog lovers and lovers of the military...It's inspiring and beautifully written." —The Examiner on The Dogs of War
St. Martin's Griffin, 9781250072375, 208pp.
Publication Date: October 6, 2015
About the Author
LISA ROGAK is the author of numerous books, including And Nothing But the Truthiness: The Rise (and Further Rise) of Stephen Colbert. She is the editor of the New York Times bestseller Barack Obama in His Own Words and author of the New York Times bestseller Angry Optimist: The Life and Times of Jon Stewart. Rogak lives in New Hampshire. Learn more on her website.