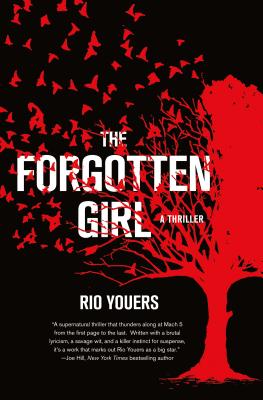 The Forgotten Girl (Hardcover)
A Thriller
St. Martin's Press, 9781250072399, 352pp.
Publication Date: June 13, 2017
Other Editions of This Title:
Compact Disc (9/1/2017)
MP3 CD (6/5/2018)
Compact Disc (6/5/2018)
MP3 CD (6/13/2017)
Compact Disc (6/13/2017)
* Individual store prices may vary.
Description
Nominated for the 2018 Arthur Ellis Award for Best Crime Novel.
A dark mystery unfolds in Rio Youers's riveting thriller, The Forgotten Girl.
Harvey Anderson is a twenty-six-year-old street performer from New Jersey. He enjoys his peaceful life, but everything turns upside down when he is abducted and beaten by a group of nondescript thugs. Working for a sinister man known as "the spider," these goons have spent nine years searching for Harvey's girlfriend, Sally Starling. Now they think they know where she lives. And whom she loves.
There's only one problem: Sally is gone and Harvey has no memory of her. Which makes no sense to him, until the spider explains that Sally has the unique ability to selectively erase a person's memories—an ability she has used to delete herself from Harvey's mind.
But emotion runs deeper than memory, and Harvey realizes he still feels something for Sally. And so—with the spider threatening—he goes looking for a girl he loves but can't remember . . . and encounters a danger that reaches beyond anything he could ever imagine.
Political corruption and manipulation. A serial killer's dark secrets. An appetite for absolute, terrible power. For Harvey Anderson, finding the forgotten girl comes at quite a cost.
About the Author
RIO YOUERS is the British Fantasy Award–nominated author of End Times and Point Hollow. His short fiction has been published in many notable anthologies, and his novel, Westlake Soul, was nominated for Canada's prestigious Sunburst Award. Rio lives in southwestern Ontario with his wife, Emily, and their children, Lily and Charlie.
Praise For The Forgotten Girl: A Thriller…
"How Youers manages to skillfully weave character development into a book filled with edge-of-your-seat action is a testament to his writing skills...a smart thriller that also explores the power of love and memory. Highly recommended." —Booklist (starred review)
"Emotionally evocative prose...offers everything that fans of intelligent suspense could wish for." —Publishers Weekly (starred review)
"The Forgotten Girl combines elements of the supernatural with mystery in a surprisingly satisfying blend that is as thought-provoking as it is entertaining." —Bookgasm

"If you like thrillers, you won't want to miss this one." —The Washington Independent Review of Books
"Sometimes it's the story that thrills us. Sometimes it's the writer. Whether we know it or not, we always want both. The Forgotten Girl gives us both....halfway through...you think, 'I'd be glued to absolutely anything Youers is spinning.'"—Josh Malerman, author of Bird Box and Black Mad Wheel
"An absolute rocket—The Forgotten Girl is a supernatural thriller that thunders along at Mach 5 from the first page to the last. Written with a brutal lyricism, a savage wit, and a killer instinct for suspense, it's a work that marks out Rio Youers as a big star." —Joe Hill, New York Times Bestselling Author of The Fireman and Heart-Shaped Box
"A page-turner of a novel with concepts that twist your mind, characters that tug at your heartstrings, and a narrative that leaves you breathless. The Forgotten Girl is a supernatural thriller that will ensure you never forget Rio Youers." —Sarah Pinborough, New York Times Bestselling Author of Behind Her Eyes
"Rio Youers writes with a magic all his own. The Forgotten Girl is a unique and twisted thriller, loaded with suspense but also laced with beautiful heartbreak. Youers is a rare and original voice, and I can't wait to see what he does next!" —Christopher Golden, New York Times bestselling author of Snowblind and Dead Ringers
"The Forgotten Girl has everything going for it. Rio Youers has seasoned an original plot with engaging, unpredictable characters, and a totally badass villain, concocting a heady thrill-fest that will keep you turning pages into the wee hours." —F. Paul Wilson, New York Times bestselling author of the Repairman Jack series
"Rio Youers is one of the most vital, most exciting young talents to come along in this decade . . . [He] writes beautiful phrases and sentences, and he has an instinctive feel for horror's flash points, those moments in a novel when its author must demonstrate that he can keep his head while his readers are cheerfully losing theirs." —Peter Straub, New York Times bestselling author of Ghost Story and Shadowland

"Canadian author Youers (Westlake Soul) makes his U.S. debut with a paranormal thriller distinguished by subtle characterizations and emotionally evocative prose. Some vicious thugs abduct street musician Harvey Anderson from his apartment building in Green Ridge, N.J., and give him a savage beating. They want to know the location of Sally Starling, a name he doesn't recognize, even after they show him a copy of the rental agreement that he and Sally signed in 2010 for the Green Ridge apartment...Harvey's compelling, moving search for Sally and the truth offers everything that fans of intelligent suspense could wish for." —Publishers Weekly (Starred Review)
"Youers does a remarkable job keeping the book on an even keel . . . drawing a fine domestic portrait of a tight-knit family under pressure while asking compelling questions about the nature of consciousness . . . and what it means to be human." —National Post (Canada) on Westlake Soul