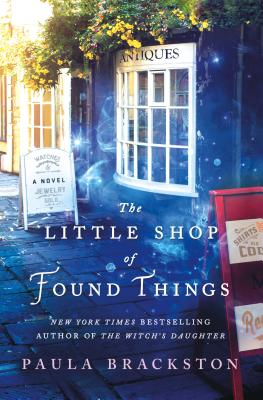 The Little Shop of Found Things
A Novel
Hardcover

* Individual store prices may vary.
Other Editions of This Title:
Digital Audiobook (10/15/2018)
Paperback (10/1/2019)
Library Binding, Large Print (11/1/2018)
Description
New York Times bestselling author of The Witch's Daughter Paula Brackston returns to her trademark blend of magic and romance guaranteed to enchant in The Little Shop of Found Things, the first book in a new continuing series.

An antique shop haunted by a ghost.
A silver treasure with an injustice in its story.
An adventure to the past she'll never forget.

Xanthe and her mother Flora leave London behind for a fresh start, taking over an antique shop in the historic town of Marlborough. Xanthe has always had an affinity with some of the antiques she finds. When she touches them, she can sense something of the past they come from and the stories they hold. When she has an intense connection to a beautiful silver chatelaine she has to know more.

It is while she's examining the chatelaine that she's transported back to the seventeenth century where it has its origins. She discovers there is an injustice in its history. The spirit that inhabits her new home confronts her and charges her with saving her daughter's life, threatening to take Flora's if she fails.

While Xanthe fights to save the girl amid the turbulent days of 1605, she meets architect Samuel Appleby. He may be the person who can help her succeed. He may also be the reason she can't bring herself to leave.

The story continues in October 2019 with book two in the Found Things series, Secrets of the Chocolate House.
Praise For The Little Shop of Found Things: A Novel…
"Enchanting" —People

"Brackston wonderfully blends history with the time-travel elements and a touch of romance. This series debut is a page-turner that will no doubt leave readers eager for future series installments." —Publishers Weekly

"Fans of Diana Gabaldon's Outlander collection will delight in Brackston's new series and eagerly await its second installment. A bewitching tale of love across centuries." —Kirkus Reviews

"A solid, enjoyable read with a hint of magical time travel." —Booklist

"Brimming with charm and charisma... Fans of Outlander will rejoice!" —Woman's World Magazine


"Ms. Brackston skillfully provides readers with a neat mystery-within-a-mystery, stuffed with historical details which place us in the scene, and a steady pace which keeps us reading. Xanthe is a winning, realistic heroine, with a promising future in a new series proposed by Ms. Brackston. Thumbs up for The Little Shop of Found Things!" —Historical Novel Society

"Paula Brackston gives us a delicious escape to a vividly-imagined 17th century England. Sweet and haunting, The Little Shop of Found Things will remind readers of Daphne du Maurier with perhaps a hint of Nancy Drew." —Emily Croy Barker, author of The Thinking Woman's Guide to Real Magic

"After staying up late finishing The Little Shop of Found Things, I had to write to tell you how much I thoroughly enjoyed reading it! I found myself a little upset when it ended, because I definitely want to know what happens to Xanthe, and if she will make her way back to Samuel. As I was reading it, I could not wait to steal a few moments here and there to be able to read and immerse myself back in the story. How badly I felt for Alice, and silently begged her to just tell where the items were! I was surprised that I even found myself having empathy for Mistress Lovewell, even though she was very disagreeable! As a mother, I could imagine that I would have done anything to protect my family! I loved that she left the flashlight. I can not wait to recommend it to our adult readers at the store!" —Kimberly Cake, Enchanted Passage bookstore (Sutton, MA)

"Paula Brackston is back with what's sure to be one of her most beloved titles yet! Xanthe has a special ability to 'feel' an item's history and the emotions attached to it from its previous owner. This gift brings Zanthe back in time to the 1600s where she meets the love of her life, Samuel. Separated by centuries, will they find their way back to each other? Here's hoping this new series will provide the answer. Highly recommended." —Marianne Colton, Lockport Public Library (Lockport, NY)

"The Little Shop of Found Things is a delightful time-travel story with just the right amount of romance and mystery to be a truly engaging read." —Book Junkie Reviews blog

"What a wonderful start to this new series by Paula Brackston with a unique and interesting foundation to magic and time travel." —Carrie Book Reviews blog

"I recommend this book to readers of historical romance and readers who loved the Outlander series." —The Book Was Better blog

"An enjoyable escapist read." —Lit Loving Mom blog

"This is such a promising start to a new series. It's historical and mysterious and suspenseful and magical all at the same time. The author has a true gift for these kinds of stories. I can't wait for the next one!" —Random Book Muses blog

"If you like magical realism, novels with time travel or are an Outlander fan I would recommend this novel for sure." —Book Gal blog
St. Martin's Press, 9781250072436, 320pp.
Publication Date: October 16, 2018
About the Author
PAULA BRACKSTON is the New York Times bestselling author of The Witch's Daughter and The Little Shop of Found Things, among others. Paula lives with her family in the historical border city of Hereford in the beautiful Wye valley. When not at her desk in her writing room, she enjoys long walks with the dog in a sublime landscape filled with the imprints of past lives and ancient times.
or
Not Currently Available for Direct Purchase