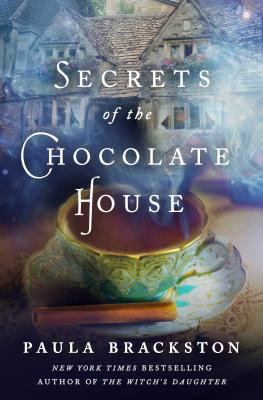 Secrets of the Chocolate House (Found Things #2) (Hardcover)
St. Martin's Press, 9781250072443, 320pp.
Publication Date: October 22, 2019
Other Editions of This Title:
Library Binding, Large Print (1/1/2020)
Paperback (9/29/2020)
* Individual store prices may vary.
Description
The second novel in a bewitching series "brimming with charm and charisma" that will make "fans of Outlander rejoice!" (Woman's World Magazine)

New York Times bestselling author Paula Brackston's The Little Shop of Found Things was called "a page-turner that will no doubt leave readers eager for future series installments" (Publishers Weekly). Now, Brackston returns to the Found Things series with its sequel, Secrets of the Chocolate House.
After her adventures in the seventeenth century, Xanthe does her best to settle back into the rhythm of life in Marlborough. She tells herself she must forget about Samuel and leave him in the past where he belongs. With the help of her new friends, she does her best to move on, focusing instead on the success of her and Flora's antique shop.
But there are still things waiting to be found, still injustices needing to be put right, still voices whispering to Xanthe from long ago about secrets wanting to be shared.
While looking for new stock for the shop, Xanthe hears the song of a copper chocolate pot. Soon after, she has an upsetting vision of Samuel in great danger, compelling her to make another journey to the past.
This time she'll meet her most dangerous adversary. This time her ability to travel to the past will be tested. This time she will discover her true destiny. Will that destiny allow her to return home? And will she be able to save Samuel when his own fate seems to be sealed?
About the Author
PAULA BRACKSTON is the New York Times bestselling author of The Witch's Daughter and The Little Shop of Found Things, among others. Before becoming a writer, she was a horse groom, a travel agent, a secretary, a teacher, and a goat herd. Everyone (particularly the goats) is relieved that she's found a job she does properly. When not in her writer's shed, Paula can be found being walked by the dog, hacking through weeds in her vegetable patch, or sitting by the pond with a glass of wine. She lives in Wales with her family.
Praise For Secrets of the Chocolate House (Found Things #2)…
A Woman's World Book Club best new book of the week!
"Brackston's vibrant story is on firm historical ground, with period details woven in nicely....Time-swapping romance will please fans of Alice Hoffman." —Publishers Weekly
"Secrets of the Chocolate House has all the romance of the seventeenth century with a heroine that is every bit twenty-first: clever, fierce, and willing to put her own life on the line to rescue the man she loves." —Ruth Emmie Lang, author of Beasts of Extraordinary Circumstance

Praise for The Little Shop of Found Things:
"Enchanting" —People

"Brackston wonderfully blends history with the time-travel elements and a touch of romance. This series debut is a page-turner that will no doubt leave readers eager for future series installments." —Publishers Weekly
"Fans of Diana Gabaldon's Outlander collection will delight in Brackston's new series and eagerly await its second installment. A bewitching tale of love across centuries." —Kirkus Review, best science fiction and fantasy book in October 2018
"The Little Shop of Found Things is a delightful time-travel story with just the right amount of romance and mystery to be a truly engaging read." —Book Junkie Reviews blog
"What a wonderful start to this new series by Paula Brackston with a unique and interesting foundation to magic and time travel." —Carrie Book Reviews blog
"I recommend this book to readers of historical romance and readers who loved the Outlander series." —The Book Was Better blog
"An enjoyable escapist read." —Lit Loving Mom blog
"This is such a promising start to a new series. It's historical and mysterious and suspenseful and magical all at the same time. The author has a true gift for these kinds of stories. I can't wait for the next one!" —Random Book Muses blog
"If you like magical realism, novels with time travel or are an Outlander fan I would recommend this novel for sure." —Book Gal blog
"After staying up late finishing The Little Shop of Found Things, I had to write to tell you how much I thoroughly enjoyed reading it! ...I can not wait to recommend it to our adult readers at the store!" —Kimberly Cake, Enchanted Passage bookstore (Sutton, MA)
"Paula Brackston is back with what's sure to be one of her most beloved titles yet! ...Highly recommended." —Marianne Colton, Lockport Public Library (Lockport, NY)