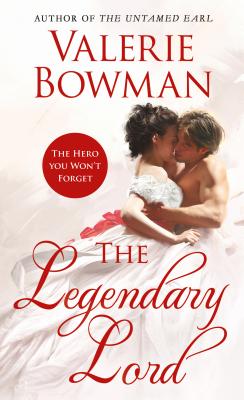 The Legendary Lord (Playful Brides #6) (Paperback)
St. Martin's Paperbacks, 9781250072597, 320pp.
Publication Date: November 1, 2016
* Individual store prices may vary.
Description
THE MAKING OF A LEGEND…
When Christian Forester, Viscount Berkeley, flees the stuffy ballrooms of London for his Scottish hunting lodge, the last thing he expects to find ensconced before his fire is an incredibly beautiful woman. But the plight of lovely young Sarah Highgate, who has run away from an unwanted betrothal, inspires an eminently practical exchange. He'll safeguard her reputation with the ton while she advises him how to best attract a proper bride…
As the undisputed belle of the season, Sarah has enchanted plenty of suitors. Still, she isn't interested in marriage, especially not to the pompous bore her father has chosen for her. But her hasty escape seems reckless now that she's estranged from her family and has no one to count on besides Christian. Turning the luckless lord into such a catch has another unplanned consequence for Sarah: Has he run away with her heart?
The Legendary Lord is the sixth installment of Valerie Bowman's Regency-set Playful Brides series.
About the Author
Valerie Bowman is an award-winning author who writes Regency-set historical romance novels aka Racy Regency Romps! Since her debut in 2012, Valerie's books have received starred reviews from Publisher's Weekly, Booklist, and Kirkus. She's been an RT Reviewers' Choice nominee for Best First Historical Romance and Best Historical Romance Love and Laughter. Two of her books have been nominated for the Kirkus Prize for fiction and New York Times bestselling author Lisa Kleypas calls them, "Too delightful to miss!"
Valerie has a B.A. in English Language and Literature with a minor in history from Smith College. By day, she is a technical editor at a computer software company. By night, she combines her love of writing, history, and romance to craft stories about people falling in love.
Originally from Rantoul, Illinois, Valerie lives in Jacksonville, Florida with her family including her two rascally dogs. When she's not writing, she keeps busy reading, traveling, or vacillating between watching crazy reality TV or PBS.
Praise For The Legendary Lord (Playful Brides #6)…
"A sweet and fulfilling romance." — Publishers Weekly
"Graceful writing enlivened with plenty of dry wit, a charming cast of secondary characters, and a breathtakingly sexy romance between a perfectly matched couple make Bowman's latest addition to her Regency-set Playful Brides series another winner. " —Booklist
"The words funny, smart, sensual and joyous come to mind when readers pick up Bowman's romance." —RT Book Reviews
"A deliciously witty, sexy historical romance that will keep readers turning the pages." —Romance Junkies
"Well written with great characters, I highly recommend The Legendary Lord." —Romance Reviews Today
"The Legendary Lord is a rapturous saga that mixes classic romance with tempting pleasure." —Hopeless Romantic
"Another great book from Valerie Bowman! I was enthralled." —Lady with a Quill
"A lovely Regency romance, sparkling with wit and humour." —Just Book Talk
"A delightful Regency period romp, filled with light banter and charming characters." —The Book Review
"Valerie Bowman once again has created an enjoyable, feel-good story with engaging characters, witty banter, heartfelt emotion, playful humor and a sigh-worthy happy ending." —The Romance Dish
"If I could literally hop into the pages of any series and get to spend time with the characters it would be Valerie Bowman's Playful Brides!" —Jenerated Reviews
"Sweet, wonderfully developed and clever." —I am, Indeed
"This is Regency Romance at its best. A love story that will leave you satisfied and wishing for more." —The Reading Wench
"I read this gem in one sitting, in awe of how funny and interesting and enthralling this Playful Brides world could be." —Smexy Books
or
Not Currently Available for Direct Purchase