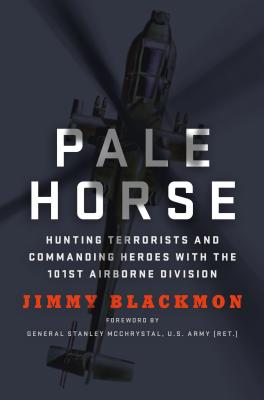 Pale Horse (Hardcover)
Hunting Terrorists and Commanding Heroes with the 101st Airborne Division
St. Martin's Press, 9781250072719, 368pp.
Publication Date: March 8, 2016
* Individual store prices may vary.
Description
Pale Horse is the remarkable never-before-told true story of an army aviation task force during combat in the Afghan War, told by the commanding officer who was there. Set in the very valleys where the attacks of 9/11 were conceived, and where ten Medals of Honor have been earned since that fateful day the war began, the narrative races from ferocious firefights and bravery in battle to the quiet moments where the courageous men and women of Task Force Pale Horse catch their breath before they take to the skies again.
Jimmy F. Blackmon writes with a power and hard-hitting honesty that leaps off the page. He has the respect of the men and women of his brigade, and a command of the narrative to tell their story. From pilots of lethal Apache attack helicopters who strike fear in their enemies to the medevac soldiers who risk their lives daily, these are warriors from a variety of backgrounds who learned selflessness and found the closest brotherhood they ever knew through the crucible of war. Pale Horse both honors and commemorates the service of this elite task force from the unique vantage point of the commander who led them in battle.
About the Author
JIMMY BLACKMON has served in various command and staff positions throughout the army in the two plus decades since he started out as a second lieutenant in army aviation. He has commanded soldiers at every level from platoon through brigade, including commanding soldiers in combat at the squadron and brigade level in the famed 101st Airborne Division. He has served two tours in the Balkans, two tours in Iraq and two tours in Afghanistan. He is married with four children, and lives in Virginia.
Praise For Pale Horse: Hunting Terrorists and Commanding Heroes with the 101st Airborne Division…
"A riveting account of extraordinary combat aviation operations during intense fighting in the mountains of Afghanistan by one of the U.S. Army's finest, most experienced aviation commanders." - General (Ret) David Petraeus, former Commander of the International Security Assistance Force in Afghanistan
"In turns suspenseful and violent...Blackmon uses authentic jargon, he never loses average readers. More importantly, he adds personal touches that humanize the story. A vivid, action-packed combat memoir, Blackmon's book explores what life is like for those boots on the ground, as well as in the air." - Kirkus Reviews
"This is the Afghanistan War as you have never seen it before---the real ground truth---stunning, heartbreaking detail that will drive home to any reader how much we ask of our soldiers physically and mentally---and what they ask from---and give to---each other." - Bob Woodward, bestselling author and associate editor of The Washington Post
"In the mountains of Afghanistan, those of us who fought on the ground regarded the helicopter pilots of the 101st Airborne Division as nothing short of a godsend. They kept our supply lines open; they flew in our reinforcements and evacuated our wounded; and when things truly went to hell, they unleashed a deluge of hellfire that kept us from being wiped off the map. Jimmy Blackmon did more than lead these men and women into battle: in Pale Horse, he has captured the extraordinary story of these 'knights of the sky' in a manner that does justice to their skill, their courage, and the extraordinary sacrifices they made on behalf of the troops who depended upon them. An eloquent and inspiring account of an exceptional group of soldiers who personify the highest values of the American military.—Clinton Romesha, Medal of Honor recipient and author of Red Platoon: An Untold Story of American Valor
"Pale Horse is a fascinating window into combat on the most viscerally human level, and moving tribute to the brave men and women who fought." —General (Ret.) Stanley McChrystal, from the Foreword
"Pale Horse is a story full of heart stopping action as seen from the air! Men and women who fought boots on the ground owe their lives to the courageous personnel who provide support from the air. What these pilots do on a daily basis and what they do to save lives on the ground needs to be told. Truly unsung heroes. I personally would like to thank these men and women for the support they have provided us. Thank you!"--Nicholas Irving, Army Ranger sniper (Ret.) and New York Times bestselling author of The Reaper
"A fascinating insider account of American soldiers in brutal combat in some of the harshest terrain on the planet." --Sean Naylor, New York Times bestselling author of Relentless Strike
"Close Combat Attack (CCA) is where the rubber meets the road when it comes to aviation supporting and protecting ground forces in the thick of battle. Pale Horse is a look at the mechanism and personal stories behind the scenes of this lethal asset, as told against the backdrop of Afghanistan." - Michael Golembesky, New York Times bestselling author of Level Zero Heroes & former MARSOC team member
"An extraordinary book of real clarity and vision that illuminates war across the ages. On the dusty trails, high mountain passes, and thin air of the Hundu Kush, Jimmy Blackmon gives us the crucible of combat in all its bitter glory. A must read for anyone who wants to understand Afghanistan and America's path through our longest war"--Admiral James Stavridis, USN, (Ret), Supreme Allied Commander at NATO 2009-2013, Dean, The Fletcher School of Law and Diplomacy
"Army Helo pilots are a different breed. They fly fast, low, day and night in direct support of their 'band of brothers' in the ground fight. Jimmy Blackmon superbly captures the courage, heroism, skill and camaraderie in telling the story of his 101st Airborne 'Pale Horse' air cavalrymen during their yearlong combat tour in the dangerous and unforgiving battlefields of Afghanistan." --Dick Cody, General, US Army 31st VCSA
or
Not Currently Available for Direct Purchase