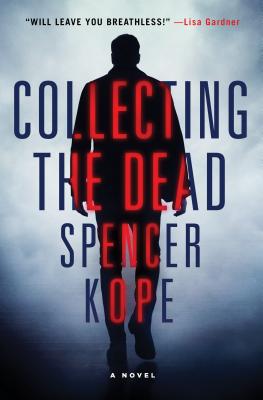 Collecting the Dead
A Novel (Special Tracking Unit #1)
Hardcover

* Individual store prices may vary.
Other Editions of This Title:
Digital Audiobook (6/27/2016)
Mass Market (4/4/2017)
CD-Audio (6/28/2016)
Hardcover, Large Print (1/4/2017)
Description
Magnus "Steps" Craig is part of the elite three-man Special Tracking Unit of the FBI. Called in on special cases where his skills are particularly needed, he works as a tracker. The media dubs him "The Human Bloodhound," since Steps is renowned for his incredible ability to find and follow trails over any surface better than anyone else. But there's a secret to his success. Steps has a special ability---a kind of synesthesia---where he can see the 'essence' of a person, something he calls 'shine,' on everything they've touched. His ability is known to only a few people---his father, the director of the FBI, and his partner, Special Agent Jimmy Donovan.

When the remains of a murdered woman are found, Steps recognizes the shine left by the murderer from another crime scene with a physically similar victim. And he uncovers the signature at both scenes---the mark of a sad face. At the same time, another killer, one Steps has dubbed Leonardo and has been trying to track for over ten years, appears again, taunting Steps. But while Steps tries to find a clue that will lead him to Leonardo, the case of the Sad Face Killer heats up. The team uncovers eleven possible victims: missing women who fit the same pattern. Using his skill and the resources of the Bureau, it is a race against time to find the killer before it's too late.
Praise For Collecting the Dead: A Novel (Special Tracking Unit #1)…
"A heart-thumping yarn from a real-life crime analyst" —The Boston Globe

"Kope, a professional crime analyst, brings a refreshing authenticity to his work, then raises the stakes several notches by giving Steps, from whose point of view the story unravels, a unique, funny, and intriguing voice. Crammed with characters who will capture readers' attention and writing that leaves much of the field in the dust, Kope's novel features a character who is different, talented, sympathetic, and gifted with great heart." —Kirkus Reviews (starred review)

"Kope, a working crime analyst for a county sheriff in Washington State, avoids the histrionic low road of serial murder fiction, using his experience to enliven the plot with the intricacies of profiling and detection." —Chicago Tribune

"Spencer Kope would be the most interesting guy in the room even if he hadn't just published his debut thriller . . . Like the best books of the thriller genre, this one is driven in equal parts by characters (not just Steps) and plot. It's difficult to put down, given that Kope has constructed one loudly ticking clock." —Bookreporter

"Kope…hypnotizes the reader in this brilliant debut, not only for its addictive storyline but also by creating, in Steps, a good man blessed and plagued by his particular talent. Endlessly frightening, occasionally funny, Collecting the Dead portends a great future for author and hero in a promised sequel — and beyond." —Richmond Times-Dispatch

"Kope . . .has introduced a tortured soul who's a welcome addition to the library of crime fiction heroes." —Publishers Weekly

"Since childhood, Steps has been able to read a bad guy's aura, a soft glowing trace that the bad guy leaves on whatever he comes in contact with. Steps calls it a person's "shine," and it's Steps's way with shine, which comes across as an altogether believable concept, that moves Spencer Kope's first crime novel, featuring a chase after a diabolical serial killer, into a thrillingly original category." —Toronto Star

"Readers who enjoy serial killer novels will be talking about this book for months."—Library Journal (starred review)

"Fascinating and compelling! Spencer Kope's Collecting the Dead reenergizes the crime genre with the introduction of "human bloodhound" FBI Agent Magnus Craig whose special skills puts him on every serial killer's trail, but also in at least one psychopath's sights. The twists and turns will leave you breathless!" —Lisa Gardner

"I read this book in two sittings, ignoring my work and family until I turned the last page. Mark my words, 'Steps' Craig is poised to take his place among our most popular and cherished thriller heroes. I can't wait for the next book." —Chelsea Cain

"Collecting the Dead introduces Magnus 'Steps' Craig, a member of the FBI's Special Tracking Unit who has a special gift known only to a few, but will it be enough to stop a killer who seems to be one step ahead of everyone? Kope's debut is a well written thrill ride that introduces a very appealing hero. Hopefully Steps will be back in action soon." —Phillip Margolin
Minotaur Books, 9781250072870, 320pp.
Publication Date: June 28, 2016
About the Author
SPENCER KOPE is the Crime Analyst for the Whatcom County Sheriff's Office. Currently assigned to Detectives Division, he provides case support to detectives and deputies, and is particularly good at identifying possible suspects. In his spare time he developed a database-driven analytical process called Forensic Vehicle Analysis (FVA) used to identify the make, model and year range of vehicles from surveillance photos. It's a tool he's used repeatedly to solve crimes. One of his favorite pastimes is getting lost in a bookstore, and he lives in Washington State.
or
Not Currently Available for Direct Purchase