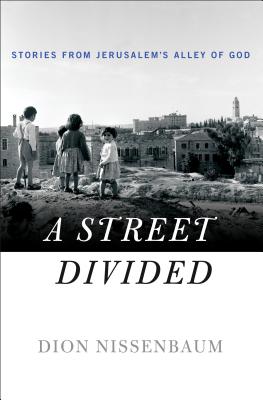 A Street Divided
Stories From Jerusalem's Alley of God
Hardcover

* Individual store prices may vary.
Description
It has been the home to priests and prostitutes, poets and spies. It has been the stage for an improbable flirtation between an Israeli girl and a Palestinian boy living on opposite sides of the barbed wire that separated enemy nations. It has even been the scene of an unsolved international murder. This one-time shepherd's path between Jerusalem and Bethlehem has been a dividing line for decades. Arab families called it "al Mantiqa Haram." Jewish residents knew it as "shetach hefker." In both languages, in both Israel and Jordan, it meant the same thing: "the Forbidden Area." Peacekeepers that monitored the steep fault line dubbed it "Barbed Wire Alley." To folks on either side of the border, it was the same thing: A dangerous no-man's land separating warring nations and feuding cultures in the Middle East. The barbed wire came down in 1967. But it was soon supplanted by evermore formidable cultural, emotional and political barriers separating Arab and Jew.

For nearly two decades, coils of barbed wire ran right down the middle of what became Assael Street, marking the fissure between Israeli-controlled West Jerusalem and Jordanian-controlled East Jerusalem. In a beautiful narrative, Dion Nissenbaum's A Street Divided offers a more intimate look at one road at the heart of the conflict, where inches really do matter.
Praise For A Street Divided: Stories From Jerusalem's Alley of God…
"Nissenbaum offers a close-up of Assael Street in the Jerusalem neighborhood Abu Tor, one of a few "mixed" residential areas in the city...recounts an almost Romeo-and-Juliet tale of cross-cultural childhood friendship, and various incidents of aggression and kindness that defy easy black-and-white, good-or-bad, perpetrator-victim interpretations of history and politics." —Los Angeles Review of Books

"Want to know why Israelis and Palestinians fight and can they ever stop? Dion Nissenbaum's A Street Divided is a must read. A superb story and a window too that reveals how one small street embodies the immensity of a conflict centuries old." —Aaron David Miller, former US Middle East negotiator in Republican and Democratic Administrations and author of THE MUCH TOO PROMISED LAND and THE END OF GREATNESS

"Award-winning journalist takes us deep into the lives of Jewish and Palestinian neighbors on Jerusalem's most historic and troubled street...[A Street Divided] reads like an epic multigenerational family saga, tracing the interlocking lives of a handful of neighbors whose relationships grow more strained with time." —Minneapolis StarTribune

"The revealing story of a street 'at the epicenter of one of the world's most intractable conflicts'... A must-read for anyone interested in the ongoing Israeli-Palestinian drama." —Kirkus Reviews (starred review)

"A fascinating diagnosis of one of the city's highly combustible fault lines." —Sari Nusseibeh, author of ONCE UPON A COUNTRY: A Palestinian Life

"Nissenbaum writes with such skill and compassion that you don't even notice his dazzling high-wire act: telling both sides of Jerusalem's story with equal respect and understanding. A Street Divided shows the grit, love and humanity of the people living on one of the worlds most fascinating fault lines. This is an essential book - a fresh take for anyone who cares about the Holy Land but has been worn down by the 24-hour news cycle of conflict." —Quil Lawrence, award-winning correspondent for NPR News and author of INVISIBLE NATION: How the Kurds' Quest for Statehood is Shaping Iraq and the Middle East
St. Martin's Press, 9781250072948, 272pp.
Publication Date: September 22, 2015
About the Author
DION NISSENBAUM is a national security reporter for The Wall Street Journal. Previously, Dion was based in Afghanistan, where he traveled around the country both as an independent journalist and with U.S. military. He has won several awards, including a National Press Club award for diplomatic correspondence. He has covered conflicts in many countries around the Middle East and South Asia. He lives in Washington, DC.
Coverage from NPR