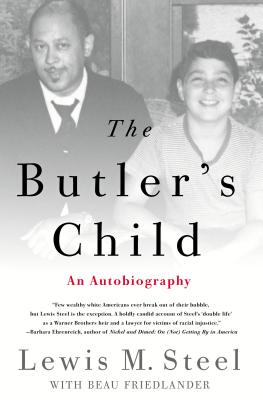 The Butler's Child (Hardcover)
An Autobiography
Thomas Dunne Books, 9781250073006, 320pp.
Publication Date: June 14, 2016
Other Editions of This Title:
Paperback (7/15/2020)
* Individual store prices may vary.
Description
The Butler's Child is the personal story of a Warner Brothers family grandson who spent more than fifty years as a fighting, no holds barred civil rights lawyer. Lewis M. Steel explores why he, a privileged white man, devoted his life to seeking racial progress in often uncomprehending or hostile courts. In fact, after writing a feature for The New York Times Magazine entitled "Nine Men in Black Who Think White," Lewis was fired from the NAACP and the entire legal staff resigned in support of him. Lewis speaks about his family butler, an African American man named William Rutherford, who helped raise Lewis, and their deep but ultimately troubled relationship, as well as how Robert L. Carter, the NAACP's extraordinary general counsel, became Lewis' mentor, father figure and lifelong close friend.
Lewis exposes the conflicts which arose from living and working in two very different worlds - that of the Warner Brothers family and that of a civil rights lawyer. He also explores his more than fifty year marriage, which joined two very different Jewish and Irish American families.
Lewis' work with the NAACP and in private practice created legal precedents still relevant today. The Butler's Child is also an insider's look into some of the most important civil rights cases from the turbulent 1960's to the present day by a man still working to advance the civil rights that should be available to all.
About the Author
LEWIS M. STEEL worked as a lawyer for the NAACP and is now Senior Counsel to Outten & Golden LLP. He works on a range of class action cases involving sexual and racial discrimination, overtime claims, and tipping issues. His precedent-setting decisions include Sumitomo Shoji America, Inc. v. Avagliano, 457 U.S. 176, which established that American subsidiaries of foreign corporations must obey American civil rights laws. He lives in New York.

Beau Friedlander's writing has appeared in many publications including Time, Harpers Magazine, and The Paris Review. He was the founder of Context Books, served as editor in chief at Air America Media, and currently works at The Intercept. He lives in Brooklyn.
Praise For The Butler's Child: An Autobiography…
"Steel writes movingly . . . drawing on his experiences in two different social and cultural worlds, Steel has no trouble getting to the dark heart of our nation's racial ills in this polished, accomplished book." —Publishers Weekly (starred review)
"An articulate, emotionally moving chronicle of a life informed by racial unrest and elevated with dutiful humanitarianism." -Kirkus Reviews
"A fascinating, insider's look into the legal side of the civil-rights battle."- Booklist
"Few wealthy white Americans ever break out of their bubble. When Lewis Steel walked into Attica prison in the middle of a riot in 1971, he became one of the exceptions. This is a boldly candid account of his "double life" as a Warner Brothers heir and a lawyer for victims of racial injustice." —Barbara Ehrenreich, author, Nickel and Dimed: On (Not) Getting by in America, and founder, Economic Hardship Reporting Project
"The breadth of Steel's legal activism over the last half century, as revealed in this remarkable memoir, reminds us of the challenges that loomed in the wake of the Civil Rights gains of the 1960s: the campaign to end northern school segregation; ongoing battles against unemployment, under-employment, and housing discrimination: the pervasive problems of police brutality and a deeply flawed criminal justice system. His compelling, first-hand account of the Attica prison uprising and ensuing massacre sheds fresh light on one of the great tragedies of the "Post Civil Rights" era. A child of privilege, Steel has lived a life dedicated to the pursuit of racial justice, and has written a memoir that is timely, essential and deeply inspiring." --Henry Louis Gates, Jr., The Alphonse Fletcher University Professor, Harvard University
"The Butler's Child joins the family of books written about Martin Luther King, Jr, Thurgood Marshall and the many heroes of the Civil Rights Movement. This is a timely memoir since it appears as a new generation of activists are protesting in the streets. Lewis Steel, a former NAACP lawyer, gives an insider's account of how America struggled to change its laws and depart from the station of segregation and inequality. This memoir finds a good man caught in the doorway of history but still able to place his shoulder against the obstacles of change – and push. Steel shows how being born into a class of privilege can still beckon one into a life of service. The Butler's Child is not just about race, family, mentorship, courtrooms and prisons; it's about America's Song and the countless solos we need to hear. Steel's life consists of many notes. Even after moments and days of despair, there comes a beautiful light from a beautiful man." --E. Ethelbert Miller, author of Fathering Words: The Making of an African American Writer and Board Chair of the Institute for Policy Studies
or
Not Currently Available for Direct Purchase