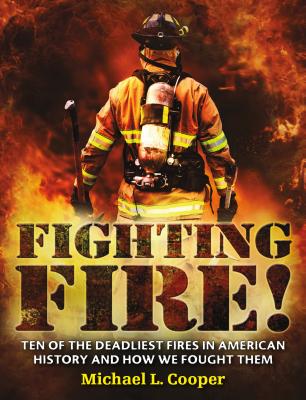 Fighting Fire! (Paperback)
Ten of the Deadliest Fires in American History and How We Fought Them
Square Fish, 9781250073419, 224pp.
Publication Date: January 26, 2016
Other Editions of This Title:
Hardcover (3/4/2014)
* Individual store prices may vary.
Description
From colonial times to the modern day, two things have remained constant in American history: the destructive power of fires and the bravery of those who fight them.
Fighting Fire! by Michael L. Cooper brings to life ten of the deadliest infernos this nation has ever endured: the great fires of Boston, New York, Chicago, Baltimore, and San Francisco, the disasters of the Triangle Shirtwaist Factory, the General Slocum, and the Cocoanut Grove nightclub, the wildfire of Witch Creek in San Diego County, and the catastrophe of 9/11. Each blaze led to new firefighting techniques and technologies, yet the struggle against fires continues to this day. With historical images and a fast-paced text, this is both an exciting look at firefighting history and a celebration of the human spirit.
About the Author
Michael L. Cooper is the award-winning author of many history and biography books for young readers, including Fighting Fire! and Dust to Eat. He lives in Louisville, Kentucky.
Praise For Fighting Fire!: Ten of the Deadliest Fires in American History and How We Fought Them…
"Lively, with dramatic illustrations to match." —The Horn Book
"The author does an excellent job of relating advances in fire safety and firefighting techniques to lessons learned from these tragedies." —School Library Journal
"Ten chapters, arranged in chronological order, highlight major skirmishes in the ongoing war for human control over fire." —BCCB