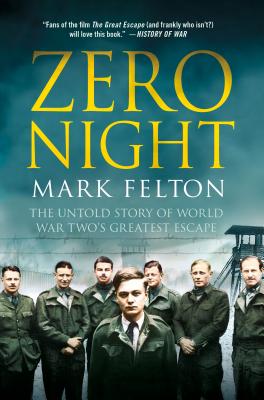 Zero Night (Hardcover)
The Untold Story of World War Two's Greatest Escape: The Untold Story of World War Two's Greatest Escape
Thomas Dunne Books, 9781250073747, 320pp.
Publication Date: August 25, 2015
* Individual store prices may vary.
Description
A thrilling, moment by moment account of an epic World War II escape and the real-life adventures that followed.
On August 30, 1942 - 'Zero Night' - 40 Allied officers staged the most audacious mass escape of World War II. Months of meticulous planning and secret training hung in the balance during three minutes of mayhem as the officers boldly stormed the huge double fences at Oflag Prison. Employing wooden ladders and bridges previously disguised as bookshelves, the highly coordinated effort succeeded and set 36 men free into the German countryside. Later known as the 'Warburg Wire Job', fellow prisoner and fighter ace Douglas Bader once described the attempt as 'the most brilliant escape conception of this war'.
The first author to tackle this remarkable story in detail, historian Mark Felton brilliantly evokes the suspense of the escape and the adventures of those escapees who managed to elude the Germans, as well as the courage of the civilians who risked their lives to help them in enemy territory. Fantastically intimate and told with a novelist's eye for drama and detail, this rip-roaring adventure is all the more thrilling because it really happened.
About the Author
Mark Felton has written over a dozen books on prisoners of war, Japanese war crimes and Nazi war criminals, and writes regularly for magazines such as Military History Monthly and World War II including China Station: The British Military in the Middle Kingdom, 1839-1997. After almost a decade teaching in Shanghai he has returned to Colechester, England where he lives with his wife and son.
Praise For Zero Night: The Untold Story of World War Two's Greatest Escape: The Untold Story of World War Two's Greatest Escape…
"In this exciting book, Felton has captivatingly captured the bravery of the prisoners." —Kirkus Reviews
"This is undeniably history as it should be told and a thundering good read." —The Daily Mail (UK)
"Fans of the film The Great Escape (and frankly who isn't?) will love this book" —History of War
"Action-packed...a fitting tribute to the ingenuity of the escapees and of the brave civilians who subsequently assisted them" —Good Book Guide
"A fresh light on the POW escape, focusing on the individual stories and characters to create a real' great escape" —Military History
"For once, the book's blurb is accurate in describing Felton's racy work as 'a rip-roaring adventure, all the more thrilling for being true'." —Newcastle Herald (UK)