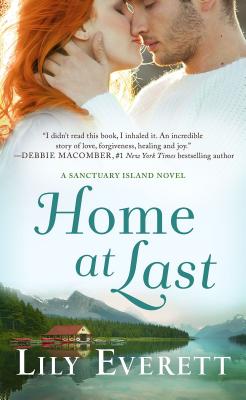 Home at Last (Mass Market)
A Sanctuary Island Novel
St. Martin's Paperbacks, 9781250074065, 320pp.
Publication Date: March 7, 2017
* Individual store prices may vary.
Description
Home is where the heart is…
In Lily Everett's Home at Last, Marcus Beckett left Sanctuary Island after his mother's funeral, and he hasn't been back since. Until now. Needing a change from the high-risk, high-stakes life of a bodyguard, Marcus makes a solitary life for himself running the neighborhood bar in his hometown. His only mistake? Seducing and then dumping the town's sweetheart, Quinn Harper. Marcus knows he did the right thing—a good girl like Quinn has no business with a broken man like him. But now no one will come to his bar, and he's watching his last chance at a peaceful life go up in smoke. So when Quinn proposes a fake four-week courtship, he can't refuse…even though he knows it's a bad idea.
It's a romantic charade that will buy Quinn time to distract her mother and father from their own marital problems—and will help Marcus welcome back some paying customers besides. But what begins as an engagement of convenience slowly transforms into a deeper connection, one that heals both of their hearts. . .and ignites the simmering passion between them. Could it be that pretending to be together is just what Quinn and Marcus needed to give their real love a second chance?
"Heartwarming, emotional, extremely romantic...Enjoy your trip to Sanctuary Island! I guarantee you won't want to leave."—Bella Andre, New York Times bestselling author
About the Author
Lily Everett grew up in a small town in Virginia reading Misty of Chincoteague and Black Beauty, taking riding lessons, and longing for a horse of her own. Sadly, her parents gave her a college education instead—but she never forgot what the world looked like from the back of a horse. She currently lives in Austin, Texas, where she writes full-time.
Praise For Home at Last: A Sanctuary Island Novel…
"Everett's Sanctuary Island book enchants readers with strong, crisp storytelling...A multilayered story of family and love, and an unforgettable cast of characters." —Publishers Weekly
"A wonderful romance." —RT Book Reviews
"A wonderful read." —USA Today's Happily Ever After blog
"Lily Everett remains an auto-buy author for me as she always delivers a beautiful and emotional story that pulls me in from the very first page." —Blogging by Liza
"Another non-putdown-able book! Lily Everett is great at making characters and plots that will keep those pages turning!" —Creating Serenity
"Entertaining, interesting, and intriguing, Home at Last proves itself to be a compelling romance story about the power of forgiveness, the deep bonds of family, the struggles of both new and decades old relationships, and the hope for a future that isn't always written in stone." —Okie Dreams Book Reviews
"This story had me smiling and laughing, covering my mouth with surprise, and tearing up. I went on a Lily Everett buying spree immediately upon finding out this is a series! Highly recommended." —The Jeep Diva
"Heartwarming, believable and captivating from start to finish, Home at Last is a poignant and passionate read you will not easily forget!" —Bookish Jottings
"Heartwarming, touching and delightfully entertaining!" —Write-Escape
"Home at Last by Lily Everett is a story that will melt your heart and make you swoon in all the right places. With strong, relatable characters, magical scenery, and well-paced throughout there is never a dull moment in this story - a top read!" —Books of All Kinds
or
Not Currently Available for Direct Purchase