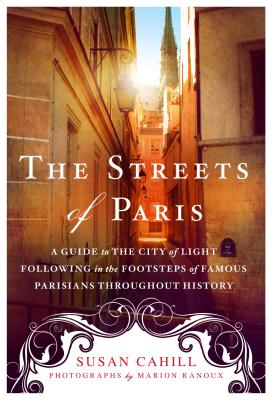 The Streets of Paris
A Guide to the City of Light Following in the Footsteps of Famous Parisians Throughout History
Paperback

* Individual store prices may vary.
Other Editions of This Title:
Digital Audiobook (8/12/2019)
MP3 CD (8/13/2019)
Compact Disc (8/13/2019)
Description
From the author of Hidden Gardens of Paris, The Streets of Paris is Susan Cahill's wonderfully unique guide to present-day Paris following in the footsteps of famous Parisians through the last 800 years.

For hundreds of years, the City of Light has set the stage for larger-than-life characters—from medieval lovers Héloïse and Abelard to the defiant King Henri IV to the brilliant scientist Madame Curie, beloved chanteuse Edith Piaf, and the writer Colette. In this beautifully illustrated book, Susan Cahill recounts the lives of twenty-two famous Parisians and then takes you through the seductive streets of Paris to the quartiers where they lived and worked: their homes, the scenes of their greatest triumphs and tragedies, their favorite cafes, bars, and restaurants, and the off-the-beaten-track places where they found inspiration and love.

From Sainte-Chapelle on the Ile de la Cite to the cemetery Pere Lachaise to Montmartre and the Marais, Cahill not only brings to life the bold characters of a tumultuous history and the arts of painting, music, sculpture, film, and literature, she takes you on a relaxed walking tour in the footsteps of these celebrated Parisians.

Each chapter opens with a beautiful four-color illustration by photographer Marion Ranoux, and every tour begins with a Metro stop and ends with a list of "Nearbys"—points of interest along the way, including cafes, gardens, squares, museums, bookstores, churches, and, of course, patisseries.
Praise For The Streets of Paris: A Guide to the City of Light Following in the Footsteps of Famous Parisians Throughout History…
"Susan Cahill guides us to places and neighborhoods where celebrated, creative Parisians lived from the twelfth century (Héloise and Abelard) to the twentieth (Edith Piaf). Witty,colorful and always enlightening, The Streets of Paris is essential, whether you're visiting for the first or fiftieth time." —Donald Spoto, bestselling author of TheRedgraves: A Family Epic

"This is elegantly written book is absolutely essential reading for all travelers bound for Paris and anyone who loves the city, because it's a history of the city that renders the city's streets as historically vivid as they are beautiful. It's a lovely read, too, because it's history at its best, or as a series of intriguing, well-crafted and authoritative anecdotes that are a delight to read and will stay in mind as a quiet guide that will deepen one's appreciation of the city. forever." — Alexander Lobrano, author of Hungry for Paris and Hungry for France

On Hidden Gardens of Paris
"Paris may be universally known as the City of Light, but based on this exquisite book it could just as easily be called the City of Parks." —Chicago Tribune

"No matter how many times you have been to Paris, never go again without Susan Cahill (are you listening, Woody?) In our many visits there since 1957 my wife Judith and I thought we had covered all the known and not-so-known delights of the city. Only in reading The Hidden Gardens of Paris did we realize we had missed much of what had been hiding in plain sight. In her earlier book The Smiles of Rome she had worked the same magic, enabling us to return to the Imperial City in the company of notable writers whose experience in their time enraptures the visitor today. We have already started packing for Paris." —Bill Moyers

"Whether you go often to Paris or are making your first visit, this is the guide you need. Susan Cahill will accompany you through the parks of this beloved city--from famous public spaces to secret gardens: a walk through the history and lore of Paris and Parisians, all in the open air." —Shirley Abbott, author of The Bookmaker's Daughter, Love's Apprentice, and The Future of Love

"The secluded places that Susan Cahill and Marion Ranoux show us may have seemed off limits to the considerate traveller, anxious to avoid an invasion of French privacy. But this lively and informative guide gives one the confidence and the an overwhelming desire to venture into the Jardin Catherine Labouré and the Jardin du Musée Rodin, or, on the other hand, to tackle the Bois du Boulogne on the next visit to Paris." —Elizabeth Cullinan, author of House of Gold

"As someone who likes to build a walk into her daily routine, this handy, informative little book helped me visit old neighborhood park and garden friends and meet new ones. And what's not to like about the gardens of Paris and the stories behind them?" —Mireille Guiliano, author of French Women Don't Get Fat
St. Martin's Griffin, 9781250074324, 320pp.
Publication Date: June 6, 2017
About the Author
SUSAN CAHILL has published several travel books on France, Italy, and Ireland, including Hidden Gardens of Paris and The Streets of Paris. She is the editor of the bestselling Women and Fiction series and author of the novel Earth Angels. She spends a few months in Paris every year.

MARION RANOUX, a native Parisian, is an experienced freelance photographer and translator into French of Czech literature. Her photographs are featured in Susan Cahill's Hidden Gardens of Paris.
or
Not Currently Available for Direct Purchase