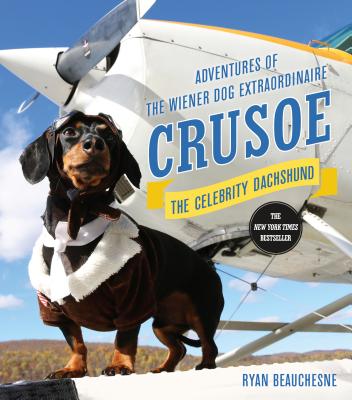 Crusoe, the Celebrity Dachshund
Adventures of the Wiener Dog Extraordinaire
Hardcover

* Individual store prices may vary.
Description
A New York Times Bestseller
What?! You've never heard of Crusoe the Celebrity Dachshund?! You must be living under a rock!
... Or at least that's what Crusoe thinks. He's the self-proclaimed "wiener dog who thinks he's more of a celebrity than he really is." (until now!) Crusoe is the star of his wildly popular blog of the same name, winner of the 2013 and 2014 Best Pet Blog Award. That's right... two years in a row! Because Crusoe is a talented and ridiculously photogenic miniature dachshund with a big personality, stunning fashion sense, and an insatiable penchant for whimsy. Perhaps you know him better by his infamous alter ego, BATDOG? We thought so.
This is Crusoe's New York Times bestselling book debut, and he's so excited to share it with all of his adoring fans. Now everyone can stare lovingly into his big brown eyes and admire his wit and many costumes any time they choose. Crusoe is certain that his book, featuring hundreds of photos, will make the perfect gift for dog-lovers of all ages. He wants to be accessible to his fans so you can really get to know the mutt behind the mask, the pooch behind that signature sexy pout, the pup with a heart of gold.
Don't miss these amazing photos and stories:
The adventures of BATDOG and Robin;
Cooking with Crusoe;
Dr. Crusoe, the dentist, and malpractice;
International travels with the worldliest of adventure dogs;
Fishing with Crusoe and twin brother Oakley;
Dating advice from the studly pup himself;
Walking in a winter wienerland;
...And many more!
Praise For Crusoe, the Celebrity Dachshund: Adventures of the Wiener Dog Extraordinaire…
"Crusoe, a 5-year-old miniature dachshund, has made a name for himself with his award-winning blog. Now his wit, wisdom and undeniable charm are on display in print form. There are even recipes, and the photo of Crusoe in his chef's hat alone may be worth the price of the book."—Chicago Tribune
"There's a new celebrity chef on the scene and he's got a paw up on the competition." —Huffington Post
"Too cute for words." —Food Network
"If cuteness is a crime, [this dog is] guilty." —Mashable
"All in all, he crushes life." —Buzzfeed
"Are we a little obsessed with him? Yes." —BarkPost
St. Martin's Griffin, 9781250074393, 240pp.
Publication Date: October 27, 2015
About the Author
Ryan Beauchesne is the proud owner, father, manager, and chief pooper-scooper of Crusoe the Celebrity Dachshund. The last few years of Ryan's life have been entirely devoted to Crusoe and his antics. With multiple viral videos, travels across the world, a New York Times bestselling book, and over 3.5 million followers on social media, Crusoe has become the unofficial ambassadog for dachshunds everywhere, and for any dog with a passion for whimsy and adventure.
Ryan's background lies in digital marketing, but he's always had a passion for writing, photography, crafting — and dogs, of course. He grew up reading Calvin & Hobbes comics and looking at the William Wegman photo books on his coffee table, both of which have been strong inspirations to what he's doing today. From an early age, Ryan has always jumped from one creative hobby to the next. Crusoe's endeavor started as such, but has now been going on for years and is Ryan's full time career.
or
Not Currently Available for Direct Purchase