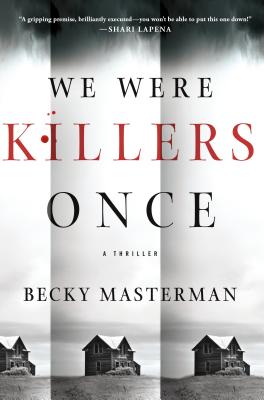 We Were Killers Once (Hardcover)
A Thriller (Brigid Quinn Series #4)
Minotaur Books, 9781250074522, 320pp.
Publication Date: June 4, 2019
Other Editions of This Title:
Digital Audiobook (6/3/2019)
CD-Audio (6/25/2019)
* Individual store prices may vary.
Description
"Former FBI agent Brigid Quinn, with her trademark toughness, raw humor, and human frailty, is back and better than ever in Masterman's latest novel. As Quinn is drawn into an infamous cold case with a possible link to the two killers immortalized by Truman Capote's In Cold Blood, she finds danger closing in. A gripping premise, brilliantly executed—you won't be able to put this one down!"—Shari Lapena, New York Times bestselling author of The Couple Next Door

In 1959, a family of four were brutally murdered in Holcomb, Kansas. Perry Smith and Dick Hickok were convicted and executed for the crime, and the murders and their investigation and solution became the subject of Truman Capote's masterpiece, In Cold Blood. But what if there was a third killer, who remained unknown? What if there was another family, also murdered, who crossed paths with this band of killers, though their murder remains unsolved? And what if Dick Hickok left a written confession, explaining everything?

Retired FBI agent Brigid Quinn and her husband Carlo, a former priest and university professor, are trying to enjoy each other in this new stage in their lives. But a memento from Carlo's days as a prison chaplain--a handwritten document hidden away undetected in a box of Carlo's old things--has become a target for a man on the run from his past. Jerry Beaufort has just been released from prison after decades behind bars, and though he'd like to get on with living the rest of his life, he knows that somewhere there is a written record of the time he spent with two killers in 1959. Following the path of this letter will bring Jerry into contact with the last person he'll see as a threat: Brigid Quinn.

Becky Masterman's unputdownable thrillers featuring unique heroine Brigid Quinn continue with this fascinating alternative look at one of America's most famous crimes.
About the Author
BECKY MASTERMAN, who was an acquisitions editor for a press specializing in medical textbooks for forensic examiners and law enforcement, received her M.A. in creative writing from Florida Atlantic University. Her debut thriller, Rage Against the Dying, was a finalist for the Edgar Award for Best First Novel, the CWA Gold Dagger Award for Best Crime Novel of 2013, as well as the Macavity, Barry, and Anthony awards. She won the Tony Hillerman Fiction Award for A Twist of the Knife. Becky lives in Tucson, Arizona, with her husband.
Praise For We Were Killers Once: A Thriller (Brigid Quinn Series #4)…
"The best thing about this alternative take on the Clutter family murders made famous in Truman Capote's 1965 true-crime classic "In Cold Blood" is Masterman's meticulous look inside the head of a heartless psychopath." —The Washington Post, 9 Thriller Picks for Your Beach Bag

"Masterman keeps the tension high throughout this page-turner." —Publishers Weekly

"What makes this latest Quinn mystery especially nerve-racking is the fact that Quinn's husband, a former prison chaplain, may have the evidence that Beaufort seeks . . . the plot never loses its drive, and the characters are truly intriguing." —Booklist

"Brigid Quinn is an awesome character. She's strong, smart and someone you want in your corner. The story starts off strong and has lots of twists and turns to keep the reader engaged right up to the climatic ending. A series well worth investing in." —Red Carpet Crash

"This clever novel . . . [is] just about as riveting as the Capote original." —The Toronto Star

"The book is stunning, best villain in a decade. The plot is mesmerizing, with a narrative that shocks as it enthralls. Fantastic."—Ken Bruen

"Masterman has deftly and credibly woven historical reporting and Capote's account into this satisfyingly complex novel."—Arizona Daily Star

Praise for Rage Against the Dying:

"Pulse-quickening...scorching...invigorating." —Janet Maslin, The New York Times

"When the nominations are made for the best crime-novel debut of the year, we should be hearing [Masterman's] name again." —The Washington Post

"One of the most memorable FBI agents since Clarice Starling." —Publishers Weekly (starred, Pick of the Week)

"Wow. An absolute pleasure. Chilling, smart...and what a voice." —Gillian Flynn, author of Gone Girl

"Masterman lives up to her name in this masterly combination of compelling character and plot." —Library Journal (starred review)