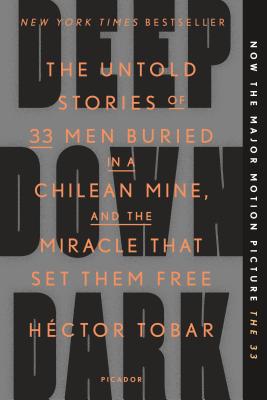 Deep Down Dark (Paperback)
The Untold Stories of 33 Men Buried in a Chilean Mine, and the Miracle That Set Them Free
Picador USA, 9781250074850, 336pp.
Publication Date: September 1, 2015
Description
Now a Major Motion Picture Starring Antonio Banderas
Includes New Material Exclusive to the Paperback
A Finalist for a National Book Critics Circle Award
A Finalist for a Los Angeles Times Book Prize
A New York Times Book Review Notable Book
When the San Jose mine collapsed outside of Copiapo, Chile, in August 2010, it trapped thirty-three miners beneath thousands of feet of rock for a record-breaking sixty-nine days. After the disaster, Pulitzer Prize-winning journalist Hector Tobar received exclusive access to the miners and their tales, and in Deep Down Dark, he brings them to haunting, visceral life. We learn what it was like to be imprisoned inside a mountain, understand the horror of being slowly consumed by hunger, and experience the awe of working in such a place-one filled with danger and that often felt alive. A masterwork of narrative journalism and a stirring testament to the power of the human spirit, Deep Down Dark captures the profound ways in which the lives of everyone involved in the catastrophe were forever changed.
About the Author
Hector Tobar is a Pulitzer Prize-winning journalist and a novelist. He is the author of The Barbarian Nurseries, Translation Nation, and The Tattooed Soldier. The son of Guatemalan immigrants, he is a native of Los Angeles, where he lives with his wife and three children.
Advertisement