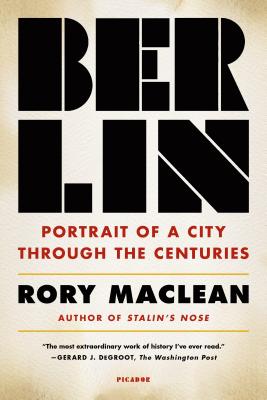 Berlin (Paperback)
Portrait of a City Through the Centuries
Picador, 9781250074904, 432pp.
Publication Date: October 13, 2015
Other Editions of This Title:
Hardcover (10/21/2014)
* Individual store prices may vary.
Description
A Washington Post Best Book of the Year
Berlin is a city of fragments and ghosts, a laboratory of ideas, the fount of both the brightest and darkest designs of history's most bloody century. The once arrogant capital of Europe was devastated by Allied bombs, divided by the Wall, then reunited and reborn as one of the creative centers of the world. Today it resonates with the echo of lives lived. No other city has repeatedly been so powerful and fallen so low; few other cities have been so shaped and defined by individual imaginations.

Berlin tells the volatile history of Europe's capital over five centuries through a series of intimate portraits of two dozen key residents: the medieval balladeer whose suffering explains the Nazis' rise to power; the genius Jewish chemist who invented poison gas for First World War battlefields and then the death camps; the iconic mythmakers like Christopher Isherwood, Leni Riefenstahl, and David Bowie, whose heated visions are now as real as the city's bricks and mortar. Alongside are portrayed some of the countless ordinary Berliners whose lives can only be imagined: the ambitious prostitute who refashioned herself as a baroness, the fearful Communist Party functionary who helped to build the Wall, and the American spy from the Midwest whose patriotism may have turned the course of the Cold War.

Berlin is a history book like no other, with an originality that reflects the nature of the city itself. In its architecture, through its literature, in its movies and songs, Berliners have conjured their hard capital into a place of fantastic human fantasy. No other city has so often surrendered itself to its own seductive myths. Berlin captures, portrays, and propagates the remarkable story of those myths and their makers.
About the Author
Rory MacLean's books, including best-sellers Stalin's Nose and Under the Dragon, have challenged and invigorated travel writing, and -- according to the late John Fowles -- are among works that 'marvellously explain why literature still lives'. He has won the Yorkshire Post Best First Work prize and an Arts Council Writers' Award, was twice shortlisted for the Thomas Cook/Daily Telegraph Travel Book Prize and was nominated for the International IMPAC Dublin Literary award. He is a Fellow of the Royal Society of Literature and a regular contributor to BBC Radio 3 and 4. Born and educated in Canada, he lives with his family in Dorset.
Praise For Berlin: Portrait of a City Through the Centuries…
"Brilliant." —National Geographic Traveler
"Berlin is the most extraordinary work of history I've ever read.... It's a work of imagination, reflection, reverence, perplexity, and criticism that reveals as much about the author's precocious mind as it does about the city he adores.... Stunningly beautiful writing." —The Washington Post
"MacLean reveals his prowess as a storyteller, flawlessly weaving together history, facts, and folklore.... [He] brings this 'city of fragments and ghosts,' with its fractured and volatile past, to life." —Publishers Weekly (starred review)
"Sprawling, experimental, and in certain moments, ungainly but also deeply enthralling, much like the city itself." —Booklist (starred review)
"A series of imaginative and fanciful narrative segments--a history that is not all gloom and doom. " —Kirkus Reviews
"A wonderfully enjoyable, poetic and instructive tour through the history of this fascinating and changing city. A book that magnificently combines real history and pure reading pleasure. Not just for those interested in Germany, but for anyone interested in the history of Western culture." —Stephane Kirkland, author of Paris Reborn
"Grandly ambitious . . . splendid. [T]his book is a wonderful achievement, not justly to be summarized in the few hundred words of a review, but hauntingly representing, as in a tangled dream, six hundred years of history." —The Telegraph (UK)
"MacLean's wonderfully knowledgable overview of the city's history helps explain the place's enduring fascination." —The Guardian (UK)
"Vivid, imaginative . . . brilliant. What makes MacLean's history of Berlin stand out is that this is an intensely human document, a rich tapestry spanning five centuries and woven together through intimate portraits of twenty-one of its former inhabitants that collectively reveal the narrative of the city . . . Their stories are wholly engaging, written with the flair of a novelist." —The Observer (UK)
"Entertaining and ambitious . . . MacLean has written a great book about Berliners." —New Statesman (UK)
"superb...[MacLean] has a knack of approaching his subjects obliquely, catching them unawares....original and well-researched. MacLean is a highly visual writer, and his dialogue is crisp and believable. [He] deserves to win all the prizes going." —The Tablet (UK)
"Inventive, exhaustive, and energetic. Berlin is . . . a human story. MacLean tells it with a wonder, a sadness, and a compassion." —Herald Scotland
"[MacLean] writes with the lyricism of Bruce Chatwin and the traveller's eye of Marco Polo. He engages with his readers as if he is talking to an intelligent friend. Read this book if you already know Berlin, or will do one day." —The Oldie (UK)
"I loved it. It is such a beautiful way of understanding history, its stories are so vivaciously told, it is so heartfelt, so intelligent, and so talkative a book. So many of the characters do end up talking to each other, and the author is eavesdropping. It paints the past and the present, portrays Berlin as a portrait of someone you love. It is beautiful." —Jay Griffiths, author ofWild, Pip Pip, and Kith