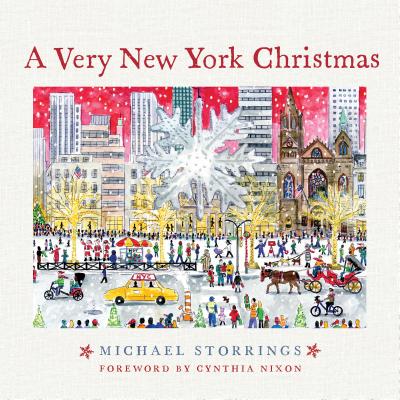 A Very New York Christmas (Hardcover)
St. Martin's Press, 9781250075086, 96pp.
Publication Date: November 17, 2015
* Individual store prices may vary.
Description
The experience of New York City at Christmas time has enthralled residents and visitors alike since Clement C. Moore wrote The Night Before Christmas in his house in the Chelsea neighborhood of Manhattan in 1823, inspiring tributes to the city in words and images. In A Very New York Christmas, Michael Storrings captures the magical landscape and excitement of the holiday season in dozens of watercolors, which since 2003 have been turned into bestselling Christmas ornaments. Sold in major retail venues across the country, his limited edition ornaments have a worldwide fan base and sell out performances in such stores as Saks, Bloomingdale's, and Bergdorf Goodman. This year a special ornament will be produced to coordinate with the book.
Portraying both famous traditions like Macy's Thanksgiving Day Parade, the lighting of the Christmas tree at Rockefeller Center, and the Metropolitan Museum of Art's Angel Tree to less well-known ones like the Christmas lights in Brooklyn's Dyker Heights, the Boys Choir of Harlem, and the Holiday Train show at The New York Botanical Garden, A Very New York Christmas crisscrosses Manhattan and the four outer boroughs to bring us a Christmas for all New Yorkers--whether residents or just fans.
Including a delightful foreword from Cynthia Nixon (Miranda from Sex and the City) this jewel-like book combines festive quotations from literature and popular culture with Storrings's charming watercolors of forty cherished New York holiday scenes making this a perfect gift and yuletide keepsake.
About the Author
Michael Storrings
is an award-winning designer, illustrator, and art director working in New York City. For the past three years, Michael has been designing city-themed Christmas tree ornaments in collaboration with Landmark Creations, a California-based manufacturer and distributor. He is currently the executive art director at St. Martin's Press.
Cynthia Nixon—an Emmy, Tony, and Grammy Award-winning actress—is best known for her role as Miranda Hobbes in the hit HBO Sex and the City series and the films Sex and the City: The Movie and Sex and the City 2. She has read several Earphones Award-winning audiobooks. Her narrations include Emily Giffin's Heart of the Matter and Baby Proof, as well as Al Gore's An Inconvenient Truth and Candace Bushnell's Lipstick Jungle. 
 Her other work includes her film debut in Little Darlings, an Emmy Award-winning guest role in Law & Order: Special Victims Unit, and her Emmy- and Golden Globe-nominated role as Eleanor Roosevelt in HBO's 2005 mini-series Warm Springs. Nixon has appeared in the Broadway productions of The Last Night of Ballyhoo, Hurlyburly, Angels in America, and The Heidi Chronicles, among many others. She is a founding member of Drama Dept., a New York theater company.
Praise For A Very New York Christmas…
"Nobody celebrates Christmas like New Yorkers. And no town gets dressed up like New York at Christmastime. It's a feast for the eyes. It's happiness and good cheer on every corner and Michael Storrings has captured it all for you in this book---A Very New York Christmas." —Regis Philbin
"This remarkable book gives visitors and residents alike the chance to take home with them the many wonders of the holiday season in New York. From the tree at Rockefeller Center to the illuminated animals at the Bronx Zoo---Michael Storrings shows us New York City at it's glittering best." —The Honorable David N. Dinkins (Mayor of New York, 1990--1993)
"A Very New York Christmas is the perfect holiday gift." —Roger and Sally Horchow, authors of The Art of Friendship.