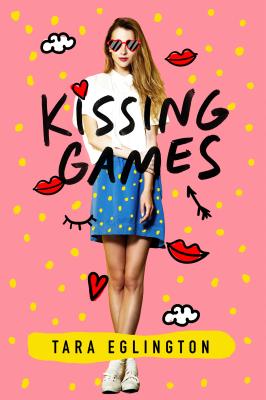 Kissing Games (Hardcover)
A Novel (Aurora Skye #2)
Wednesday Books, 9781250075260, 352pp.
Publication Date: June 5, 2018
* Individual store prices may vary.
Description
After a perfect first kiss, Aurora's second kiss lands her boyfriend in the hospital, and her matchmaking strategies start to backfire in this sequel to Tara Eglington's How to Keep a Boy from Kissing You.
For a girl who shares her name with a princess (aka Sleeping Beauty), Aurora Skye's romantic life seems fathoms away from a fairy tale. Sure, she's landed her prince charming, Hayden Paris. And she got her wish—one first kiss with all the knee-trembling, butterfly-inducing gloriousness she'd hoped for. But instead of happily ever after, their second kiss landed Hayden in the emergency room. If that's not mortifying enough, the whole school is now referring to her as "Lethal Lips."
When Aurora's best friend decides to run for class president and offers up Aurora's matchmaking service as one of her campaign initiatives, the kissing games begin. Aurora has to convince everyone that her program works—but that might be hard to do when it seems like her own love life might be falling apart.
About the Author
TARA EGLINGTON grew up in Byron Bay, Australia. Her hobbies when she's not writing include watching endless cat videos on YouTube, planning pretend holidays to the Maldives, and day-dreaming about who would play Hayden Paris in a film adaptation of How to Keep a Boy from Kissing You, her first novel. She lives in Australia.
Praise For Kissing Games: A Novel (Aurora Skye #2)…
"Adorably sweet and full of hilarious pratfalls, this rom-com is the rare one that delivers equally on both the rom and the com!" -Jen Malone, author of Wanderlost
"This light, dreamy, and easy read is filled with strong character development as the teens find their way in everyday lives.They are portrayed as strong, independent, and confident...the plot has many twists and is bound to keep readers turning pages. This fun romantic comedy is great for those who enjoy the works of Meg Cabot and Kasie West." — School Library Journal
"A fluffy contemporary romance that captures all the highs and lows of high-school love." — Booklist
"Complex, Gilmore Girls-inspired dialogue fuels Aurora's quirky misadventures...A fun, fluffy romp that tackles with fervor teens' obsession with love." — Kirkus
"This series is adorable. . . . Tara Eglington has delivered a lovely read about a teen girl with authentic problems. . . . A fun book to read. If you're looking for something that is cute, contemporary with romance as a focus—this series is definitely for you." —WhY.A.Not Reviews
"There were so many reasons why I enjoyed this novel. . . . Full of humour. . . . Aurora remains my favourite character. . . . If you like Eleanor and Park and Fangirl by Rainbow Rowell, you will love this book. Also I recommend this book to anyone who likes The DUFF by Kody Keplinger, and A Match Made in High School by Kristin Walker." —The Basic Bookworm
"Eglington teaches you about life in an easy to digest way, and I would have loved to have read this book when I was back in high school. . . . Overall, I really enjoyed this follow up to the first Aurora Skye book. It was everything the first book was and more. If you're looking for a light read that also touches upon life lessons one should learn, then definitely give this one a go!" —Thoughts By J