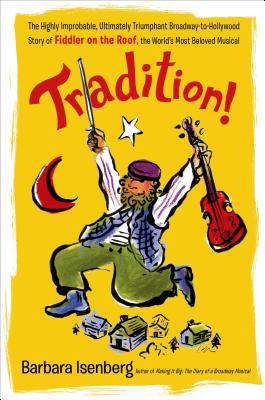 Tradition!
The Highly Improbable, Ultimately Triumphant Broadway-to-Hollywood Story of Fiddler on the Roof, the World's Most Beloved Musical
Paperback

* Individual store prices may vary.
Other Editions of This Title:
Digital Audiobook (3/14/2016)
Compact Disc (3/15/2016)
Hardcover (9/2/2014)
Description
Since it first opened on Broadway in September, 1964, Fiddler on the Roof has constantly been onstage somewhere, including four Broadway revivals, four productions on London's West End and thousands of schools, army bases and countries from Argentina to Japan. Barbara Isenberg interviewed the men and women behind the original production, the film and significant revivals-- Harold Prince, Sheldon Harnick, Joseph Stein, Austin Pendleton, Joanna Merlin, Norman Jewison, Topol, Harvey Fierstein and more-- to produce a lively, popular chronicle of the making of Fiddler. Published in celebration of Fiddler's 50th anniversary, Tradition! is the book for everyone who loves Fiddler and can sing along with the original cast album.
Praise For Tradition!: The Highly Improbable, Ultimately Triumphant Broadway-to-Hollywood Story of Fiddler on the Roof, the World's Most Beloved Musical…
"Half a century of sunrises and sunsets have passed since Fiddler on the Roof opened. It's still playing to full houses somewhere, and theater journalist Isenberg expounds happily on why it remains such a satisfactory hit for all audiences. Who would expect a big Broadway musical about poor shtetl Jews to become such a big hit? Yet Fiddler, based on stories set in Czarist Russia by the popular Yiddish writer Sholem Aleichem, broke box office records...The star, of course, was a mad comic genius, the egocentric Zero Mostel, who loathed the difficult directorial genius, equally egocentric Jerome Robbins... The popular 1971 film, under the guidance of Norman Jewison (not Jewish), starring Israeli actor Chaim Topol, with Isaac Stern fiddling, carried Fiddler's reputation still further. For many of a certain age, the musical's score is ingrained, part of the DNA. Isenberg's readable, straightforward history... is a loving tribute to a cultural phenomenon." —Kirkus Reviews
"The seemingly hyperbolic subtitle of award-winning journalist and theater author Isenberg's tribute to Fiddler on the Roof, "the world's most beloved musical," is entirely justified. Interviews with the principal creators, actors, and allied personnel juxtaposed with detailed number-crunching statistics and balance-sheet information and a breezily deft narrative explicate the inherent charm and soul of Fiddler. The author has created a most endearing valentine to honor the production on its upcoming 50th anniversary (the show opened on Broadway's Imperial Theatre September 22, 1964)... VERDICT: A deliciously rich and detailed story of an American musical-theater jewel... An obligatory purchase for every musical theater collection." —Library Journal
"Barbara's book traces the history of Fiddler from the stage to the screen. It is a fascinating story filled with laughter and tears." —Norman Jewison, director of the film adaptation of Fiddler on the Roof
"Tradition gives you a wonderful sense of Sholem Aleichem's world and Fiddler's heart- and of the heartbreak that runs through its core. Reading the book, I realized what denomination of Jew I am--a Fiddler on the Roof Jew." —Julie Salamon, author of Wendy and the Lost Boys: The Uncommon Life of Wendy Wasserstein
"Barbara Isenberg's history of Fiddler on the Roof, from Sholom Aleichem's Tevye stories to Norman Jewison's film and beyond, is definitive. I can't imagine anyone covering the subject more fascinatingly or eloquently. As someone who was lucky enough to be part of the saga, I applaud Tradition!" —Hal Prince
"Barbara Isenberg's book about the making of Fiddler itself has all the qualities that make that musical so great: it's drenched in humanity, it's full of joy and sorrows, beautifully rendered, it's often very funny and it's almost somber in the way it appreciates the process through which unforgettable theatre has to be born. The early parts of it, which I lived through, hit me with, if I wanted to be pretentious (and I do) a truly Proustian surge; the rest of it conveyed all the richness and fascination it surely had for all those participants. I think as many people who love Fiddler on the Roof will love this book. In other words, people all over the world." —Austin Pendleton
"Great works of art seem to have been created effortlessly. They appear as whole, solid and eternal as if they'd always existed in their perfection. Fiddler on the Roof is one of those works. Every element of the story, script, music and lyrics are so naturally balanced and complete that it seems impossible to imagine the success of this piece was ever in question or that its creators ever floundered. Here, Barbara Isenberg uncovers sweat and tears behind the curtain through the stories of those who were actually there. And then, she carries us forward to this day's productions which keep Fiddler on the Roof before generation after generation of appreciative audiences. Brava, Barbara!!!!" —Harvey Fierstein
St. Martin's Griffin, 9781250075376, 272pp.
Publication Date: August 25, 2015
About the Author
Barbara Isenberg, author of Tradition!, is an award winning journalist who has been writing and lecturing about theater for over three decades. She is the author of Making It Big: The Diary of a Broadway Musical, State of the Arts: California Artists Talk About Their Work and Conversations with Frank Gehry. Her work has appeared in the LA Times, the Wall Street Journal, Time, Esquire, The Huffington Post, and London's Sunday Times. She lives in Los Angeles.
or
Not Currently Available for Direct Purchase