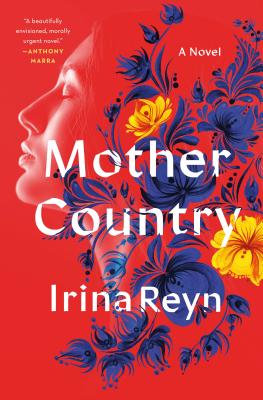 Mother Country
A Novel
Hardcover

* Individual store prices may vary.
Other Editions of This Title:
Compact Disc (2/26/2019)
Paperback (3/31/2020)
MP3 CD (2/26/2019)
Description
Starred reviews from Library Journal and Publishers Weekly
Award-winning author Irina Reyn explores what it means to be a mother in a world where you can't be with your child

Nadia's daily life in south Brooklyn is filled with small indignities: as a senior home attendant, she is always in danger of being fired; as a part-time nanny, she is forced to navigate the demands of her spoiled charge and the preschooler's insecure mother; and as an ethnic Russian, she finds herself feuding with western Ukrainian immigrants who think she is a traitor.
The war back home is always at the forefront of her reality. On television, Vladimir Putin speaks of the "reunification" of Crimea and Russia, the Ukrainian president makes unconvincing promises about a united Ukraine, while American politicians are divided over the fear of immigration. Nadia internalizes notions of "union" all around her, but the one reunion she has been waiting six years for - with her beloved daughter - is being eternally delayed by the Department of Homeland Security. When Nadia finds out that her daughter has lost access to the medicine she needs to survive, she takes matters into her own hands.
Mother Country is Irina Reyn's most emotionally complex, urgent novel yet. It is a story of mothers and daughters and, above all else, resilience.
Praise For Mother Country: A Novel…
THE NEW YORK TIMES, "New and Noteworthy," April 2019
"In Reyn's excellent exploration of the immigrant experience... [she] probes the intimate ways cultures clash within individuals, forcing them to knit together disparate truths to make sense of the world, and provides a tender depiction of how mother-daughter bonds morph over time and space." - Publishers Weekly, Starred Review
"Reyn has written a moving, contemporary look at the immigrant experience. Recommended." -- Library Journal, Starred Review
"Reyn deftly spins a web of heartache and memory around Nadia's daily life. A compassionate portrait of a mother aching with regrets yet brave enough to fight for her family." -- Kirkus
"Reyn (The Imperial Wife, 2016) delivers an elegiac look at the rootlessness that accompanies immigration while also tenderly capturing long-distance mothering and the challenges that all parents face when letting go engenders a terrible sense of powerlessness." -- Booklist
"A modern portrait of America through the lens of the women it fails the most." - Marie Claire
"Mother Country is a beautifully envisioned, morally urgent novel set at the disputed borderlands of a divided family and country. Irina Reyn is a superb chronicler of America, Ukraine, and all points between, resulting in a book of uncommon power and purpose." - Anthony Marra, New York Times bestselling author of A Constellation of Vital Phenomena and The Tsar of Love and Techno
"Beautifully written, wise, poignant, tender and filled with humor, Irina Reyn's novel Mother Country about mothers and daughters captured my heart from the very first page. Despite the heartbreaking urgency of this timely story, Mother Country is infused with hope, originality and most of all, love. A gorgeous book." - Jean Kwok, author of Girl in Translation and Mambo in Chinatown
"In any given family, the relationship between mother and child is complicated and challenging. At any given moment, a sizable percentage of the world's people are being forced to live through a war they didn't start and are unlikely to benefit from. Put those two things together, and you have the backdrop for this powerful, painstakingly imagined, timely and timeless novel." - Karen Joy Fowler, New York Times bestselling author of We Are All Completely Beside Ourselves and The Jane Austen Book Club
"Mother Country maps the emotional geography that forms between parents and children living in drastically different realities. Shifting between Ukraine and New York, Irina Reyn finds the moments of connection that transcend even the most complex of separations." - Idra Novey, author of Those Who Knew and Ways to Disappear

"Heartbreaking and hopeful all at once, Irina Reyn's Mother Country, is a dazzling story of a mother's promise postponed, but never truly broken." - Lynda Loigman, author of The Two-Family House
"What does it mean to leave a child to save her? A deep investigation into parenthood, identity, and immigration, Irina Reyn's captivating new novel, Mother Country follows a mother and daughter separated by war and trying to find their way back to each other. Weaving back and forth through time and between two countries, Nadia and Larisska's feelings of betrayal and longing, attachment and fierce independence mirror the current violent conflict between the Ukraine and Russia. Reyn's powerful narrative looks at motherhood through a fractured mirror—revealing all the ways we deceive and sacrifice for our children, and all the ways we ache for forgiveness and love." - Hannah Tinti, award-winning author of The Twelve Lives of Samuel Hawley and The Good Thief
Thomas Dunne Books, 9781250076045, 288pp.
Publication Date: February 26, 2019
About the Author
IRINA REYN is the author of What Happened to Anna K: A Novel. She teaches fiction writing at the University of Pittsburgh and has reviewed books for L.A. Times, Publishers Weekly, San Francisco Chronicle, Pittsburgh Post-Gazette, Hartford Courant, Minneapolis Star-Tribune, The Forward, and other publications. She was formerly the Books Editor for the online magazine, Killing the Buddha.
or
Not Currently Available for Direct Purchase