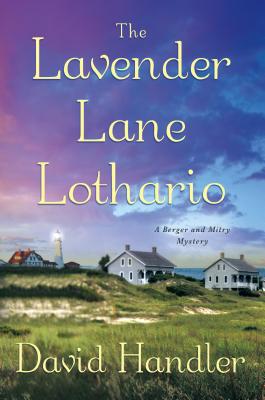 The Lavender Lane Lothario
A Berger and Mitry Mystery (Berger and Mitry Mysteries #11)
Hardcover

* Individual store prices may vary.
Description
Every year, the Gant family performs an annual ritual desecrating the tomb of Aurora Bing. The Gants have held a grudge against the legendary silent film star for almost eighty years, but for Sherm Gant and his son, things have become personal. Aurora's only grandchild, Hubie Swope, has shut down Sherm's notoriously rowdy beachfront bar, and refuses to allow The Pit to reopen until Shem undertakes expensive upgrades. This means war. And when The Pit catches fire and Hubie Swope's charred remains are found in the rubble, it also means murder.
Who killed Hubie Swope? Crime-fighting duo Mitch and Des have no idea. Not only are Sherm and his son prime suspects, but so are the women in Hubie's life. To their surprise, Mitch and Des discover that Dorset's building inspector, a quiet widower who repaired cuckoo clocks in his little house on Lavender Lane, was secretly juggling four girlfriends at once. And then there's Gaylord Holland, a builder who had a beef of his own with Hubie. Dorset is in turmoil, and only New York City film critic Mitch Berger and Connecticut State Police Resident Trooper Des Mitry can put it back together.
The Lavender Lane Lothario is the eleventh in David Handler's original, hilarious and charming series featuring the engaging biracial couple that fans love.
Praise For The Lavender Lane Lothario: A Berger and Mitry Mystery (Berger and Mitry Mysteries #11)…
"Two Dorset, Conn., families collide in Handler's entertaining 11th mystery... Mitch's usual banter about food and films camouflages the ace crime-solving talents that will help point Des to the real killer"—Publishers Weekly
"Effectively straddling the line between mystery and comedy, this is a solidly plotted, fluidly written story that keeps the reader entertained from the get-go."—Booklist
"Warm and cozy...The affable Burger mines town gossip, and Mitry digs into some sordid town history en route to the satisfying resolution." —Publishers Weekly on The Coal Black Asphalt Tomb
"Handler's The Coal Black Asphalt Tomb (following The Snow White Christmas Cookie and The Blood Red Indian Summer) is an excellent addition to the wonderfully whacky and intriguing Des Mitry and Mitch Berger series. It is highly recommended for fans of cold case mysteries and Agatha Christie-like whodunits. It's a playful, eye-opening reminder that one day I will be old." —Gumshoe Review on The Coal Black Asphalt Tomb
"Filled with the colorful characters that David Handler has led us to expect along with great film references, The Coal Black Asphalt Tomb is absolutely fun and charming, and fans of this series are going to want it right away" —Seattle's Mystery Bookshop on The Coal Black Asphalt Tomb
"Neither rain, nor sleet, nor dark of night can keep postmen from their appointed rounds. But how about murder?...Fans of Des and Mitch will giggle as Mitch decorates his Hanukkah bush with her teeny weeny yellow bikini." —Kirkus Reviews on The Show White Christmas Cookie
"Laugh-out-loud humor, zany characters, suspicious deaths and a freezing-cold, holiday setting make David Handler's The Snow White Christmas Cookie a must read. Fans of Christmas mysteries...won't be disappointed." —Gumshoe
"A must read for fans of hilarious crime dramas . . . The Blood Red Indian Summer is a whirlwind of hilarity, mystery . . . and romance. It is best described by a one-word expression that is often used by Mitch Berger's dad, Chat: 'Sa-weet.'" —Gumshoe Review
"Series fans will have fun catching up with the latest twists in the always interesting relationship of this interracial couple." —Publishers Weekly on The Shimmering Blond
"Well paced and cheerfully written, this book has a number of fun perks." —RT Book Reviews (4 stars) on The Shimmering Blond
"Police procedure frames this complex tale set in small-town Dorset, Connecticut. An appealing mix of procedural and cozy." —Booklist
"Funny, smart and the perfect antidote to the seasonal treacle, The Snow White Christmas Cookie--the ninth novel by David Handler in the excellent Mitch Berger and Desiree Mitry series--turns the Christmas cozy on its head . . . Don't mistake this for a traditional holiday novel with lots of cute bits. Handler knows how much sugar needs a dose of realism." —The Globe and Mail
Minotaur Books, 9781250076113, 256pp.
Publication Date: February 23, 2016
About the Author
David Handler's first book in the Berger and Mitry series, The Cold Blue Blood, was a Dilys Award finalist and BookSense Top Ten pick. David is also the author of several novels about the witty and dapper celebrity ghostwriter Stewart Hoag and his faithful, neurotic basset hound, Lulu, including Edgar and American Mystery Award winner The Man Who Would Be F. Scott Fitzgerald. David lives in a two-hundred-year-old carriage house in Old Lyme, Connecticut.
or
Not Currently Available for Direct Purchase