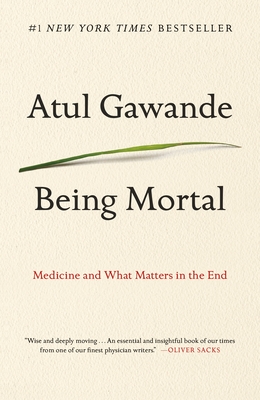 Being Mortal
Medicine and What Matters in the End
Paperback

* Individual store prices may vary.
Other Editions of This Title:
Digital Audiobook (10/6/2014)
Hardcover (10/7/2014)
Paperback, Large Print (9/5/2017)
Hardcover, Large Print (4/1/2015)
CD-Audio (10/7/2014)
Paperback, Chinese (7/1/2015)
November 2014 Indie Next List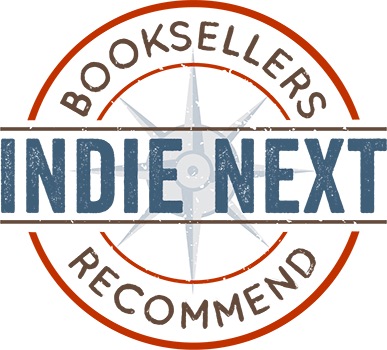 "Widely respected and honored physician Gawande addresses aging and end-of-life issues in his newest book. He notes that we treat sickness, aging, and mortality as medical concerns, but that the medical professions are poorly equipped to help with the issues of what makes the quality life significant. Gawande proposes that well-being should be the focus at the end of life and carefully illustrates how to approach this difficult subject. A gracefully written book of great importance."
— Ann Carlson, Waterfront Books, Georgetown, SC
View the List
Description
Named a Best Book of the Year by The Washington Post, The New York Times Book Review, NPR, and Chicago Tribune, now in paperback with a new reading group guide

Medicine has triumphed in modern times, transforming the dangers of childbirth, injury, and disease from harrowing to manageable. But when it comes to the inescapable realities of aging and death, what medicine can do often runs counter to what it should.

Through eye-opening research and gripping stories of his own patients and family, Gawande reveals the suffering this dynamic has produced. Nursing homes, devoted above all to safety, battle with residents over the food they are allowed to eat and the choices they are allowed to make. Doctors, uncomfortable discussing patients' anxieties about death, fall back on false hopes and treatments that are actually shortening lives instead of improving them.

In his bestselling books, Atul Gawande, a practicing surgeon, has fearlessly revealed the struggles of his profession. Here he examines its ultimate limitations and failures—in his own practices as well as others'—as life draws to a close. Riveting, honest, and humane, Being Mortal shows how the ultimate goal is not a good death but a good life—all the way to the very end.
Praise For Being Mortal: Medicine and What Matters in the End…
"Wise and deeply moving." —Oliver Sacks

"Illuminating." —Janet Maslin, The New York Times

"Beautifully written . . . In his newest and best book, Gawande has provided us with a moving and clear-eyed look at aging and death in our society, and at the harms we do in turning it into a medical problem, rather than a human one." —The New York Review of Books

"Gawande's book is so impressive that one can believe that it may well [change the medical profession] . . . May it be widely read and inwardly digested." —Diana Athill, Financial Times (UK)

"Being Mortal, Atul Gawande's masterful exploration of aging, death, and the medical profession's mishandling of both, is his best and most personal book yet." —Boston Globe

"American medicine, Being Mortal reminds us, has prepared itself for life but not for death. This is Atul Gawande's most powerful--and moving--book." —Malcolm Gladwell

"Beautifully crafted . . . Being Mortal is a clear-eyed, informative exploration of what growing old means in the 21st century . . . a book I cannot recommend highly enough. This should be mandatory reading for every American. . . . it provides a useful roadmap of what we can and should be doing to make the last years of life meaningful." —Time.com

"Masterful . . . Essential . . . For more than a decade, Atul Gawande has explored the fault lines of medicine . . . combining his years of experience as a surgeon with his gift for fluid, seemingly effortless storytelling . . . In Being Mortal, he turns his attention to his most important subject yet." —Chicago Tribune

"Powerful." —New York Magazine

"Atul Gawande's wise and courageous book raises the questions that none of us wants to think about . . . Remarkable." —Peter Carey, The Sunday Times (UK)

"A deeply affecting, urgently important book--one not just about dying and the limits of medicine but about living to the last with autonomy, dignity, and joy." —Katherine Boo

"Dr. Gawande's book is not of the kind that some doctors write, reminding us how grim the fact of death can be. Rather, he shows how patients in the terminal phase of their illness can maintain important qualities of life." —Wall Street Journal

"Being Mortal left me tearful, angry, and unable to stop talking about it for a week. . . . A surgeon himself, Gawande is eloquent about the inadequacy of medical school in preparing doctors to confront the subject of death with their patients. . . . it is rare to read a book that sparks with so much hard thinking." —Nature

"Eloquent, moving." —The Economist

"Beautiful." —New Republic

"Gawande displays the precision of his surgical craft and the compassion of a humanist . . . in a narrative that often attains the force and beauty of a novel . . . Only a precious few books have the power to open our eyes while they move us to tears. Atul Gawande has produced such a work. One hopes it is the spark that ignites some revolutionary changes in a field of medicine that ultimately touches each of us." —Shelf Awareness

"A needed call to action, a cautionary tale of what can go wrong, and often does, when a society fails to engage in a sustained discussion about aging and dying." —San Francisco Chronicle
Picador, 9781250076229, 304pp.
Publication Date: September 5, 2017
About the Author
Atul Gawande is the author of several bestselling books: Complications, a finalist for the National Book Award; Better; The Checklist Manifesto, and Being Mortal. He is also a surgeon at Brigham and Women's Hospital in Boston, a staff writer for The New Yorker, and a professor at Harvard Medical School and the Harvard School of Public Health. He has won the Lewis Thomas Prize for Writing about Science, a MacArthur Fellowship, and two National Magazine Awards. In his work in public health, he is Founder and Chair of Ariadne Labs, a joint center for health systems innovation, and Lifebox, a nonprofit organization making surgery safer globally. He is also chair of Haven, where he was CEO from 2018-2020. He and his wife have three children and live in Newton, Massachusetts.
1. Have you ever lost someone you care about to serious illness? What is the best way to empathize and comfort those facing serious, life-threatening illness? How prepared do you feel to do and say the right thing when that time comes for someone in your life?
2. What do you think Dr. Gawande means when he says that we've "medicalized" mortality? Do you agree? Why do you think that has happened in our culture? How can we shift to a more humane, compassionate approach to mortality?
3. Have you ever seen anyone die or been with someone in the final stages of life? Can you describe that experience? How did the experience affect your wishes for the end of your own life?
4. What did you discover about the physiology of aging? What is your attitude toward aging?
5. Dr. Gawande suggests we aren't taking advantage of the opportunity to make the experience of aging better. In what ways could we improve aging in our daily lives and as a culture?
6. Did you read Alice Hobson's story as an inspiring one, or as a cautionary tale?
7. Even with diminishing capacities, Felix found ways to give his life in a retirement community purpose by helping fellow residents, mentoring younger doctors and caring for his wife. What activities might you envision doing that would bring you fulfillment in your retirement when you might face some physical limitations?
8. Chapter 4 describes the birth of the assisted-living facility concept (Park Place), designed by Keren Wilson to provide her disabled mother, Jessie, with caregivers who would not restrict her freedom. Key components included having her own thermostat, her own schedule, her own furniture, and a lock on the door. What does it mean to you to treat someone with serious illness as a person and not a patient?
9. In 1980, an 80-year-old man named Harry Truman refused to move from his home as Mt. St. Helen's began to erupt. He told authorities that at 80 years old he had a right to decide his fate. Do you agree? What are the implications for individuals and families when elder adults are given full autonomy over their lives?
10. What realities are captured in the story of Lou Sanders and his daughter, Shelley, regarding home care for an aging and increasingly frail parent? What conflicts did Shelley face between her intentions and the practical needs of the family and herself? What does the book illustrate about the universal nature of this struggle in families around the globe?
11. A key concept that emerges from Dr. Gawande's interviews is "home." Much more than just the place where you go to bed at night, home evokes a set of values and freedoms for many as they face old age. As you consider the life you want lead in old age, what does home mean to you?
12. Reading about Bill Thomas's Eden Alternative in chapter 5, what came to mind when he outlined the Three Plagues of nursing home existence: boredom, loneliness, and helplessness? What do you think matters most when you envision eldercare?
13. What can be learned from the medical treatment choices that were made in the final days of Sara Monopoli's life?
14. What are your feelings about hospice care? When is the appropriate time to introduce hospice in the treatment of those with life-threatening illness?
15. Dr. Gawande writes, "It is not death that the very old tell me they fear. It is what happens short of death," specifically the loss of physical function and cognitive capacity. In what ways do you relate to that fear or not? What do you fear most about what happens short of death?
16. How do we strike a balance between our fear of dying and our hope for a long, healthy life, while still confronting reality?
17. Often medical treatments do not work. Yet our society seems to favor attempts to "fix" health problems, no matter the odds of their success. Dr. Gawande quotes statistics that show 25 percent of Medicare spending goes to the 5 percent of patients in the last stages of life. Why do you think it's so difficult for doctors and/or families to refuse or curtail treatment? How should priorities be set?
18. What is your attitude toward old age? Is it something to avoid thinking about, or a stage of life to be honored? Do you think most people are in denial about their own aging?
19. Discuss the often-politicized end-of-life questions raised in the closing chapters of Being Mortal. If you had to make a choice for a loved one between ICU and hospice, what would you most want to know from them? Susan Block's father said he'd be willing to go through a lot as long as he was able to still "eat chocolate ice cream and watch football on television." What would you be willing to endure and what would you not be willing to endure for the possibility of more time?
20. As Dr. Gawande learns the limitations of being Dr. Informative, how did your perception of doctors and what you want from them change? What would you want from your doctor if you faced a serious illness?
21. Doctors, and probably the rest of us, tend to define themselves by their successes, not their failures. Is this true in your life? At work, in your family, at whatever skills you have? Should we define ourselves more by our failures? Do you know people who define themselves by their failures? (Are they fun to be with?) How can doctors, and the rest of us, strike a balance?
22. In chapter 8, Dr. Gawande describes the choices made by his daughter's piano teacher, Peg Bachelder. Her definition of a good day meant returning to teaching and culminated in two concerts performed by her students. If you were facing similar circumstances, what would your good day look like?