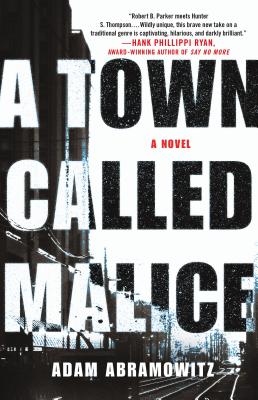 A Town Called Malice
A Novel (A Bosstown Novel #2)
Hardcover

* Individual store prices may vary.
Description
"A crafty plot and a nuanced look at gentrified Boston lifts Abramowitz's impressive second mystery featuring bike messenger and would-be stand-up comic Zesty Meyers (after 2017's Bosstown)... Robert B. Parker fans will appreciate Abramowitz's depiction of the darker corners of Beantown." —Publishers Weekly, Starred Review
A bike messenger navigates Boston's gritty underworld of gangsters and blood money in this novel with more twists and turns than Boston's streets, in Adam Abramowitz's A Town Called Malice.

Boston's fastest-talking, baddest bike messenger Zesty Meyers is back in town…Bosstown.
Boston's Big Dig has put a brand new shine on the city, its once insular neighborhoods awash with new money and runaway development. Not everybody is happy with the change. Zesty is struggling to keep his courier business afloat and is falling behind on rent, while his brother, Zero, owner of a moving company stocked with ex-cons has hired an unemployed rabbi who begins to exert a strange influence on the family and delivers most of his sermons with his fists.
When a rock and roll legend suspected of murdering his girlfriend reappears after thirty years on the run, Zesty is once again haunted by his family's dark past and the mounting evidence that his father, Boston's former Poker King now suffering from Alzheimer's, has long been dealing from the bottom of the deck. From shady bars to college campus underground poker leagues, Zesty's speeding toward trouble, desperately trying to map out a future in a town where stop signs are optional, signaling is for the weak and Karma lurks around every corner with payback on its mind.
Praise For A Town Called Malice: A Novel (A Bosstown Novel #2)…
Praise for A Town Called Malice
"Abramowitz delivers another gritty, fast-paced noir" —Crimereads
"Full of intrigue, humor, danger... In A Town Called Malice, Abramowitz works magic in dredging up part of that buried history and making it come to life." —Jerusalem Post
Praise for Bosstown
"The Big Dig is underway and the urban renewal that's following in its wake threatens to reveal Boston's long-buried secrets, in Abramowitz's promising debut. Abramowitz brings Boston alive with rich descriptions and caffeine-fueled dialogue." —Publishers Weekly
"This book is a caffeine and poker fueled adrenaline rush that I could not put down until the last twisting, violent hand had played out."
—Sarah Silverman, stand-up comedian, actress, producer, and writer
"A worthy addition to the canon of Boston 'no-R' fiction, Bosstown is a wild ride."
—Chuck Hogan, Hammett Award-winning author of The Town
"Robert B. Parker meets Hunter S. Thompson… and the result is a jet-fueled crazy-good mystery that careens through Boston with a voice that won't quit—and winds up in a place no one could ever predict. Wildly unique, this brave new take on a traditional genre is captivating, hilarious, and darkly brilliant."
—Hank Phillippi Ryan, Agatha, Anthony and Mary Higgins Clark Award-winning author of Say No More.
"Bosstown Rocks…Funny and clever, with a motley cast of Beantown scruffs jostling for survival, power and fortune, the book updates the modus operandi of traditionalists like Mickey Spillane with a shiny, post-modern sheen… Bosstown delivers the goods."
—David Brinn, Managing Editor of The Jerusalem Post
"The plot moves as fast as the bike messenger at its center, weaving through a sordid cast of characters, down the roughest streets of Boston. Hard boiled and fun, in the tradition of Mickey Spillane and George V. Higgins."
—James Renner, author of True Crime Addict and The Man from Primrose Lane
"the book has a long, long memory for Boston rock clubs (some of them wiped out in fires of suspicious origin) and the bands of the city's punk era (extra points for name-checking the great all-female metal group Malachite, which, at its glorious best, was louder than God) as well as a rueful sense of what gentrification hath wrought and of Boston's seemingly intractable segregation." —Kirkus Reviews
"Abramowitz has penned a fast-paced thriller that will keep you guessing until the last page." —Westchester Magazine
"Adam Abramowitz's debut starts strong with Zesty's lively voice elevating the story...Abramowitz's view of Boston is spot-on and the dialogue sharp." —Mystery Scene
"The hyped-up bike messenger Zesty Myers drives the compulsive narrative of Adam Abramowitz's streetwise debut Boston crime novel." —Shelf Awareness
"Everything from the action-packed, caffeine-ridden main character to the amazing realm of Boston practically jumps off the pages. The author shows it all and gifts the reader with a truly wild ride." —Suspense Magazine
"If it's an updated twist on an old-fashioned whodunit that you're looking for, Bosstown delivers the goods with a "Bawstin" accent." —Jerusalem Post Review
Attachments area
Thomas Dunne Books, 9781250076304, 320pp.
Publication Date: March 19, 2019
About the Author
ADAM ABRAMOWITZ grew up in Allston and Boston's South End working as a courier, bartender, doorman, and long-time mover at Nick's Cheap and Friendly Moving Company. A graduate of the University of Massachusetts Boston, Adam currently teaches in Mount Vernon, New York and is the author of Bosstown. He splits his time between New York City and Northfield, Massachusetts.
or
Not Currently Available for Direct Purchase