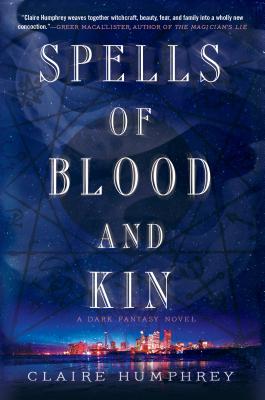 Spells of Blood and Kin
A Dark Fantasy
Hardcover

* Individual store prices may vary.
Other Editions of This Title:
MP3 CD (9/20/2016)
Description
Where we love, we ruin…
Some families hand down wealth through generations; some hand down wisdom. Some families, whether they want to or not, hand down the secret burdens they carry and the dangerous debts they owe.
Lissa Nevsky's grandmother leaves her a big, empty house, and a legacy of magic: folk magic, old magic, brought with Baba when she fled the Gulag. In the wake of her passing, the Russian community of Toronto will depend on Lissa now, to give them their remedies and be their koldun'ia. But Lissa hasn't had time to learn everything Baba wanted to teach her—let alone the things Baba kept hidden.
Maksim Volkov's birth family is long dead, anything they bestowed on him long turned to dust. What Maksim carries now is a legacy of violence, and he does not have to die to pass it on. When Maksim feels his protective spell fail, he returns to the witch he rescued from the Gulag, only to find his spell has died along with the one who cast it. Without the spell, it is only a matter of time before Maksim's violent nature slips its leash and he infects someone else—if he hasn't done so already.
Nick Kaisaris is just a normal dude who likes to party. He doesn't worry about family drama. He doesn't have any secrets. All he wants is for things to stay like they are right now, tonight: Nick and his best buddy Jonathan, out on the town. Only Nick is on a collision course with Maksim Volkov, and what he takes away from this night is going to crack open Nick's nature until all of his worst self comes to light.
Lissa's legacy of magic might hold the key to Maksim's salvation, if she can unravel it in time. But it's a legacy that comes at a price. And Maksim might not want to be saved…
Praise For Spells of Blood and Kin: A Dark Fantasy…
"Humphrey weaves a chilling and interesting tale here....This dark fantasy debut features well-written characters and thoughtful relationships, and readers will be eager to read more from Humphrey." --Booklist
"Humphrey has a knack for description, a lovely turn of phrase, and some really great prose...It's not every debut that can stick the dismount as well as Spells of Blood and Kin: but stick it the novel does, in a fashion that holds both pathos and inevitability, as well as a certain amount of triumph. Humphrey has written a debut that I, personally, find exceptional. I look forward to seeing what she does next, because on the evidence? It's going to be damn good." --Liz Bourke, Tor.com
"The tick-tock plot is given a boost by evocative, atmospheric touches that make it easy to slide into this tangible, fantasy-tinged setting...While magic drives the narrative, it retains its mystery...It's a wonderful way to experience this story: it doesn't much matter how monsters exist; how do the monsters feel about being monsters?" --BN Sci-Fi & Fantasy Blog
"This is not a happy, romantic romp in the world of the paranormal, but rather one that highlights the cost and the pains associated with the unnatural. I found the world and magic interesting and the characters intriguing...I was certainly impressed with this debut." --The Speculative Herald
"Spells of Blood and Kin by Claire Humphrey isn't your typical urban fantasy. There's no Bad Guy trying to do a Bad Thing who must be stopped by a sassy heroine and her merry band of accomplices. There's no supernatural governing council either keeping the peace with the humans since their existence was revealed or keeping the silence to ensure they aren't discovered. There's a young woman who can work small magics during the full moon, there's a man who's lived several lifetimes, his battle to control his bloodlust getting increasingly more difficult as time passes, and there's a young man whose life was spinning out of control long before he met the other two. But, for a short time, their lives become entangled, and this is that story. I happen to think it's a good one. Highly recommended." --Rabid Reads

"Spells of Blood and Kin by Claire Humphrey is a charming book...There is a lot of warmth, love, personal connection, and happiness within the pages...The humanity of the characters makes Spells of Blood and Kin a beautiful exploration of pain, anger, and addiction. It is a tale steeped in the cruelty of old fairytales, but connected to all of the emotion of the present." --Portland Book Review

"Humphrey's debut opens a fascinating paranormal world inspired by folklore and full of ancient power. Her characters' dangerous and powerful magic balances well with their all-too-real loneliness and heartache, making their relationships feel real, and their power formidable...the imagination and creativity in this book are sure to attract plenty of readers and keep their attention to the end." --RT Book Reviews
"Intimately constructed relationships and domestic strife enrich bursts of violence and sensuality. Genre tropes are strengthened by fully realized characters and confident prose. Humphrey dissects the monsters who walk among us—and those hiding within our skins—with a critical yet understanding eye. This paranormal tale stands out even in its very crowded field." --Publishers Weekly (starred)
"Deft and original, Spells of Blood and Kin pulses with dark energy. Claire Humphrey weaves together witchcraft, beauty, fear, and family into a wholly new concoction. A compelling debut." --Greer Macallister, author of The Magician's Lie
"Spells of Blood and Kin is a fascinating take on urban fantasy, with complex, beautifully-drawn characters that defy stereotypes and stayed with me long after I finished reading." --Cassandra Rose Clarke, author of Our Lady of the Ice
"Spells of Blood and Kin has a strong and dark thread of magic running through it. Readers will love Lissa and the mysterious Toronto she lives in where the dead still talk and the moon rules over everything." --Philippa Ballantine, Parsec Award winner and author of the Book of the Order series
"A refreshing urban fantasy that pokes a finger in the eye of cliché and gives us characters to root for, Spells of Blood and Kin weaves its own spell around the reader as we watch lives being transformed and destroyed by magic. The relationships between the characters, as fragile as the eggs used to work magic, are compelling and in places, heart breaking. I loved this book!" --Emma Newman, Hugo and Fantasy Award nominated author of the Split Worlds series and Planetfall
"Dark, thrilling, twisty, seductive--not to be missed." --Lee Kelly, author of City of Savages
Thomas Dunne Books, 9781250076342, 320pp.
Publication Date: June 14, 2016
About the Author
CLAIRE HUMPHREY is the reviews editor at Ideomancer, and a national buyer for Indigo Books. Her short fiction has appeared in Strange Horizons, Beneath Ceaseless Skies, Apex, Crossed Genres, Fantasy Magazine, and Podcastle. Her short story ''Bleaker Collegiate Presents an All-Female Production of Waiting for Godot'' appeared in the Lambda Award-nominated collection Beyond Binary, and her short story "The Witch Of Tarup" was published in the critically acclaimed anthology Long Hidden. Spells of Blood and Kin is her first novel.
or
Not Currently Available for Direct Purchase