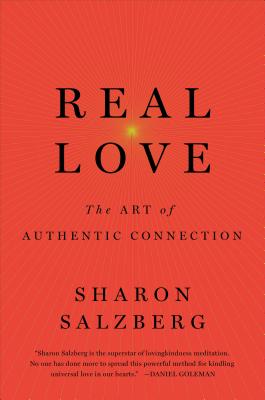 Real Love
The Art of Mindful Connection
Hardcover

* Individual store prices may vary.
Other Editions of This Title:
Digital Audiobook (6/5/2017)
Paperback (5/22/2018)
CD-Audio (6/6/2017)
Description
The New York Times bestselling author and a central figure in the field of meditation, Sharon Salzberg, uses ancient Buddhist wisdom to redefine love and experience it in a more profound way.

You are a person worthy of love. You don't have to do anything to deserve all the love in the world.

Real Love is a creative tool kit of mindfulness exercises and meditation techniques that help you to truly engage with your present experience and create deeper love relationships with yourself, your partner, friends and family, and with life itself.

Sharon Salzberg, a leading expert in Lovingkindness meditation, encourages us to strip away layers of negative habits and obstacles, helping us to experience authentic love based on direct experience, rather than preconceptions. Across three sections, Sharon explains how to dispel cultural and emotional habits, and direct focused care and attention to recapture the essence of what it is to love and be loved.

With positive reflections and practices, Sharon teaches us how to shift the responsibilities of the love that we give and receive to rekindle the powerful healing force of true connection. By challenging myths perpetuated by popular culture, we can undo the limited definitions that reduce love to simply romance or passion, and give the heart a much needed tune-up to connect ourselves to the truest experience of love in our daily lives.
Praise For Real Love: The Art of Mindful Connection…
"If I had to describe Sharon Salzberg's work in only two words, they might be: 'only connect.' If there were only one word, that would be even easier: 'love.' In Real Love, one of the world's leading authorities on love tells us how to find it, how to nurture it, how to honor it—and most of all how to rethink it. Salzberg shows us how to experience love not as an emotion, not as the byproduct of a particular romantic or familial relationship, but as an ability, that all of us can cultivate. This book has the power to set your heart at peace." —Susan Cain, author of Quiet

"Sharon Salzberg is an amazing teacher, and her words and inspiration in Real Love illuminate the way to love wisely, a treasure for your heart." —Jack Kornfield, author of A Path With Heart

"This expert's guidebook cuts deftly through layers of modern confusion to the core of what it means to love and be loved. Salzberg has penned a treasure-house of practical tools and rituals mined from her own tenure mending wounded hearts in the trenches of human relationships. This book offers up frank practical stories and wisdom about love, communication, and relationships indispensable to all." —Amanda Palmer

"Writing with compassion and keen insight Real Love opens the heart, helping everyone understand love as revolutionary spiritual practice." —bell hooks

"In a most lively and inspiring way Sharon Salzberg shows that unconditional love—for ourselves, for our dear ones, for all sentient beings—is naturally present within our hearts. Even when love from others and to others seems out of reach, what we really need to do is to let it come to the surface and express itself inexhaustibly. Real Love is a precious guide to experience the most supreme of all emotions." —Matthieu Ricard, author of Altruism: The Power of Compassion to Change Yourself and the World

"In Real Love, Sharon Salzberg combines the brilliance of her understanding, the depth of her compassion, and the incisive friendliness of her writing skills to create a book that illuminates the many subtleties and nuances of love. Real love is not an abstraction, and Sharon brings it to life in ways that can uplift us all." —Joseph Goldstein, author of Mindfulness: A Practical Guide to Awakening

"Sharon Salzberg's Real Love is a genuine offering of love that immediately befriends the reader. It is a practical, how-to guide for unearthing the love within oneself, no matter how buried. It's also a gentle but insistent invitation, both clear-eyed and kind, to find the real love in others and in our world at a time when it is most urgently needed." —Sarah Jones, Tony- and Obie-award winning playwright and actress

"Sharon Salzberg is the superstar of lovingkindness meditation. No one has done more to spread this powerful method for kindling universal love in our hearts." —Daniel Goleman

"Sharon's teachings on awakening a loving heart have touched students and readers around the world. In addition to her wonderful wisdom, Sharon's very presence inspires: She is generous and kind, through and through." —Tara Brach, author of Radical Acceptance: Embracing Your Life with the Heart of a Buddha
Flatiron Books, 9781250076502, 320pp.
Publication Date: June 6, 2017
About the Author
SHARON SALZBERG is a central figure in the field of meditation, a world-renowned teacher and New York Times bestselling author. She has played a crucial role in bringing meditation and mindfulness practices to the West and into mainstream culture since 1974, when she first began teaching. She is the cofounder of the Insight Meditation Society in Barre, MA and the author of several books including the New York Times bestseller, Real Happiness, her seminal work, Lovingkindness, and Real Happiness At Work. Renowned for her down-to-earth teaching style, Sharon offers a secular, modern approach to Buddhist teachings, making them instantly accessible. She is a regular columnist for On Being, a contributor to Huffington Post, and the host of her own podcast: The Metta Hour.
or
Not Currently Available for Direct Purchase