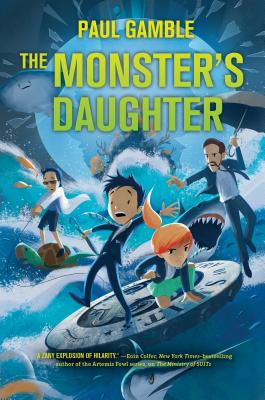 The Monster's Daughter (Hardcover)
Book 2 of the Ministry of SUITs
Feiwel & Friends, 9781250076830, 384pp.
Publication Date: July 25, 2017
Other Editions of This Title:
Paperback (7/24/2018)
* Individual store prices may vary.
Description
Memo: For Ministry of Strange, Unusual, and Impossible Things Operatives Only
Re: The Monster's Daughter by Paul Gamble

There is more trouble in Belfast: odd things are happening at the aquarium, giant crabs are staging jail breaks, and formerly harmless bath bombs are destroying bathrooms left and right.
Fortunately, our brave new recruits—Jack, a curious boy skilled at logical thinking, and Trudy, the most dangerous girl in school—are on the case. Armed with the best Ministry training (as long as you don't panic everything will be fine) and full access to Ministry supplies (those that weren't ruined in the recent flood), we are confident that they can discover and foil this villainous plot.
Please give them all possible assistance. Oh, and be sure not to share their location, as Jack is still on the run from the Tooth Fairy.
About the Author
Paul Gamble, author of The Ministry of SUITs, was born and brought up in Belfast, Northern Ireland. He currently works in the civil service. His job only occasionally involves working with dinosaurs.
Praise For The Monster's Daughter: Book 2 of the Ministry of SUITs…
"Readers in search of humorous, fast-paced adventure will find it here.... Frequent footnotes and excerpts from the Ministry handbook provide a laughably interesting take on mundane topics." —School Library Journal
Praise for The Ministry of SUITs:
"A zany explosion of hilarity" — Eoin Colfer, author of the Artemis Fowl series
"It's like Douglas Adams wrote Men in Black but with Pirates, Dinosaurs and the Tooth Fairy. Genius, but a comic evil genius methinks." —Mo O'Hara, author of the My Big Fat Zombie Goldfish series
"Gamble's debut novel is overflowing with offbeat humor...An entertaining read for fans of humorous adventure, such as Michael Buckley's "NERDS" series." —School Library Journal
"Debut author Gamble combines outrageous adventure and a tongue-in-cheek tone to create a novel that's both thoughtful and filled with laughs." —Publishers Weekly