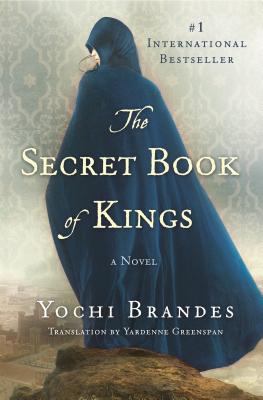 The Secret Book of Kings (Hardcover)
A Novel
St. Martin's Press, 9781250076984, 416pp.
Publication Date: August 23, 2016
* Individual store prices may vary.
Description
"This volume, by Biblical scholar Yochi Brandes, is a riveting novel based on textual sources about the experiences of David and Solomon. Its lessons are also relevant for our turbulent time." —Elie Wiesel, #1 New York Times and internationally bestselling author of Night
In the tradition of The Red Tent from internationally bestselling author Yochi Brandes comes the stories of the struggles of King David and King Saul in the early days of the Kingdom of Israel, seen through the eyes of Michal, Saul's daughter and David's abandoned queen
Stories are deadlier than swords. Swords kill only those who stand before them, stories decide who will live and die in generations to come.
Shelomoam, a young man from the tribe of Ephraim, has grown up in the shadow of dark secrets. He wonders why his father is deathly afraid of the King's soldiers and why his mother has lied about the identities of those closest to him. Shelomoam is determined to unearth his mysterious past, never imagining where his quest will ultimately lead him.
The Secret Book of Kings upends conventions of biblical novels, engaging with the canonized stories of the founding of the Kingdom of Israel and turning them on their heads. Presented for the first time are the heretofore unknown stories of the House of Saul and of the northern Kingdom of Israel, stories that were artfully concealed by the House of David and the scribes of the southern Kingdom of Judah.
Yochi Brandes, one of Israel's all-time bestselling novelists, enlists her unique background in both academic Jewish scholarship and traditional religious commentaries to read the Bible in an utterly new way. In this book, a major publishing phenomenon in Israel and one of the bestselling novels in the history of the country, she uncovers vibrant characters, especially women, buried deep within the scriptures, and asks the loaded question: to what extent can we really know our past when history is written by the victors?
About the Author
Yochi Brandes was born in 1959 in Haifa to a family of Hassidic rabbis. Earning her BA in biblical studies and an MA in Judaic studies, Brandes taught bible and Judaism for many years. She is the author of novels and essays on biblical women-all of them best-sellers in Israel. She has been awarded the Book Publishers Association's Platinum Book Prizes for seven of her books, including Kings III (2008), and the Steimatsky Prize for Akiva's Orchard (2013). She lives outside of Tel Aviv.
Praise For The Secret Book of Kings: A Novel…
Praise for The Secret Book of Kings
"Like Dan Brown's bestselling The Da Vinci Code, the book uses religious intrigue and conspiracy to create a pacey thriller." —Reuters
"This book made waves even before it was published, and ever since it appeared, it has not moved from the bestseller lists. It is an incomparably excellent and important book." —Tarbut Hapnai
"A thrilling and sweeping novel that gives life to ancient stories....Brandes's Biblical women play important and significant roles. They are the ones moving the wheels of history. They are the ones who make things happen." —La'ishah
"The Secret Book of Kings offers an original and revolutionary commentary on the blood-soaked story of the wars of David and Saul, heightening the voice of the Princess Michal, the Bible's most tragic figure." —Ma'ariv
"Although I am a Jew who does not believe in the holiness of the Bible, The Secret Book of Kings thrilled me indescribably and opened an innovative line of thought for me about our heroes of old, especially the women." —YNET
"Apart from the enormous pleasure of the fluid and thrilling prose, Yochi Brandes presents in this novel an important and unprecedented approach to the scriptural stories. Readers without great Biblical knowledge will discover a thrilling and ever-surprising novel of love, betrayal, and loyalty. But those who are familiar with the Bible will experience something even deeper that will open before them new possibilities and understandings of what happened or didn't happen in our ancient history." —Ha'aretz Books