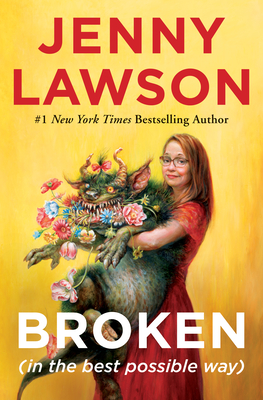 Broken (in the best possible way)
Hardcover

* Individual store prices may vary.
Other Editions of This Title:
Digital Audiobook (4/5/2021)
Paperback (5/3/2022)
CD-Audio (4/6/2021)
April 2021 Indie Next List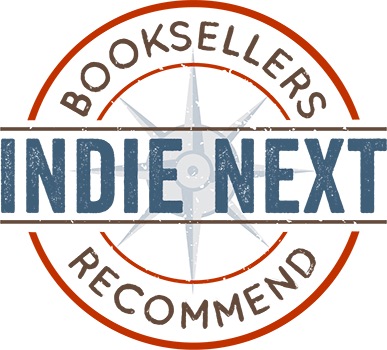 "Lawson speaks to all of us who are weird, wacky, and unafraid (but, really, often afraid) to share our quirks with the world. Some chapters of this book moved me deeply, where it felt as though she was narrating my own life. Other chapters made me ugly laugh, the type that turns strangers' heads in public. I'm so happy I was given the opportunity to start 2021 with this book. It set the bar high for hope in the year to come, and for the books that will be read."
— Jasmin Brooks, The Bookery Manchester, Manchester, NH
View the List
Description
An Instant New York Times Bestseller

From the #1 New York Times bestselling author of Furiously Happy and Let's Pretend This Never Happened comes a deeply relatable book filled with humor and honesty about depression and anxiety.

As Jenny Lawson's hundreds of thousands of fans know, she suffers from depression. In Broken, Jenny brings readers along on her mental and physical health journey, offering heartbreaking and hilarious anecdotes along the way.

With people experiencing anxiety and depression now more than ever, Jenny humanizes what we all face in an all-too-real way, reassuring us that we're not alone and making us laugh while doing it. From the business ideas that she wants to pitch to Shark Tank to the reason why Jenny can never go back to the post office, Broken leaves nothing to the imagination in the most satisfying way. And of course, Jenny's long-suffering husband Victor—the Ricky to Jenny's Lucille Ball—is present throughout.

A treat for Jenny Lawson's already existing fans, and destined to convert new ones, Broken is a beacon of hope and a wellspring of laughter when we all need it most.

Includes Photographs and Illustrations
Praise For Broken (in the best possible way)…
An Instant New York Times Bestseller
Indie Next Pick

Praise for Jenny Lawson

"Jenny Lawson is extremely funny because she is extremely honest. Lawson's relentless pursuit of authenticity is the source of the darkly hilarious prose found within this memoir of depression—a memoir that is unexpectedly inspiring and comforting but not unexpectedly endearing. Because to read Jenny Lawson is to love Jenny Lawson." —Augusten Burroughs, #1 New York Times bestselling author of Running with Scissors

"A new book from Jenny Lawson is always cause for celebration, and Broken is the party of the year. Even better: it's a party that socially-anxious introverts can enjoy from the solitary comfort of their own couches, beds, cars, or closet floors buried under a pile of blankets and/or cats. HOW AWESOME IS THAT? I loved it. And if you like laughing and weirdness and honesty and—most of all—feeling seen, you will love it too." —Sarah Knight, author of The Life-Changing Magic of Not Giving a F**k

"[Lawson]...makes others laugh. Her delivery is zany, clever, and raunchy. Her conversations with party guests, her long-suffering husband, her sister, and even herself are flat-out hilarious. And the situations she finds herself in are comic gold. Beneath the banter, however, is a heartbreaking chronicle of what goes on in the mind of a person dealing with anxiety and depression." —Booklist (starred review)

"Longtime fans of the author's prose know that the destinations really aren't the point; it's the laugh-out-loud, tears-streaming-down-your-face journeys that make her writing so irresistible....[A] winning mix of shameless irreverence, wicked humor, and vulnerability." —Kirkus Reviews

"I consider Jenny Lawson to be a therapist colleague—not because she's a fellow clinician, but because in courageously sharing the truth of her story, she makes us feel instantly seen and fully understood in all of our alternately painful and hilarious humanity." —Lori Gottlieb, New York Times bestselling author of Maybe You Should Talk to Someone

"Jenny Lawson's Broken is an adventure in courage. The vulnerability, the heart, and the candor is a gift to anyone who has ever felt too different. Life is sometimes not kind to us and Jenny uses such fierce humor. Thankful for it."
—Luvvie Ajayi Jones, author of New York Times bestseller I'm Judging You and Professional Troublemaker: The Fear-Fighter Manual

"Lawson's self-deprecating humor is not only gaspingly funny and wonderfully inappropriate; it allows her to speak…in a real and raw way." —O, The Oprah Magazine

"[Lawson] writes with a rambling irreverence that makes you wish she were your best friend." —Entertainment Weekly

"The Bloggess writes stuff that actually is laugh out loud, but you know that really you shouldn't be laughing and probably you'll go to hell for laughing, so maybe you shouldn't read it. That would be safer and wiser." —Neil Gaiman

"Jenny made me laugh so hard I feared for my safety!" —Allie Brosh, #1 New York Times bestselling author of Hyperbole and a Half

"You'll laugh, wince, writhe in discomfort, cry, then laugh again….But the two things you'll never do is doubt Jenny's brilliance or her fearlessness when it comes to having honest discussions about mental illness, shame, and the power of human resilience." —Brené Brown

"Take one part David Sedaris and two parts Chelsea Handler and you'll have some inkling of the cockeyed humor of Jenny Lawson." —Parade

"The comic queen of the broken toys has risen, and her name is Jenny Lawson." —Christopher Moore, New York Times bestselling author of Lamb, A Dirty Job, and Fool

"A loop-de-loop of an emotional roller coaster that swoops from poetic to profane, madcap to moving and back again…a thing of hilarious beauty." —BookPage

"Lawson returns with a wry and entertaining take on her battle with depression, anxiety, and rheumatoid arthritis. As always, the author is unrivaled in her ability to use piercing humor and insight to take on heavy subjects....The beauty of these essays lies in Lawson's unfailing hopefulness amid her trials....Lawson's fans are in for a treat." —Publishers Weekly

"Impossible to read without howling with laughter…But Broken isn't just about the funny. It's incredibly moving when [Lawson] shares details about being submerged in the deep end of depression and writing notes to remind herself the dark days will pass." —Shelf Awareness

"Jenny Lawson is hilarious, snarky, witty, totally inappropriate, and 'Like Mother Teresa, Only Better.'" —Marie Claire
Henry Holt and Co., 9781250077035, 304pp.
Publication Date: April 6, 2021
About the Author
Jenny Lawson is an award-winning humorist known for her great candor in sharing her struggle with mental illness. She lives in Texas with her husband and daughter and was constantly "buying too many books" ("Not a real thing," she insists), so she decided to skip the middleman and just started her own bookshop, which also serves booze because books and booze are what magic is made of. She has previously written Let's Pretend This Never Happened and Furiously Happy, both of which were #1 New York Times bestsellers. She also wrote You Are Here, which inexplicably made it onto the New York Times bestseller list in spite of the fact that it was basically a very fun coloring book. She would like to be your friend unless you're a real asshole. And yes, she realizes that this whole paragraph is precisely the reason she shouldn't be allowed to write her own bio.