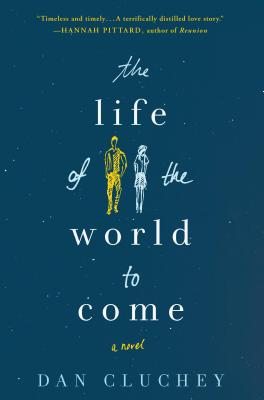 The Life of the World to Come (Hardcover)
A Novel
St. Martin's Press, 9781250077165, 256pp.
Publication Date: June 28, 2016
Other Editions of This Title:
MP3 CD (6/6/2017)
Compact Disc (6/6/2017)
MP3 CD (6/28/2016)
Compact Disc (6/28/2016)
Compact Disc (6/28/2016)
* Individual store prices may vary.
Description
Leo Brice is dead, in a sense (not the traditional one). When the neurotic law student meets his cosmic match in Fiona Haeberle, an impulsive spirit and burgeoning soap star, all seems well—the two fall fast in love, and spend three years navigating their twenties in wide-eyed wonder. But once the fantastical woman who had defined his future bolts to pursue a fantasy life of her own, Leo is forced to come to terms with a reality that more closely resembles an epilogue than the story he'd hoped it might be. Now a junior death row advocate, Leo immerses himself in the esoteric world of his condemned client, a born-again Georgia inmate named Michael Tiegs. As both men become consumed by the question of an afterlife—and as Leo becomes increasingly confused by his own future and past—Tiegs' fate hangs in the balance. Leaning on his friends and grappling with his memories, Leo must try to save a client who may not want to be saved after all, even as he struggles to confront the prospect of his own mortality.
At once obsessively readable, philosophically probing, and verbally acrobatic, The Life of the World to Come announces Dan Cluchey as a fresh new voice in fiction.
About the Author
DAN CLUCHEY is a native of Portland, Maine, and a former Obama Administration speechwriter and advisor. During his time in Washington, he wrote hundreds of speeches and op-eds on behalf of a number of senior leaders throughout the Administration, covering topics ranging from health care reform to international trade. A graduate of Amherst College and Harvard Law School, Dan is a member of the New York Bar, although he continues to not practice law. He lives in New Haven, CT, and The Life of the World to Come is the first piece of fiction he has written.
Praise For The Life of the World to Come: A Novel…
"Acutely contemporary . . . a meditation, mercifully accessible, on what it means to be young, to be human, to be thwarted, to be left always wondering —when the lights go out will there be illumination?" —Elizabeth Kelly, bestselling author of Apologize, Apologize!
"A novel both timeless and timely. The Life of the World to Come is a terrifically distilled love story. The best part is that it's honest: we grow up; we grow wiser. But if we're truly lucky, we never lose total sense of our earlier hearts and selves." —Hannah Pittard, author of Reunion
"In these pages you'll find a wonderful gift, an engrossing story as hugely entertaining as it is genuinely insightful. Cluchey is a true wordsmith, possessing a whiplash inducing wit coupled with a talent for crafting beautiful moments that stop you still and demand to be savored. There's life in these characters, a keen sense how everything can just be okay and how that can still be a fantastic thing." —Bradley Somer, author of FISHBOWL
"The Life of the World to Come is like a strike across the jaw after you've fainted: it braces and wakes you. And just when you think you've found your bearings, it fells you once again. Dan Cluchey has written a smart, weird, heartful book that will whisper to you long after you've put it down." —Lindsay Hunter, author of UGLY GIRLS
"Smart, sad and crackling with wit, The Life of the World to Come is a book about love, life and what happens after. Cluchey captures the exquisite longing of youthful heartbreak with deep feeling and rich detail. Like a boozy gab fest with a too-smart-for-his-own-good college friend, you'll savor it long into the night and feel sorry when it's over." —Christopher Noxon, author of PLUS ONE
or
Not Currently Available for Direct Purchase