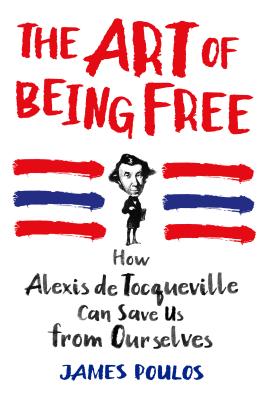 The Art of Being Free (Hardcover)
How Alexis de Tocqueville Can Save Us from Ourselves
St. Martin's Press, 9781250077189, 304pp.
Publication Date: January 17, 2017
* Individual store prices may vary.
Description
Most of us probably don't learn about Alexis de Tocqueville in school anymore, but his masterpiece, Democracy in America, is still surprisingly resonant. When he came to America in 1831 to study our great political experiment, he puzzled over our strange struggles with religion and politics, work and money, sex and gender, and love and death. Clearly we haven't come as far as one might hope. But it wasn't all doom and gloom—and it isn't now. Tocqueville didn't just catalog our problems; he provided a manual on how to flourish despite them. In The Art of Being Free, journalist and scholar James Poulos puts Tocqueville's advice to work for a contemporary audience, showing us how to live sane, healthy, and happy lives amid our hectic, shifting world.
Poulos reveals what Tocqueville's beloved study tells us about everything from our relationship to technology and our obsession with appearances to our workaholism, our listlessness, and our ways of coping with stress. He explores how our uniquely American malaise can be alleviated—not by the next wellness fad or self-help craze, but by the kind of fearless inventory-taking that has fallen out of fashion.
About the Author
JAMES POULOS (J.D.) is a journalist and Alexis de Tocqueville scholar as well as the guitarist in the indie band, Night Years. As a commentator, Poulos is well known for his acerbic humor and unpretentious academicism. He contributes routinely to a wide variety of publications including: The Federalist, Forbes, and National Affairs.Poulos lives with his son in Los Angeles.
Praise For The Art of Being Free: How Alexis de Tocqueville Can Save Us from Ourselves…
"James Poulos is one of the very few consistently interesting writers in America."--Molly Ball, The Atlantic
"In a time of radical change, it's essential to connect with enduring values -- and that's what James Poulos has done with his fascinating look at Alexis de Tocqueville. With an engaging voice and an always lively mind, Poulos makes the old story new again, offering Americans hope and perspective in the art of being free."—John Avlon, The Daily Beast
"Poulos weaves personal history and literary analysis, high culture and pop culture, in this provocative, wholly unexpected take on Tocqueville's best known work. He updates and intensifies Tocqueville's diagnosis of American life, agitating against a frenzied democratic flattening that risks leaving us overstimulated, overworked, and alone. It's a kind of erudite self-help that forgoes end-of-chapter bullet points for a galvanizing message of recognition and resistance."--Kerry Howley, author of Thrown
"No happy rogue is better than James Poulos at laying bare just how ridiculous and insane American life really is."--Ben Dreyfuss, Mother Jones
"James Poulos is the new Tocqueville America needs right now."--Pascal-Emmanuel Gobry, The Week
"James Poulos blends lucid writing with ambitious thinking. The Art of Being Free skillfully applies the timeless truths that Tocqueville uncovered to the practical questions of daily life in our bizarre era. The result is nothing less than a roadmap for a better life. Read it, learn, and enjoy."—Arthur Brooks, President, American Enterprise Institute
"In an earlier age of political and cultural confusion, Alexis de Tocqueville explained Americans to ourselves and to the world. James Poulos, in this smart and timely book, shows how Tocqueville's teachings can make sense of our present age of terror and Tinder—and help us see tomorrow more clearly."--Adam Keiper, editor of The New Atlantis
"For those citizens passionately committed to the pursuit of Life, Light, Love, and Liberty for all, James Poulos offers a stimulating celebration of the beautifully paradoxical nature of governmental policy as an institutional mechanism for securing true human freedom."— Andrew W.K.
"Brace yourself. James Poulos boldly, brilliantly shows that we can live freely even in our crazy age."--Yuval Levin, editor of National Affairs, author of The Fractured Republic
"In the most crazy-making year of politics in my lifetime, The Art of Being Free helped restore a little bit of my sanity as only a reflection steeped in history's lessons could do. The book was a reminder that much of what feeds our anxiety and dread challenged bygone generations—and that we possess many of the qualities that helped them to survive and even thrive! Drawing on the insights of Alexis de Tocqueville, James Poulos marries a political philosopher's understanding of a celebrated text to a sharp cultural critic's application of it to life today. Few pages pass without an intriguing insight about how to be better at being free."--Conor Friedersdorf, The Atlantic
"James Poulos is a visionary at the forefront of ideas about liberty."—Judd Weiss
or
Not Currently Available for Direct Purchase