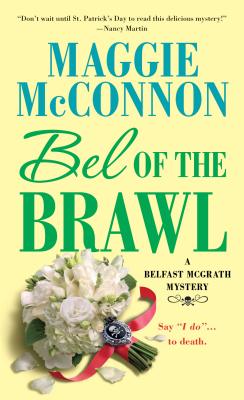 Bel of the Brawl (Mass Market Paperbound)
St. Martin's Press, 9781250077295, 320pp.
Publication Date: March 7, 2017
Description
TO HAVE AND TO HOLD
Bel McGrath loves her work as a wedding chef. But with her latest event set to take place at Shamrock Manor, she just can t seem to catch a break. The Casey wedding has left her with ten thousand greenbacks in the hole, a missing staff member, and a dead groom. Now, in between Guinness beers and pub brawls, Bel must find a way to crack the case even though what she should be cracking are eggs into the batter of the wedding cake. A good Irish girl's work is never done. . .
UNTIL MURDER DO THEY PART
What begins as local town fodder for an episode of Wedding Gone Wild is turning into Gangsters with Guns. With the Casey family spiraling out of control, and billable McGrath hours being lost by the minute, Bel is definitely in too deep. With all these shenanigans, she barely has time to obsess over her new boyfriend and her own unsolved mystery from years ago. Time is running out on getting the the next couple down the aisle before the so-called luck of the Irish takes a deadly turn
About the Author
MAGGIE MCCONNON grew up in New York immersed in Irish culture and tradition. A former Irish stepdancer, she was surrounded by a family of Irish musicians who still play at family gatherings. She credits her Irish grandparents with providing the stories of their homeland and their extended families as the basis for the stories she tells in her Belfast McGrath novels. Maggie McConnon is a pseudonym for Maggie Barbieri, who is the author of ten other mystery and suspense novels including The Murder 101 series and Once Upon a Lie, Lies That Bind, and Lie in Plain Sight.
Advertisement