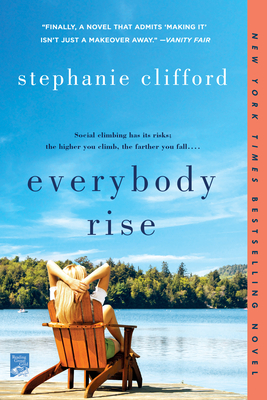 Everybody Rise (Paperback)
St. Martin's Griffin, 9781250077509, 400pp.
Publication Date: June 14, 2016
* Individual store prices may vary.
Description
Chosen as one of Summer's Best Books by People Magazine
Featured in Time Magazine's Summer Reading
Entertainment Weekly's Summer Must List
Good Housekeeping Beach Reads Feature
"Finally, a novel that admits 'making it' isn't just a makeover away." -Vanity Fair
Twenty-six-year-old Evelyn Beegan intended to free herself from the influence of her social-climbing mother, who propelled her through prep school and onto New York's stately Upper East Side. Evelyn has long felt like an outsider to her privileged peers, but when she lands a job at a social-network startup aimed at the elite, she has no choice but to infiltrate their world. Soon she finds herself navigating the promised land of Adirondack camps, Hamptons beach houses, and, of course, the island of Manhattan itself. Intoxicated by the wealth, access, and influence of her new set, Evelyn can't help but try to pass as old money herself. But when the lies become more tangled, she grasps with increasing desperation as the ground beneath her begins to give way.
A sparkling debut that is "full of ambition and grit" (Emma Straub), Stephanie Clifford's Everybody Rise is a story about identity and loss, and how sometimes we have to lose everything to find our way back to who we really are.
About the Author
As a New York Times reporter, Loeb-award winning journalist Stephanie Clifford covered courts, business and media. A magna cum laude graduate of Harvard, she grew up in Seattle and lives in Brooklyn. Everybody Rise is her first book.