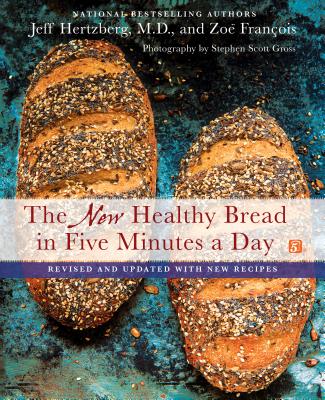 The New Healthy Bread in Five Minutes a Day
Revised and Updated with New Recipes
Hardcover

* Individual store prices may vary.
Description
The New Healthy Bread in Five Minutes a Day is a fully revised and updated edition of the bestselling cookbook featuring the quick and easy way to make nutritious whole grain artisan bread--a perfect gift for foodies and bakers!

Jeff Hertzberg and Zoë François shocked the baking world when they proved that homemade yeast dough could be stored in the refrigerator to use whenever you need it, and they adapted the method for whole grains in Healthy Bread in Five Minutes a Day. Now, in this updated second edition, they've done it again, showcasing whole grains and heirloom flours like spelt, sprouted wheat, and khorasan. Also new in this edition is a super-fast natural sourdough, weight equivalents for every dough recipe, and intriguing new oils like coconut, avocado, grapeseed, and flaxseed.

The New Healthy Bread in Five Minutes a Day has 33 new recipes as well as old favorites, including 100% Whole Wheat Bread, Whole Grain Garlic Knots with Parsley and Olive Oil, Whole Grain Crock Pot Bread, Rosemary Flax Baguette, Cinnamon-Raisin Whole Wheat Bagels, Pumpkin Pie Brioche, Raisin Buns, Challah, Whole Wheat Soft Pretzels, gluten-free breads, and many more.

With over a half-million copies in print, the Bread in Five series is the quick and easy way to create healthy breads that rival those of the finest bakeries in the world—with just five minutes a day of active preparation time.
Praise For The New Healthy Bread in Five Minutes a Day: Revised and Updated with New Recipes…
Praise for Healthy Bread in Five Minutes a Day

"Zoë François and Jeff Hertzberg have amazingly demystified the arcane and delightful world of artisan bread. Now, on the heels of time sensitivity (Hello… 5 minutes??? Really? Yes!), comes a baking book for the health-conscious, and it couldn't be more timely. Bottom line, I would crawl across a desert of broken glass to hop into their loaf pan."—Andrew Zimmern, Travel Channel host, food writer, and radio personality

"[I]t's a vast improvement over the laborious process of making artisan breads using classic methods . . . in their new book, Hertzberg and François have gone one step further . . . baking breads that use less sugar, healthy grains, fruits and vegetables, and are friendly to those with allergies or food sensitivities."—The Associated Press

"We tried some of the recipes; we love 'em.… Honestly, this is the nicest, softest whole wheat sandwich bread I've ever made."—PJ Hamel, KingArthurFlour.com

"This is the much-anticipated sequel to the wildly popular Artisan Bread in Five Minutes a Day… you'll be able to use the no-knead storage-dough method with even healthier recipes… fabulous cookbooks… yummy but easy recipes!"—Mother Earth News


Praise for The Artisan Bread in Five Minutes a Day Series

"Every step of Zoë and Jeff's adventures in bread has been fascinating and delicious for us, the home bread bakers who follow them, but this book might be their most exciting yet because they've incorporated years of readers' questions, problems, and discoveries into every chapter. This is truly the all-you've-ever-wanted-to-know edition. And there are plenty of photographs . . . at last!"—Dorie Greenspan, James Beard Award-winning author of Around My French Table and owner of Beurre & Sel cookies

"Soon the bread will be making itself… The crusty, full-flavored loaf that results may be the world's easiest yeast bread."—The New York Times

"Hertzberg and François' practical, common-sense method… is, quite simply, genius."—Chicago Tribune
Thomas Dunne Books, 9781250077554, 432pp.
Publication Date: November 1, 2016
About the Author
Jeff Hertzberg, M.D. grew up eating great bread and pizza in New York City. He continues to teach the importance of moderation and variety in a healthy diet, and works as a medical director and consultant focusing on health-improvement programs. During his medical residency, he started a years-long quest to figure out how to make dough that was convenient enough to use every day. He turned an obsession with bread and pizza into a second career as a cookbook author.

Zoë François is a pastry chef and baker trained at the Culinary Institute of America. With Jeff Hertzberg, M.D., she is the author of Artisan Bread in Five Minutes a Day and Healthy Bread in Five Minutes a Day, and Pizza and Flatbread in Five Minutes a Day. In addition to co-authoring the Bread in Five Minutes series, Zoë hosts her own TV series, Zoë Bakes, on the Magnolia Network and has written a solo cookbook, Zoë Bakes Cake. Passionate about food that is real, healthy and always delicious, François teaches baking and pastry courses nationally, is a consultant to the food industry, and creates artful desserts and custom wedding cakes. She also writes the recipe blog Zoë Bakes. She lives in Minneapolis, Minnesota, with her husband and two sons.
or
Not Currently Available for Direct Purchase