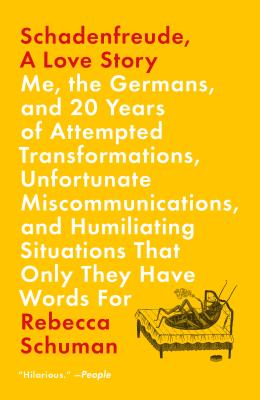 Schadenfreude, A Love Story
Me, the Germans, and 20 Years of Attempted Transformations, Unfortunate Miscommunications, and Humiliating Situations That Only They Have Words For
Paperback

* Individual store prices may vary.
Other Editions of This Title:
Digital Audiobook (6/5/2017)
Hardcover (2/7/2017)
MP3 CD (6/6/2017)
Compact Disc (6/6/2017)
Description
"This book is a wild and wonderful ride. Your guide, Rebecca Schuman, is a super-smart and very funny person who writes brilliantly about Germany and Germans (who are not what you think) and being young and insane and life in general and… just read it, OK?"
-Dave Barry

Sometimes Love Gets Lost in Translation

You know that feeling you get watching the elevator doors slam shut just before your toxic coworker can step in? Or seeing a parking ticket on a Hummer? There's a word for this mix of malice and joy, and the Germans (of course) invented it. It's Schadenfreude, deriving pleasure from others' misfortune. Misfortune happens to be a specialty of Slate columnist Rebecca Schuman—and this is great news for the Germans. For Rebecca adores the Vaterland with the kind of single-minded passion its Volk usually reserve for beer, soccer, and being right all the time.

Let's just say the affection isn't mutual.

Schadenfreude is the story of a teenage Jewish intellectual who falls in love – in love with a boy (who breaks her heart), a language (that's nearly impossible to master), a culture (that's nihilistic, but punctual), and a landscape (that's breathtaking when there's not a wall in the way). Rebecca is an everyday, misunderstood 90's teenager with a passion for Pearl Jam and Ethan Hawke circa Reality Bites, until two men walk into her high school Civics class: Dylan Gellner, with deep brown eyes and an even deeper soul, and Franz Kafka, hitching a ride in Dylan's backpack. These two men are the axe to the frozen sea that is Rebecca's spirit, and what flows forth is a passion for all things German. First love might be fleeting, but Kafka is forever, and in pursuit of this elusive passion Rebecca will spend two decades stuttering and stumbling through German sentences, trying to win over a people who can't be bothered.

At once a snapshot of a young woman finding herself, and a country slowly starting to stitch itself back together after nearly a century of war (both hot and cold), Schadenfreude, A Love Story is an exhilarating, hilarious, and yes, maybe even heartfelt memoir proving that sometimes the truest loves play hard to get.
Praise For Schadenfreude, A Love Story: Me, the Germans, and 20 Years of Attempted Transformations, Unfortunate Miscommunications, and Humiliating Situations That Only They Have Words For…
"This book is a wild and wonderful ride. Your guide, Rebecca Schuman, is a super-smart and very funny person who writes brilliantly about Germany and Germans (who are not what you think) and being young and insane and life in general and… just read it, OK?"
- Dave Barry

"An anthropological love story that's spit-out-your-schnitzel funny. She had me at wohngemeinschaften."
- Pamela Druckerman, author of New York Times Bestselling Bringing Up Bébé

"I don't know the German for 'madcap romp' (and I wouldn't be able to pronounce it anyway), but SCHADENFREUDE is a rip from the start, cursing its way from conceited high school boys to fluorescent dance clothes that just don't work in the US. Behold, the follies of all us childlike adults!"
- Rosecrans Baldwin, author of Paris, I Love You, But You're Bringing Me Down

"A brain-pleasing page-turner."
—J. Ryan Stradal, New York Times bestselling author of Kitchens of the Great Midwest

"A fun, wickedly intelligent book about failure, Kafka, and what it means to slowly perfect a language for one's own place in the world. Schuman throws herself headlong into the strange intersections between American grandiosity and German self-effacement with boundless energy, insight, and no shortage of wonderful, cringeworthy moments. What a rewarding, hilarious read."
— Mike Scalise, The Brand New Catastrophe

"Schuman's youth in the 1990s plays out through the nine chapters of her hilarious memoir... A comedic patchwork of quirky anecdotes written in smooth, sometimes-cocky prose, liberally sprinkled with free-flowing expletives and consistent sincerity. Schuman's droll, self-deprecating, wild life (so far) will find particular appeal with readers who enjoy memoirs that don't take themselves too seriously."
— Kirkus Reviews

"Schuman's journeys to Germany and her pursuit of further connection with her beloved Franz Kafka bring to mind another great travel memoirist, Geoff Dyer, writing about D.H. Lawrence. As Dyer does, Schuman entertains while relating her inner conflicts, personal and cultural hypocrisies, and overblown self-delusions during her decades-long struggle with the German language and those who speak it. Schuman's engrossing book is a feast of honesty, humility and humor, all the hallmarks of great confessional literature."
— Publishers Weekly

"Her stories of traveling in Europe, taking language classes, and falling in love may be cringe-worthy at times, but they're also fun."
— Bustle

Flatiron Books, 9781250077653, 288pp.
Publication Date: February 6, 2018
About the Author
Rebecca Schuman is a frequent contributor to Slate, where she writes about higher education, Germany, popular culture and parenting. She holds a PhD in German from the University of California, Irvine. Schadenfreude, A Love Story is her first book.
or
Not Currently Available for Direct Purchase