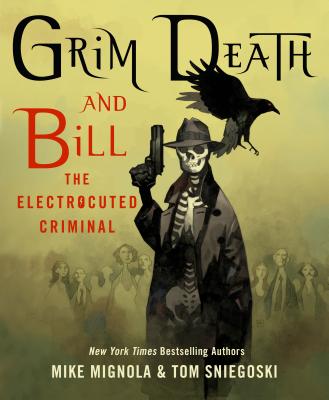 Grim Death and Bill the Electrocuted Criminal
Hardcover

* Individual store prices may vary.
Description
An uneasiness festers upon the city streets, threatening the peace and safety of law-abiding citizens. A war is escalating, and it seems as though the good and righteous are being crushed beneath the unholy weight of evil's onslaught. Organized crime is spreading in an unchecked reign of terror.

Until a mysterious agent of retribution rises up from the shadows to challenge the villains. A lone figure, clad in a slouch hat and clothes seemingly stitched from the blackest shadows, masked in the guise of a skull-faced death—a Grim Death—emerges with guns blazing. With him, a wronged ex-con clad in the striped costume of his misfortune—Bill the Electrocuted Criminal.

In this beautifully illustrated 1930s-pulp-style novel, two dark new characters by Thomas E. Sniegoski and Mike Mignola take to the street to fight the growing infection of organized crime. Grim Death and Bill the Electrocuted Criminal are not your average heroes, but they want justice.
Praise For Grim Death and Bill the Electrocuted Criminal…
"Imagine Batman's origin story by way of H.P. Lovecraft and you'll be well on your way to enjoying this phantasmagorical pulp thriller by Hellboy creator Mignola and Sniegoski…A thrilling imaginative, and lurid illustrated novel that lovingly embraces the genre that inspired it." —Kirkus Reviews
St. Martin's Press, 9781250077684, 272pp.
Publication Date: February 28, 2017
About the Author
MIKE MIGNOLA is best known as the award-winning creator/writer/artist of Hellboy. He was also visual consultant to director Guillermo del Toro on both Hellboy and Hellboy 2:The Golden Army films. He also co-authored (with Christopher Golden) the novels BALTIMORE, or, The Steadfast Tin Soldier and the Vampire and Joe Golem and the Drowning City. Mignola lives in southern California with his wife, daughter, and cat.

TOM SNIEGOSKI is the comic book writer and author of more than two dozen novels. His teen fantasy YA series Fallen was adapted into a trilogy of movies by ABC Family. Sniegoski lives in Massachusetts with his wife LeeAnne and their dog, Kirby.