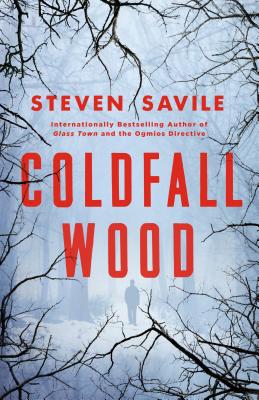 Coldfall Wood
Hardcover

* Individual store prices may vary.
Description
Steven Savile returns with Coldfall Wood, a gritty new fantasy about a reluctant hero combatting a forgotten god.
Every legend promises the same thing: at the time of the land's greatest need the heroes shall return. What they don't mention is that we are the greatest threat our green and pleasant land has ever known, or that our obsession with concrete and steel, with technology and advancement, is slowly killing the land. In the legends saving the land never involves the slaughter of its inhabitants. Legends lie.
In the last primeval woodland of London an ancient force stirs, issuing the call.
His voice echoes in the minds of the disaffected and disenfranchised, the doomed youth of the city: Rise up!
In a single night, six girls who have never met and bear no relation to each other are struck down by a mysterious sickness that leaves them in persistent vegetative state. Across the city an old woman who hasn't opened her eyes in years finally wakes. Her first words are: The Horned God is Awake. Soon the puzzling truth emerges. Each Sleeper's final words were the same dire warning.
One for one. The message was seared into the floor, along with all of the craziness a hundred year old obsession had amassed. With the children disappearing across the city, two men are about to learn the terrible truth behind those three words. They are all that stand between our world and the cleansing fire of the once and future king. The question our heroes must answer: how do you kill a god the world has forgotten about?
Praise For Coldfall Wood…
Praise for Coldfall Wood:

"What if saving the world and saving humanity were two different things? And how would an ancient god decide what to do? Steven Savile has created an epic modern fantasy richly steeped in familiar legend, with enough unexpected turns to keep the reader rushing to the end." —Kevin J. Anderson, New York Times bestselling author of The Dark Between the Stars
"Savile slowly builds the horror as the Horned God and his followers fight to take back their land. The world building is excellent, the blend of fantasy, horror, and mythology is seamless, and the story leads to an unexpected climax." —Booklist
"A forgotten god hunted by a reluctant hero trying to save the world, written by one of the masters of the genre, is enough to get any horror fan's attention." —This Is Horror blog

Praise for Glass Town:

"Perfect for fans of Neil Gaiman's Neverwhere or Clive Barker, Savile's highly original story is an extremely engaging, fast-paced read." —Booklist

"Compelling... Unusual and perhaps reminiscent of Clive Barker's Weaverworld." —Historical Novel Society
"With a vivid London setting and a tantalizing dose of cinematic history (including Alfred Hitchcock's lost directorial debut), this dark fantasy should appeal to fans of Neil Gaimain." —Library Journal

"Steven Savile's U.S. debut combines modern urban fantasy sensibilities with a richly rendered portrayal of 1920s London. Savile's time spent writing science fiction television mainstays, Torchwood and Doctor Who translates well to the novel format, imbuing the story with interesting characters and a compelling mystery." —Romantic Times Book Reviews (4 stars)
"Savile, whether delivering for the screenor books, always delivers." —Suspense Magazine
"Bursting with imagination, Steven Savile's Glass Town is a twisted, breathless unraveling of inter-generational magic and mystery. With its intrigue twined around early film studios, romantic obsession, and the dark secrets of London, it's a book that feels written just for me. I loved it!" —Christopher Golden, New York Timesbestselling author of Ararat and Snowblind

"A luminescent love letter to London, the movies, and the darker corners of the human heart." —Michael Marshall Smith, New York Times and international bestselling author of Straw Men
"Steven Savile has the gift of making the unbelievable completely believable, and leading you willingly into an illusory world that you can touch, feel and smell...but can you trust?" —Graham Masterton, Edgar Award and Bram Stoker Award-winner
"Glass Town is a mind-bending, devious and thoroughly entertaining thriller! Steven Savile brings serious game and leaves the reader breathless. Highly recommended!" —Jonathan Maberry, New York Times bestselling author of Dogs of War and Patient Zero

"A beautifully rendered tale of magic, family, and dark secrets set against the backdrop of London that may or may not exist in the real world, Steven Savile's Glass Town is the novel everyone will be talking about come December. This gem is not to be missed!" —Ronald Malfi, Bram Stoker Award nominee
"There are killer ideas at work in this cleverly plotted, relentlessly inventive supernatural thriller that evokes the best of Clive Barker or Ramsey Campbell. Highly recommended." —Alan Baxter, author of the Alex Caine series and Crow Shine
"Fans of Clive Barker will eat this up and idolize Savile's new breed of monsters." —Weston Ochse, author of the award-winning SEAL Team 666 series
"Steven Savile has always been a name to watch, but with Glass Town I think I can safely say we've seen a gigantic leap forward in the writing style of a writer I already admired. Glass Town is filled with realistic, fully fleshed characters to love, and hate and with fantastic creations that will both delight and horrify. An absolute triumph of a novel from one of the new masters of the modern fantasy!" —James A. Moore, author of the Seven Forges and Tides of War series
"In Glass Town, Steven Savile brilliantly creates an alternate reality that impinges chillingly upon our own. Old and new magicks blend in eerily rendered present and past Londons populated by magicians, old school criminals, legendary actresses, and crooked cops. The fantastic elements are engaging, the horrific scenes terrifying. You'll never again be able to watch the films of a certain classic comedy team without feeling a shiver. It's about time the US became aware of Savile, and this is the perfect novel to introduce him to our shores." —Chet Williamson, Edgar Award nominated author of Pyscho: Sanitarium, the official sequel to Robert Bloch's Psycho

"Here's a story ripped from ancient fragile celluloid: a tale told in harsh chiaroscuro, where ghost-women step judderingly from zoetropes to suck you dry and dogs in negative will drain you. It's all about light and shadow, and the lenses that make stories out of such stuff; it's about a lost movie, lost time, lost streets, a lost actress. A family torn apart through generations by a single obsession. Passion in monochrome, suffering in colour." —Chaz Brenchley, award-winning author of Bitter Waters
St. Martin's Press, 9781250077875, 368pp.
Publication Date: August 21, 2018
About the Author
Steven Savile has twice been nominated for the British Fantasy Society Award for best short story and best original fiction collection, and was runner up in 2000 for his editorial work on Redbrick Eden, Scaremongers 2, which raised funds for the homeless charity SHELTER in the UK. He is the author of Glass Town and Silver, and lives in Stockholm, Sweden, where he also teaches.
or
Not Currently Available for Direct Purchase