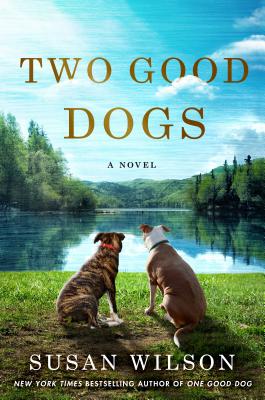 Two Good Dogs
A Novel
Hardcover

* Individual store prices may vary.
Other Editions of This Title:
Digital Audiobook (3/6/2017)
Paperback (3/6/2018)
Paperback (4/14/2020)
Mass Market (11/27/2018)
CD-Audio (3/7/2017)
Description
Susan Wilson, the bestselling author of One Good Dog delivers another powerful novel of loyalty and love.

Single mom Skye Mitchell has sunk her last dime into a dream, owning the venerable, if run-down LakeView Hotel in the Berkshire Hills. It's here where she believes she'll give her fourteen-year-old daughter Cody a better life. But being an innkeeper is more challenging than she imagined, and Cody still manages to fall in with the wrong crowd. In addition, Cody is keeping an earth-shattering secret that she's terrified to reveal. The once loving, open girl has now become completely withdrawn, and Skye is both desperate and helpless to reach her.

When Adam March and his pit bull Chance check into the hotel, it becomes the first of many visits. Here in these peaceful mountains he finds an unexpected relief from his recent bereavement. He and the beleaguered innkeeper form a tentative friendship. Adam knows the struggles of raising a difficult teenager and Skye understands loneliness.

And then there is Mingo, a street kid with a pit bull dog of his own. When Cody discovers an overdosed Mingo, Adam takes the boy's dog not just for safekeeping, but to foster and then rehome. But the dog isn't the only one who needs saving. A makeshift family begins to form as four lost people learn to trust and rely on each other, with the help of two good dogs.
Praise For Two Good Dogs: A Novel…
Praise for The Dog Who Saved Me

"The heartwarming moments of this story are balanced with the darker realities of a small town. That harmony makes the happy ending all the more rewarding and leaves the reader with a narrative of love and redemption that never becomes cloying." –Library Journal

"Get out the hanky: in The Dog Who Saved Me, New York Times bestselling author Susan Wilson is back with another moving story that illustrates the power that a dog's love and companionship has to change one's life." –Modern Dog magazine

Praise for A Man of His Own

"Touching and heartfelt." —Modern Dog magazine

"A War Horse for dog lovers." – Booklist

"A Nicholas Sparks–ian romantic drama, with an "everyone loves a dog" twist." –Kirkus

Praise for The Dog Who Danced

"Superior. A moving tale about canine healing power." —Booklist

"Fans of Wilson's One Good Dog, or new readers looking for a heartwarming tale of the bond between human and animal, will find plenty to enjoy." –Publishers Weekly

Praise for One Good Dog

"A wonderful novel: a moving, tender, and brilliantly crafted story." —Garth Stein, New York Times bestselling author of The Art of Racing in the Rain

"One Good Dog will make you cry, will make you laugh, will make you feel things more than you thought possible—and it will make you believe in second chances." —Augusten Burroughs, New York Times bestselling author

"[One Good Dog] evokes both laughter and tears, but the ending assures you that humans and dogs are capable of redemption." –Library Journal
St. Martin's Press, 9781250078124, 352pp.
Publication Date: March 7, 2017
About the Author
Susan Wilson is the bestselling author of books including One Good Dog, Cameo Lake and Beauty, a modern retelling of Beauty and the Beast, which was made into a CBS-TV movie. She lives on Martha's Vineyard.
1. Was there a specific character or story line that you were especially drawn to as you read? If so, why?
2. This novel is told from multiple points of views, allowing the reader to see miscommunications and misunderstandings from different perspectives. How would your experience as a reader have been different if the novel had been told only from Skye's perspective? What if it had been told only from Cody's perspective?
3. On page 218, Chance observes that "Adam is an interesting example of the duality of humanness." What does this mean? How is the story enhanced by including Chance's perspective and observations?
4. At one point Skye fears that Cody will repeat Skye's mistakes in her own life. How does this fear affect the way she parents Cody? In what ways are Skye and Cody similar? In what ways are they different?
5. Cody is determined to get Lucky/Dawg back to Mingo, while Adam firmly believes Mingo should not have the dog. What reasons do they each have for their opinions? Why does it mean so much to them? Who did you find yourself agreeing with as the story unfolded?
6. On page 216, Adam realizes that he and Mingo have more in common than he had thought. Skye, Cody, Adam, and Mingo come from different walks of life with different experiences and different perspectives. What do they all have in common?
7. On page 282, Adam tells Mingo he's reached a "transcendent opportunity." Later, on page 314, after Mingo tells Cody that Skye has fired him, he refers to the situation as Cody's "transformative moment." What do Adam and Mingo mean? Are there other places in the novel where we see characters reach transformative opportunities?
8. Throughout the novel we see Cody, Skye, Adam, and Mingo each faced with difficult choices. Which decisions were you surprised by? Which situations did you agree with and which would you have handled differently if you were in their position?
9. What do Cody, Skye, Adam, and Mingo each learn from one another by the end of the novel?
10. What do you imagine the future holds for each of the characters and the LakeView Hotel?
or
Not Currently Available for Direct Purchase