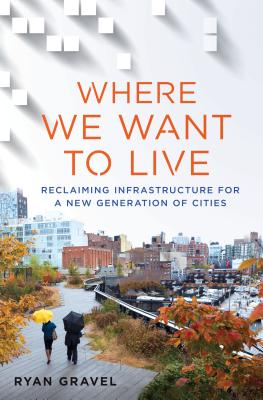 Where We Want to Live
Reclaiming Infrastructure for a New Generation of Cities
Hardcover

* Individual store prices may vary.
Description
**Winner, Phillip D. Reed Award for Outstanding Writing on the Southern Environment**
**A Planetizen Top Planning Book for 2017**
After decades of sprawl, many American city and suburban residents struggle with issues related to traffic (and its accompanying challenges for our health and productivity), divided neighborhoods, and a non-walkable life. Urban designer Ryan Gravel makes a case for how we can change this. Cities have the capacity to create a healthier, more satisfying way of life by remodeling and augmenting their infrastructure in ways that connect neighborhoods and communities. Gravel came up with a way to do just that in his hometown with the Atlanta Beltline project. It connects 40 diverse Atlanta neighborhoods to city schools, shopping districts, and public parks, and has already seen a huge payoff in real estate development and local business revenue.
Similar projects are in the works around the country, from the Los Angeles River Revitalization and the Buffalo Bayou in Houston to the Midtown Greenway in Minneapolis and the Underline in Miami. In Where We Want to Live, Gravel presents an exciting blueprint for revitalizing cities to make them places where we truly want to live.
Praise For Where We Want to Live: Reclaiming Infrastructure for a New Generation of Cities…
"This is a local story, but it echoes one of the grand themes in contemporary city-building: the transformation of industrial relics into new public amenities...Gravel makes a case – as cogent as any I've seen – for why governments need to favour this form of development and stop subsidizing sprawl." —The Globe and Mail
"An uplifting story about what people can accomplish working for a common purpose they make their own." —Kirkus Reviews
"What if infrastructure was viewed not as something over-budget and/or in need of repair but as a conduit to creating better, more livable cities? In Where We Want to Live, Ryan Gravel makes a passionate case for infrastructure as catalyst, arguing that our collective imaginations and energy can transform the places we live in. Absolutely inspiring." - Allison Arieff, Contributing Columnist, The New York Times
"Crisp and smart. Where do we want to live? Ryan Gravel, who will likely be remembered as one of our nation's highest impact urban designers, has some remarkable answers from his nearly two decade journey exploring the topic. At a time when sustainability, race relations, and economic growth seem more perplexing than ever, Ryan's ideas address all of these issues through a thoughtful approach to the development of our cities. As a doctor, I am also well aware of the tremendous health benefits a walking city can have on our health. Decreases in blood pressure and obesity and increases in connectedness, happiness and joy. I don't always think about these issues on a spectacular day of running or biking on the Atlanta Beltline with my three daughters. I simply know this what a real city can feel like." —Dr. Sanjay Gupta, chief medical correspondent at CNN
"Ryan Gravel's new book starts with the premise that big infrastructure ideas can yield huge economic and social payoffs. With the spirt of Daniel Burnham's famous "make no little plans," Gravel shows how his concept for the Atlanta Beltline is changing everything there, becoming a model for how all metropolitan areas can achieve transformative change. The Beltline is the most important infrastructure project in the country today, linking rich and poor neighborhoods to each other and to transit, and sparking billions of private sector investment already and tens of billions to come. Just as every metro area in the country adopted some form of belt highway, every metro will built a Beltline…surprisingly, Atlanta is doing it first. A hopeful book with achievable goals." —Christopher B. Leinberger, The Charles Bendit Distinguished Scholar and Research Professor, George Washington University School of Business
"In a time of political complexity Ryan Gravel delivers with a beautifully written call-to-action for more responsible and inclusive infrastructure in our cities and metropolitan regions."– Nathaniel Smith, Founder & Chief Equity Officer, Partnership for Southern Equity
St. Martin's Press, 9781250078254, 256pp.
Publication Date: March 15, 2016
About the Author
RYAN GRAVEL is the founding principal of Sixpitch and creator of the Atlanta Beltline, the reinvention of a 22-mile circle of railroads that began as the subject of his master's thesis. Today, Gravel is a designer, planner, writer, husband, and father. He is increasingly called to speak to an international audience on topics as wide ranging as brownfield remediation, transportation, public health, affordable housing, and urban regeneration. Through keen observation of the relationship between infrastructure and our way of life, he makes a compelling case about how we can shape the future of cities.