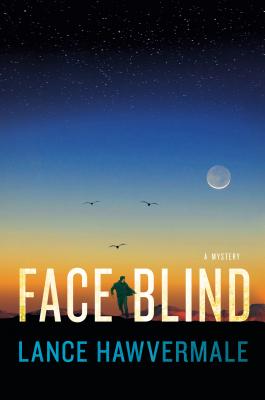 Face Blind (Hardcover)
A Mystery
Minotaur Books, 9781250078339, 320pp.
Publication Date: August 23, 2016
* Individual store prices may vary.
Description
A man with a neurological disorder that prevents him from recognizing human faces confronts an enigmatic killer in Chile's Atacama desert - the most lifeless place on earth
Gabe Traylin is face-blind, unable to tell one person from the next. Content to earn his living well away from civilization, he works as an astronomer at an observatory in the earth's driest desert, where no rain has fallen in 400 years. But when he witnesses a murder that he's unable to stop or comprehend, Gabe finds himself drawn into an investigation with disastrous consequences. Unable to provide a description of the killer to the police or explain his own erratic actions, he becomes their suspect in a series of horrific and unexplained mutilations. To discover the truth before he's arrested for crimes he didn't commit, he must put his trust in three strangers: a young traveler with a purpose, a washed-up novelist who believes he's bulletproof, and an alluring woman with a face he'll never see.
Together they unearth the secrets of Chile's fascist past, a time of kidnappings, torture, and political turmoil and venture further into the desert, discovering the secrets of revenge as well as the secrets of themselves. Moody, atmospheric and compulsively readable, Lance Hawvermale's Face Blind is in a class of thriller all by itself.
About the Author
LANCE HAWVERMALE, author of Face Blind, holds a master's degree in English and has worked as a college professor, an editor, and a youth counselor. His fiction and poetry and garnered numerous awards. An alumnus of the AmeriCorps program, Lance performed his service on the Otoe-Missouria tribal lands in Red Rock, Oklahoma. He lives in Texas with his wife and daughter and their cats.
Praise For Face Blind: A Mystery…
"Well-paced... Hawvermale throws in plenty of action while allowing characters time to discuss and explore the series of mysteries they face... the unusual setting and well-drawn characters still intrigue."- Publisher's Weekly
Praise for Lance Hawvermale and The Tongue Merchant
"Deftly written, [Hawvermale's] debut is full of appealing characters and moments that sparkle with tenderness."- Publisher's Weekly
"The Tongue Merchant reads like a bestseller . . . a fast-paced, witty mystery with wonderful multilayered characters and a whopper of a climax. Lance Hawvermale has crafted a gem that was a pleasure to read. Get ready to become a Hawvermale fan!"- Johnny Quarles, bestselling author of Fool's Gold
"Hawvermale expertly weaves complex characters and secrets, luring you from one chapter to the next. His prose is at the same time smooth and riveting, and his detective will stay with you even after you've closed the back cover."- Jean Rabe, author of the Finest series
"Hawvermale, balancing suspense with character study, includes enough pauses between the adrenaline-pumping scenes to give his leads the time they need to grow."- Kirkus Reviews
"[Hawvermale] pushes the envelope, taking the commonplace theme of women?s friendships into dangerous territory and dramatizing what women can do not just to help themselves, but also to bring justice to others."- Booklist
"Hawvermale creates dynamic three-dimensional characters you care about. Then he propels them--and you--through sheer hell at relentless hurricane velocity."- Ken Rand, author of Pax Dakota
or
Not Currently Available for Direct Purchase