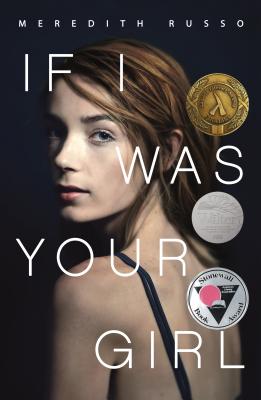 If I Was Your Girl
Paperback

* Individual store prices may vary.
Other Editions of This Title:
Digital Audiobook (5/2/2016)
Hardcover (5/3/2016)
Prebound (6/26/2018)
CD-Audio (5/3/2016)
Description
The award-winning, big-hearted novel about being seen for who you really are, and a love story you can't help but root for

Amanda Hardy is the new girl in school. Like anyone else, all she wants is to make friends and fit in. But Amanda is keeping a secret, and she's determined not to get too close to anyone.

But when she meets sweet, easygoing Grant, Amanda can't help but start to let him into her life. As they spend more time together, she realizes just how much she is losing by guarding her heart. She finds herself yearning to share with Grant everything about herself, including her past. But Amanda's terrified that once she tells him the truth, he won't be able to see past it.

Because the secret that Amanda's been keeping? It's that at her old school, she used to be Andrew. Will the truth cost Amanda her new life, and her new love?

Meredith Russo's If I Was Your Girl has been named:

Stonewall Book Award Winner
Walter Dean Myers Honor Book for Outstanding Children's Literature
iBooks YA Novel of the Year
A Publishers Weekly Best Book of the Year
A Kirkus Reviews Best Book of the Year
An Amazon Best Book of the Year
A Goodreads Choice Award Finalist
A Zoella Book Club Selection
A Barnes & Noble Best YA Book of the Year
A Bustle Best YA Book of the Year
An ABA IndieNext Top 10 Pick
One of Flavorwire's 50 Books Every Modern Teenager Should Read
Praise For If I Was Your Girl…
Stonewall Book Award Winner
Walter Dean Myers Honor Book for Outstanding Children's Literature
A Publishers Weekly Best Book of the Year
A Kirkus Reviews Best Book of the Year
A Zoella Book Club Selection
A Goodreads Choice Award Finalist
A Bustle Best YA Book of the Year
IndieNext Top 10 List
One of Flavorwire's 50 Books Every Modern Teenager Should Read

"This new novel for teens breaks new ground...powerful." —O Magazine

"A beautifully rendered YA novel . . . the first written by a transgender woman about the transgender teen experience." —San Francisco Chronicle

"A vivid, compassionate portrait of a teen finding her place." —The Washington Post

"An illuminating debut guided by hope and overwhelming kindness." —Publishers Weekly, starred review

"A necessary, universal story about feeling different and enduring prejudices…full of love, hope, and truth." —Kirkus, starred review

"This is everything a coming-of-age novel should be—honest, complicated, and meaningful. Transcends the typical 'issue' novel to be a beautiful tale in its own right." —School Library Journal, SLJ Popular Pick

"Amanda's story is neither overly sentimental nor didactic. A thoughtful, truthful, and much needed coming-of-age tale." —Horn Book Review

"Russo, a trans woman, writes with authority and empathy, giving readers not only an intellectual but also an emotional understanding of Amanda and her compelling story. Never didactic, this debut is a valuable contribution to the slender but growing body of literature of trans teens." —ALA Booklist

"Beautiful, smart, and so urgently needed, If I Was Your Girl should be required reading for every teen—scratch that, every person—in America. This book is exactly what YA is for: to break ground, to break hearts, to teach us empathy, to find the universal in the specific. I loved every word. You will too." —Julie Buxbaum, author of Tell Me Three Things

"Poignant and rare. If I Was Your Girl is the type of book you read and want to immediately share, because it's too important to keep to yourself." —Julie Murphy, author of Dumplin'

"If I Was Your Girl is important and necessary and brave, and deeply, electrically inspiring. Read this wonderful book. Just read it." —Jennifer Niven, author of All the Bright Places

"If I Was Your Girl will change minds and open hearts." —Nina Lacour, author of We Are Okay

"If I Was Your Girl is real and raw and layered and wonderful." —Alex Gino, author of George

"If there's any justice in the world, we're all witnessing a YA powerhouse in the making." —Forever YA

"Pure magic." —Book Riot
Flatiron Books, 9781250078414, 320pp.
Publication Date: June 26, 2018
About the Author
MEREDITH RUSSO was born, raised, and lives in Tennessee. She started living as her true self in late 2013 and never looked back. If I Was Your Girl was partially inspired by her experiences as a trans woman. Like Amanda, Meredith is a gigantic nerd who spends a lot of her time obsessing over video games and Star Wars.
1. When Grant first introduces himself to Amanda, she wonders "if a boy like him could ever understand what it was like to be me. To know what it was like to view high school as something you needed to survive." Do you think every teenager feels this way at some point? Why?
2. There are many ways to describe Amanda: she's young, Southern, transgender. Despite these specifics, in what ways is her story universal?
3. When young Amanda gives her dad the story she wrote in class, he tells her, "Son, I want you to have a good life. Boys who really think the things in your story are con­fused. They don't have good lives. So you're not one of those boys." It becomes clear that Amanda's father was always worried about her safety, even as he tried to hide who she really was. Was he always wrong to do so? Do you think his actions are justified in some way?
4. Amanda wrestles with religion and her faith, thinking, "It was hard to place too much hope in a God so many people said hated me," and yet she also feels connect­ed and reassured in church. For queer readers who are religious, how do you grapple with traditional religious texts and beliefs?
5. When Amanda goes to the football game, she observes that "Too many dads seemed interested in us as we passed, and for just a moment I missed the near‑invis­ibility of life as a boy." In what ways is she still learning what it means to be a girl, even though she's been one on the inside her whole life?
6. Amanda feels that her dad was always trying to push "boy" activities such as hunting and sports on her. Why are activities still gendered? Is it harder for young boys to get away from those expectations than it is for young girls?
7. When Bee takes photos of Amanda, she says, "Why a girl like you doesn't want to be seen is a mystery to me." How does the book show the way outward appearances reflect our true selves? Or how they don't?
8. When Amanda's mother says she misses her son, she tells Amanda, "You look different, you sound different, your hands feel different when I touch 'em. Hell, you even smell different," even as Amanda points out that she's still the same person. What is it that makes us who we are?
9. Did you anticipate Bee's big homecoming reveal? Was it building over the course of the book as different characters both withheld and revealed their own se­crets or was it a surprise? Do you agree with Amanda when she concludes that "maybe secrets and lies were a part of life; maybe everyone had something they were lying to themselves about, or something they were hid­ing"?
10. When Amanda plays catch with her father, she tells him, "I'm not brave. Bravery implies I had a choice. I'm just me, you know?" Discuss the ways Amanda is brave or, if you agree with her, that she isn't.
11. When Amanda returns to Lambertville, Anna tells her she thinks "it's a sin," but "just 'cause I'm grappling with [the metaphysics] doesn't mean I don't still love you." Is it possible to be friends with someone who has views that completely contradict your own?