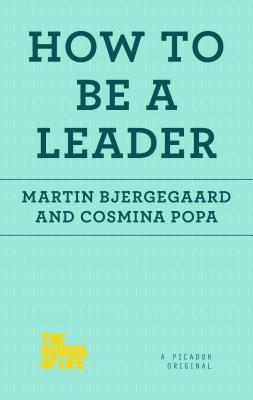 How to Be a Leader (The School of Life) (Paperback)
Picador, 9781250078735, 224pp.
Publication Date: August 9, 2016
* Individual store prices may vary.
Description
What does it really mean to take a leadership role? In this book, learn how true leaders are made and how you can be one too
No one is born to lead. This is the idea at the heart of this thoughtful book on true leadership. While popular culture feeds us images of the stereotypical leader—charismatic, powerful, decisive—the truth is, with the right amount of self-knowledge and authenticity, anyone can be a good leader.
There are countless courses and books available on leadership technique, decision-making and public speaking, but How to Be a Leader by Martin Bjergegaard and Cosmina Popa aims to give you the tools to understand and bring out your own individual leadership style. With an in-depth look at what it really means to lead, and the differences between being a manager and being a leader, this book invites you to explore and learn about the unique leader in you.
About the Author
MARTIN BJERGEGAARD is a co-founder of Rainmaking, a startup launching business which has built a portfolio of 8 startups with a total of 50 million dollars in annual revenue, 100 employees, and offices in London, Copenhagen and Berlin.

COSMINA POPE is an entrepreneur in the technology and sustainability sectors. In 2013, she, together with a team based in Washington DC, co-founded the Conscious Venture Lab, a start-up accelerator focused on developing socially conscious entrepreneurs. She holds an MSc in Environment and International Development from King's College London, and a BA in Liberal Arts from St John's College.
Praise For How to Be a Leader (The School of Life)…
"In an age of moral and practical confusions, the self-help book is crying out to be redesigned and rehabilitated. The School of Life announces a rebirth with a series that examines the great issues of life, including money, sanity, work, technology and the desire to alter the world for the better." —Alain de Botton, The School of Life series editor
"Self-help books for the rest of us." —The New York Times