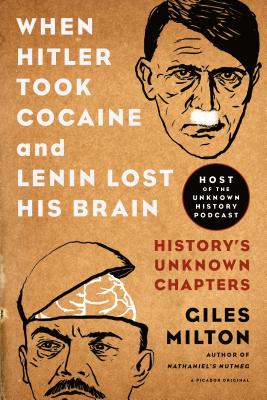 When Hitler Took Cocaine and Lenin Lost His Brain (Paperback)
History's Unknown Chapters
Picador, 9781250078773, 272pp.
Publication Date: January 5, 2016
* Individual store prices may vary.
Description
Obscure and addictive true tales from history told by one of our most entertaining historians, Giles Milton
The first installment in Giles Milton's outrageously entertaining series, History's Unknown Chapters: colorful and accessible, intelligent and illuminating, Milton shows his customary historical flair as he delves into the little-known stories from the past.
There's the cook aboard the Titanic, who pickled himself with whiskey and survived in the icy seas where most everyone else died. There's the man who survived the atomic bomb in both Hiroshima and Nagasaki. And there's many, many more.
Covering everything from adventure, war, murder and slavery to espionage, including the stories of the female Robinson Crusoe, Hitler's final hours, Japan's deadly balloon bomb and the emperor of the United States, these tales deserve to be told.
About the Author
Giles Milton is a writer and historian. He is the internationally bestselling author of over ten works of narrative history, including Churchill's Ministry of Ungentlemanly Warfare, Nathaniel's Nutmeg, White Gold, Paradise Lost, and Russian Roulette. His books have been translated into twenty languages worldwide. Milton lives in London.
Praise For When Hitler Took Cocaine and Lenin Lost His Brain: History's Unknown Chapters…
"If you get a kick out of odd historical trivia like that, you'll devour "When Hitler Took Cocaine and Lenin Lost His Brain," the first installment in Giles Milton's new "History's Unknown Chapters" series. Packed with 50 stories your social studies teacher probably skipped, the book sports a wandering eye and witty voice that make for diverting winter reading."—The Washington Post
"A list of insurance claims taken out on pets drowned with the Titanic. A legend detailing the various forms of Chinese castrati. A detailed description—by the oh-so-fittingly named Sir Hamon L'Estrange—of a dodo a mere quarter century before the bird's extinction. These moments are the winking epigraphs of grinning Death, gleaned from Giles Milton's history of the bizarre, the obfuscated and the macabre. And what a history it is!"—Paste Magazine
"50 brief but detailed stories, from the hilarious to the absurd."—The Minneapolis Star Tribune

"Fans of history, trivia, and Miilton's previous works will delight in this collection of lesser-known historical stories."—Library Journal (starred review)
"Stranger than fiction? Possibly, but life always seems to create more bizarre people and unforeseen happenings than most writers will ever imagine."—CounterPunch
"[An] easily digestible mix of humor, trivia, and solid research….Dozens of seemingly too-good-to-be-true tales…There are plenty of fabulously dramatic adventures here…Milton's entertaining collection is sure to leave readers waiting for the next volume in the series."—Publishers Weekly

"Milton has assembled an easily digestible compendium of historical oddities about the famous and infamous."—Kirkus Reviews