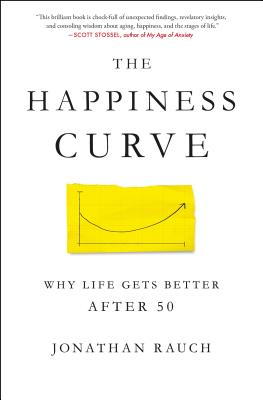 The Happiness Curve
Why Life Gets Better After 50
Hardcover

* Individual store prices may vary.
Other Editions of This Title:
Digital Audiobook (4/30/2018)
Paperback (5/7/2019)
CD-Audio (5/1/2018)
Description
"In this warm, wise, and witty overview, Jonathan Rauch combines evidence and experience to show his fellow adults that the best is yet to come." —Steven Pinker, bestselling author of Enlightenment Now

This book will change your life by showing you how life changes.

Why does happiness get harder in your 40s? Why do you feel in a slump when you're successful? Where does this malaise come from? And, most importantly, will it ever end?

Drawing on cutting-edge research, award-winning journalist Jonathan Rauch answers all these questions. He shows that from our 20s into our 40s, happiness follows a U-shaped trajectory, a "happiness curve," declining from the optimism of youth into what's often a long, low slump in middle age, before starting to rise again in our 50s.

This isn't a midlife crisis, though. Rauch reveals that this slump is instead a natural stage of life—and an essential one. By shifting priorities away from competition and toward compassion, it equips you with new tools for wisdom and gratitude to win the third period of life.

And Rauch can testify to this personally because it was his own slump, despite acclaim as a journalist and commentator that compelled him to investigate the happiness curve. His own story and the stories of many others from all walks of life—from a steelworker and a limo driver to a telecoms executive and a philanthropist—show how the ordeal of midlife malaise reboots our values and even our brains for a rebirth of gratitude.

Full of insights and data and featuring many ways to endure the slump and avoid its perils and traps, The Happiness Curve doesn't just show you the dark forest of midlife, it helps you find a path through the trees. It also demonstrates how we can—and why we must—do more to help each other through the woods. Midlife is a journey we mustn't walk alone.
Praise For The Happiness Curve: Why Life Gets Better After 50…
"Rauch fills his book with reassuring research on why a midlife malaise is normal, as well as some sound lessons on how to cultivate happiness in general. With strong family relationships, a trust-filled community, and supportive friends, anyone should be able to ride out even their darkest years." –Wall Street Journal

"Journalist Rauch (Political Realism) argues for a "happiness curve" to life—a common, U-shaped path from youthful idealism, through middle-aged disappointment, to eventual happiness—in this inspired take on midlife crises. They [readers] will also take comfort from Rauch's personal investment in the subject—he has moved through the bottom of his own happiness curve and concludes his heartening self-help book by writing that it was 'worth the wait.'" –Publishers Weekly

"In a youth-obsessed culture, it may be difficult to convince some that life gets better after 50. But by supplanting dated cliches with compelling scholarship, Rauch offers a fresh and reassuring vision of aging that supersedes superficial fixations." –The Washington Post

"This uplifting report offers hope and encouragement for aging readers doubting the longevity of bliss. Stimulating reading for those seeking enlightenment and joyfulness throughout middle age." –Kirkus

"Psychologists agree that the midlife crisis is a myth. But why are so many middle-aged people so dissatisfied with their lives? Sifting through happiness studies and conducting his own interviews and surveys, Rauch discovers a pattern... This thoughtful study is sure to find an audience." –Booklist

"a refreshingly thoughtful, positive view of aging." –AARP

"The Happiness Curve is about a midlife transition that empirical life-time studies and "big data" have demonstrated to be just as reliable a finding as was Stanley Hall's ground breaking 1907 definition of "adolescence." In order to demonstrate that our psychological well-being declines until the fifth decade and then steadily improves, Rauch not only provides illustrative case histories--always scientifically suspect if reassuring--but also reviews authoritative lifespan studies, ranging from primatology to neurophysiology, from demography to frequency of mood altering medication use. With maturity, gratitude becomes easier, and "giving it away" becomes a source of joy, rather than a life sentence of "letting go." The Happiness Curve should be essential reading for everybody over 40." —George E. Vaillant MD, professor of psychiatry at Harvard Medical School, director of the Grant Study of Adult Development, and author of Triumphs of Experience.

"The Happiness Curve delivers on the promise of its title, with wise insights and practices to help you become the best you can be. Leave the midlife slump. Enter into an encore adulthood of powerful
purpose." —Richard Leider, international bestselling author of The Power of Purpose, Repacking Your Bags, and Life Reimagined

"When I was 40, I used to think that life begins at 40. How naïve I was in my callow youth! It's 50, of course—no, make that 60. In this warm, wise, and witty overview, Jonathan Rauch combines evidence and experience to show his fellow adults that the best is yet to come." —Steven Pinker, bestselling author of Enlightenment Now and The Blank Slate

"Do you wish to understand the arc of your life? And why you are likely to end up happier than you are right now? If so, The Happiness Curve is the place to start. And I write this as someone who can vouch that the upper part of the happiness life curve is very glorious indeed." —Tyler Cowen, New York Times bestselling author of The Complacent Class and The Great Stagnation

"It's a great paradox of happiness: The decades when we experience our greatest worldly success are also when our happiness craters. Why are middle-aged people so miserable? Jonathan Rauch tackles the question in this helpful, rigorous, and fun book. The Happiness Curve will make readers smarter – and perhaps even a little more joyful." —Arthur Brooks, President, American Enterprise Institute

"Jonathan Rauch has taken the midlife crisis and transformed it into the kinder, gentler happiness curve. He pierces the old, cliche-ridden landscape of broken marriages and red sports cars, and replaces it with a new and rich understanding of the natural lifecycle. The Happiness Curve is a helpful travel guide through the middle and later years that will be passed from one generation to another with the reassuring message: "it gets better." —Ellen Goodman

"Anyone between age 35 and 70 must read this book. Armed with scientific rigor, compelling stories, and winsome self-revelation, Jonathan Rauch reveals the mystery of midlife." —Barbara Bradley Hagerty, New York Times bestselling author of Life Reimagined: The Science, Art, and Opportunity of Midlife

"Rauch contrasts the happiness people experience in midlife with the happiness they expect, making an important scientific finding come to life with urgency and passion. Beautifully written and a must-read for those who are interested in the science of happiness and for anyone approaching the age of forty." —Martin Binder, Professor of Economics, Bard College Berlin

"What makes midlife so difficult for so many? Being human, as this illuminating and beautifully reasoned book explains. If it's hard to believe that happiness increases with age, Jonathan Rauch suggests, just wait. Or read this book." —Ashton Applewhite, author of This Chair Rocks: A Manifesto Against Ageism

"This brilliant book is chock full of unexpected findings, revelatory insights, and consoling wisdom about aging, happiness, and the stages of life. I would say that everyone in his or her forties should read it--it will be a soothing balm for those in the dark wood of middle age--but that's too limiting: really, every thinking adult should read this stimulating intellectual adventure story, which is also a genuinely helpful guidebook to life." —Scott Stossel, author of My Age of Anxiety: Fear, Hope, Dread, and the Search for Peace of Mind and editor of The Atlantic

"This is a book destined to be passed hand to hand as a balm for the travails of midlife. Required reading for anyone between the ages of 35 and 55 who wants to avoid needless suffering." —Miles Kimball, professor of economics at University of Colorado Boulder

"Rauch's elegantly lucid and nuanced book, which smoothly summarizes the work of dozens of economists, scientists and psychologists, begins by examining the work of "happiness economists," who use "big data" to trace the arc of happiness. Filtering out variables such as health, wealth and marital status, they found a consistent U-shaped pattern." —The Columbus Dispatch
Thomas Dunne Books, 9781250078803, 256pp.
Publication Date: May 1, 2018
About the Author
Jonathan Rauch is a correspondent for The Atlantic Monthly, a senior writer and columnist for National Journal, and a writer in residence at the Brookings Institution. He is the author of several books on public policy, culture, and economics, including Government's End: Why Washington Stopped Working. His work has appeared in The New Republic, The Economist, Harper's, Fortune, The New York Times, The Washington Post, The Wall Street Journal, and Slate, among other publications. He is vice president of the Independent Gay Forum and lives near Washington, D.C.
or
Not Currently Available for Direct Purchase