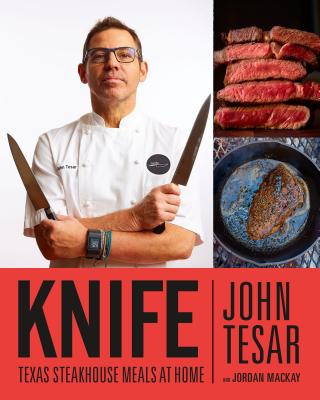 Knife (Hardcover)
Texas Steakhouse Meals at Home
Flatiron Books, 9781250079176, 256pp.
Publication Date: May 2, 2017
* Individual store prices may vary.
Description
James Beard nominee and Bravo's "Top Chef" contestant Chef John Tesar reveals the secrets to cooking the purest, beefiest, most delicious steak you've ever tasted.
"I've had some phenomenal meals at Knife. Tesar really knows how to cook a steak, and this great book shows you how he does it!" – Aaron Franklin, author of The New York Times bestseller, Franklin Barbecue

No one cooks a steak like legendary chef John Tesar. In his first ever cookbook, Knife reveals Chef Tesar's secrets to cooking the purest, beefiest, most delicious steak you've ever tasted. Infused with the flavor of Texas and Tesar's culinary genius, Knife goes "Back to the Pan," and shows you the method for cooking the perfect steak. Tesar doesn't stop at steak, though; this book is full of recipes for cooking lamb, pork, veal, and the best burgers ever. Tesar also offers up the recipes to his signature sides: Roasted Okra, Avocado Fries, and Bacon Jam, and foolproof versions of classic sauces. With recipes for your favorite juicy cuts of meat, as well as techniques for making mouthwatering dishes from underrated cheaper cuts, Knife is devoted to the celebration of steak in every form.
About the Author
John Tesar was called "the single most talented cook I ever worked with" by Anthony Bourdain. Tesar also enjoys the pseudonym Jimmy Sears in Bourdain's bestselling memoir Kitchen Confidential and in Medium Raw. An iconoclastic celebrity of the food world, Tesar came up as a chef in New York City at 13 Barrow St, 44 & Hell's Kitchen, Vine, and the Supper Club. He then went on to open two acclaimed restaurants in Dallas that have been named among the best in the country by Bon Appetit, Eater, and Esquire. Tesar is a fixture of Dallas's restaurant scene and a true "chef's chef." He has garnered praise from Food & Wine and The New York Times, has appeared on the Today show and The Early Show, and was a contestant on Bravo's Top Chef.
Praise For Knife: Texas Steakhouse Meals at Home…
"I've had some phenomenal meals at Knife. Tesar really knows how to cook a steak, and this great book shows you how he does it!" —Aaron Franklin, author of The New York Times bestseller, Franklin Barbecue
"John Tesar is a truebeef artisan and this book is a fantastic window into his world of explosive flavor." – Adam Perry Lang, Chef/Owner APL Restaurant and Author of Serious Barbecue, BBQ 25, and Charred & Scruffed

"Knife: Texas Steakhouse Meals at Home is a stunning tribute to steak and the intricacies of cooking cuts properly."
—D Magazine