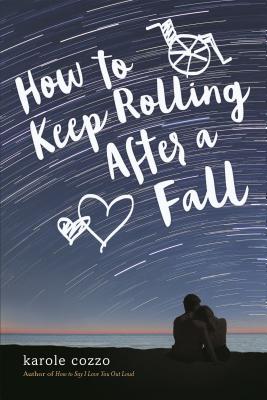 How to Keep Rolling After a Fall (Paperback)
Swoon Reads, 9781250079282, 272pp.
Publication Date: August 2, 2016
* Individual store prices may vary.
Description
This sweet, compelling contemporary novel combines questions of forgiveness and redemption with well-drawn characters and a swoonworthy romance in a way that is sure to capture readers' hearts.
The party was at her house. The photos were posted from her Facebook account. That was all the evidence anyone needed to condemn Nikki Baylor for a horrible cyberbullying incident. Now she's been expelled from her old school, her friends have abandoned her, and even her own parents can't look her in the eye. With her plans for the future destroyed, Nikki resigns herself to being the girl everyone hates. But then shei meets Pax, a spirited wheelchair rugby player who knows what it's like when one mistake shatters your life. He shows her that everyone deserves a second chance... and everyone deserves to be loved.
How to Keep Rolling After a Fall, author Karole Cozzo's second contemporary young adult novel, is a thoughtful exploration of family, love, and moving on.
Praise for How to Keep Rolling After a Fall:
"Recommended for readers who appreciate tales filled with redemption and forgiveness and positive portrayals of teens and young adults with disabilities." —School Library Journal
"It's a perfect mash-up of the thoughtful family dynamic of a Sarah Dessen story, the complex friendships of an Emery Lord novel, and the sexy edginess of a Miranda Kenneally book." —Katy Upperman, author of Kissing Max Holden
About the Author
Karole Cozzo, author of How to Say I Love You Out Loud, How to Keep Rolling After a Fall, and The Truth About Happily Ever After, lives outside of Philadelphia with her loving husband, unendingly exuberant daughter, and eternally pleasant son. She is a school psychologist by day and a lover of all things colorful and creative by night. Karole spends her free time drawing with her young artists-in-residence, making photo books, decorating her home, and of course, writing.
Praise For How to Keep Rolling After a Fall…
"Cozzo has created a well-written YA novel featuring a main character with a disability. ... Pax and Nikki's love story is natural and gradual and feels authentic to the teen experience. Recommended for readers who appreciate tales filled with redemption and forgiveness and positive portrayals of teens and young adults with disabilities." —School Library Journal
"A budding romance with family drama and a feel-good ending." —School Library Journal on How to Say I Love You Out Loud

"I have read a lot of good books lately and I am not easy to please, but this book was simply fantastic. If you want a cute, emotional, romantic read with some great character development, you've found it." —Kookie Krysp Reads
"This book put me through an emotional wringer and never let up. Not only did it make me cry (always a big bonus in my book), but I also found myself laughing at times, getting angry at others, and completely swooning over the plethora of sweet moments between Nikki and Pax. This is the single biggest factor that made this book shine for me—I felt so incredibly emotionally invested in these characters that I felt their every joy and pain." —Feed Your Fiction Addiction
"How to Keep Rolling After a Fall's got everything I look for in contemporary YA romance. It's a perfect mash-up of the thoughtful family dynamic of a Sarah Dessen story, the complex friendships of an Emery Lord novel, and the sexy edginess of a Miranda Kenneally book." —Katy Upperman, author of Kissing Max Holden